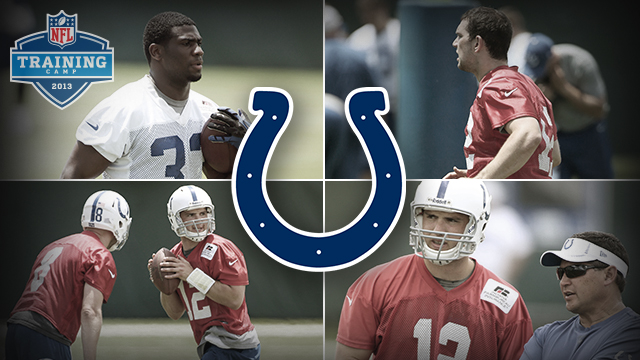 Last offseason, the Colts were fresh off a 2-14 season,
Peyton Manning
had just been released, and
Andrew Luck
was the new franchise quarterback. The front office and coaching staff were also dumped, the roster overhauled with young, unproven talent (save
Reggie Wayne
, who signed a modest deal to stay in Indianapolis), and a team
with virtually no expectations
won 11 games and made the playoffs.
Now that it appears Rome has been built in a day, the Colts hope to improve on their 2012 successes. But once you get past the 11-5 record and just how good Luck is -- and will be -- questions remain. According to FootballOutsiders.com's metrics, Indianapolis ranked 18th in the league in offense and 31st in defense.
Though Luck flourished in Bruce Arians' scheme, he was sacked 41 times. Arians is now the head coach in Arizona and Luck has been reunited with his college OC, Pep Hamilton.
But whomever's calling plays or whatever the scheme, the basic tenet of protecting the quarterback remains. Which is why general manager Ryan Grigson wasted little time signing former Lions first-round pick Gosder Cherilus and making him the starting right tackle. The team also used its second- and third-round picks in April's NFL Draft to take guard Hugh Thornton and center Khaled Holmes. The theme: Protect the face of the franchise.
Key changes
Veteran Matt Hasselbeck provides the Colts something they didn't have in 2011 -- a legitimate backup quarterback. Not only that, Hasselbeck seems to embrace his role as mentor (something he did with Jake Locker in Tennessee).
Wayne had 100 catches last season but the second-leading receiver, wide receiver Donnie Avery, is now with the Chiefs. The Colts hope second-year tight ends Coby Fleener and Dwayne Allen become a bigger part of the passing game, but the team also signed former Raiders first-rounder Darrius Heyward-Bey in the hopes that getting out of Oakland will do for him what it did for Randy Moss when he was traded to the Patriots in 2007. (That's probably a tad optimistic, but even a fraction of Moss' production would be welcome.)
The defense -- which was supposed to improve under coach Chuck Pagano, the former Ravens defensive coordinator -- didn't look much different than the previous versions, at least in terms of production. The Colts moved to a 3-4 front last offseason, and that proved to be a lot to ask for defensive end lifer Dwight Freeney. He managed just five sacks and is now in San Diego. Grigson gave former Packers linebacker Erik Walden a four-year, $16 million contract this spring and he'll replace Freeney on the depth chart. Freeney's bookend, Robert Mathis, returns after racking up eight sacks in '12. The team also used its first-round pick on Florida State defensive end Bjoern Werner, who is -- you guessed it -- currently transitioning to outside linebacker.
In the secondary, cornerback Jerraud Powers is gone (he's now with the Cardinals) and the Colts signed underrated Greg Toler (formerly of the Cardinals), whom CBSSports.com's Pete Prisco identified as one of the top under-the-radar free agents. The Colts gave former Jets safety LaRon Landry $24 million, which seems like a lot of money to devote to a player who struggles with injuries and man coverage. Still, the plan is that he'll become the defense's enforcer, something that was lacking a season ago.
Position battle
Nose tackle Aubrayo Franklin was signed this offseason and he'll compete with second-year player Josh Chapman for the starting gig. Franklin's a grizzled veteran, arriving in Indy after stints in Baltimore, San Francisco, New Orleans and most recently San Diego. He's also familiar with defensive coordinator Greg Manusky's scheme from their time together with the 49ers. Chapman, meanwhile, hasn't played a down since the Colts drafted him out of Alabama in 2012.
New scheme
Pep Hamilton replaces Bruce Arians as offensive coordinator, which means the team will transition to a West Coast-inspired scheme. (Though Hamilton prefers to call it a "No Coast offense" because, according to Hasselbeck, Hamilton says he doesn't "care what people have done in the past, we're going to do whatever it takes.")
Hasselbeck added: "You can feel the footprint of Peyton Manning and that offense still in this playbook, stuff that they've done. Stuff that was good with Reggie Wayne. Stuff that was just good for the guys here, that's worked with Clyde Christensen, the quarterbacks coach. Then there is a good element of the stuff that Bruce Arians had success with last year that worked with Andrew (Luck). Then there is the stuff that Pep did at Stanford with Jim Harbaugh and kind of what the 49ers are doing."
Bubble watch
The Colts signed running back Ahmad Bradshaw, which means Delone Carter could find himself on the wrong side of the final 53. Carter is fourth on the depth chart behind Bradshaw, Vick Ballard and Donald Brown.
Backup safety Joe Lefeged was arrested in late June on gun charges. Depending on how the legal process plays out, he could be looking for work in the coming weeks.
Unheard-of-guy to watch
Greg Toler was taken by the Cardinals in the fourth round of the 2009 draft. He arrived with few expectations, a former semi-pro player who shined at Division II St. Paul's (Va.) before getting drafted. By 2010, he was a starter but missed the 2011 season with an ACL injury. Here's how Pete Prisco described Toler in February:
"At 6-feet, 190 pounds, he is a capable man-cover player who is also a willing tackler. That's the one thing that surprised me on tape: His willingness to tackle. He throws his body around, but he's also more than capable of staying with good receivers. He can play press-man, off-man and he seems comfortable playing zone.
"For a team looking for a 28-year-old corner who would seem to have his best football in front of him, Toler would make a ton of sense."
Clearly, Grigson agreed.
Biggest concerns
With the upgrades to the offensive line and the expectation that Luck will be even better than he was as a rookie, the questions about the 2013 Colts start on defense. The hope is that the offseason additions of Franklin up front, Walden and Werner at linebacker, and Landry and Toler in the secondary will yield results in the form of fewer points and more sacks and turnovers. But even if this transition proves to be a multi-year process, Luck and Indy's offense has shown that they can carry the load.
Something to prove
Darrius Heyward-Bey had four forgettable years in Oakland where he was plagued by expectations, injuries and drops. In Indy, he'll learn from Reggie Wayne, have one of the league's best young quarterbacks throwing him passes, and do it all while playing for a stable franchise, something he never experienced with the Raiders.