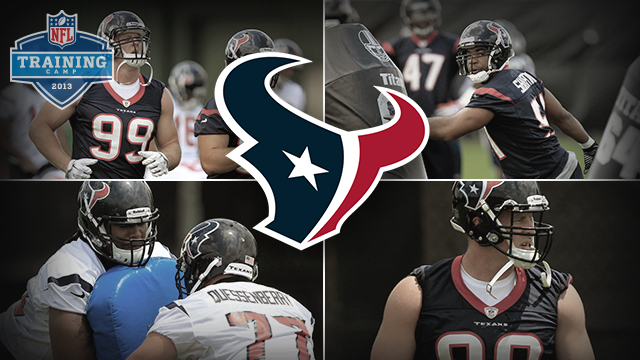 A year after making the playoffs for the first time in team history, it has become habit-forming for the Texans. We've gone from wondering if coach Gary Kubiak is on the hot seat to celebrating back-to-back 10- and 12-win seasons, division titles, and postseason appearances. Next up: Getting to the
Super Bowl
.
Key changes
Despite losing key contributors to free agency -- DE/OLB Connor Barwin (Eagles), S Glover Quin (Lions), RB Justin Forsett (Jaguars), FB James Casey (Eagles), and WR Kevin Walter (Titans) among them -- the Texans remain one of the AFC's best teams. Their biggest need heading into the offseason was at wide receiver, finding someone to not only make things easier for Andre Johnson, but to also open things up for a running game that sputtered at times last season.
To that end, the Texans selected wide receiver DeAndre Hopkins in the first round. Entering the draft, the knock against Hopkins was that he wasn't a burner. But he doesn't need to be in Houston's precision West Coast scheme. His size (6-1, 215) and his ability to catch anything thrown in his direction fits exactly with the Texans' need, which explains why he'll enter training camp as a starter.
The offensive line has quietly developed into one of the best units in the league. That said, right tackle is a concern. Derek Newton, a seventh-round pick in 2011, started 14 games last year had offseason knee surgery. Brennan Williams, a third-round pick this spring, injured his knee in minicamp. That leaves veteran Ryan Harris and rookie David Quessenberry, although Kubiak expects everyone to be healthy for training camp.
On defense, Barwin will be replaced by outside linebackers Whitney Mercilus and Brooks Reed, former first- and second-round picks. There are concerns about depth, however; Bryan Braman was signed as an undrafted free agent in 2011, and Sam Montgomery and Trevardo Williams are rookies, though both have gobs of potential.
Brian Cushing, who returns at inside linebacker after suffering an ACL injury last season, solidifies the middle of this defense, and Tim Dobbins was re-signed this offseason to back him up.
While it would have been nice to keep Quin in the secondary, the Texans landed future Hall of Famer Ed Reed. The team also drafted Reed's eventual replacement, hard-hitting safety D.J. Swearinger in the second round of the April draft.
Position battles
Kubiak expects Derek Newton, the team's starting right tackle from a year ago, to be fully recovered from knee surgery by training camp. But if he's not, rookie Brennan Williams and veteran Ryan Harris could compete for the gig. Kubiak admitted that Brennan Williams, like most rookies, struggled in OTAs. Harris, meanwhile, started two games last season in Newton's absence.
The starters are pretty much set at other positions, and any position battles will likely be for backup roles. For example: Sam Montgomery and Trevardo Williams at outside linebacker, and which backup running back -- Ray Graham, Cierre Wood, or someone else -- will earn a roster spot.
New schemes
Kubiak brought the West Coast offense to Houston with him from Denver, where he served as Mike Shanahan's offensive coordinator, and the Texans have never had problems scoring points. On the other side of the ball, defensive coordinator Wade Phillips has solidified a once porous unit. The centerpiece remains defensive end J.J. Watt, one of the NFL's best players. But the hope is that Ed Reed will bring experience to a secondary that is young and talented. The plan, once Reed recovers from offseason hip surgery, is to use him in a center fielder role rather than have two high safeties, which was often the case with Quin and Danieal Manning.
"He's a great player, but he's also a great communicator," Phillips said of Reed back in March. "Part of his great playing skill is he's able to help other guys by letting them know where he's gonna help 'em, how he's gonna help 'em. His experience in that area is beyond most players. It is like a coach on the field, except it's a player on the field that has great anticipation for what's gonna happen. He studies the game. He knows what's happening from each formation, those kind of things, and then he's able to communicate those things to where he's gonna help people. That's over and beyond what players can do, but he is over and beyond what most players are."
Bubble watch
There shouldn't be many surprises as August gives way to September, at least near the top of the Texans' roster. Due to salary cap issues or production, the team let plenty of veterans walk during free agency and several -- Shaun Cody, Stanford Routt and Barrett Ruud -- are still looking for work.
Unheard-of-guy to watch
Jared Crick has gotten lost in the shadow of Watt and Antonio Smith, and understandably so. But the second-year defensive end out of Nebraska is poised for a big year. He'll be a rotational player in 2013 and if all goes well, he'll likely replace Smith, whose contract is set to expire after the season. The Houston Chronicle 's Lance Zierlein described Crick as a traditional 3-4 defensive end you might find on the Steelers. Houston's scheme requires ends to play more like defensive tackles, which means getting into the backfield. Crick may not excel as a penetrator compared to Watt or Smith, but he'll be be stout against the run.
Another name to watch: Trevardo Williams. He left UConn as the all-time sack leader but he arrived in the NFL as an undersized outside linebacker. A defensive end in college who relied on his speed to get to the quarterback, he'll have to learn the complexities of Wade Phillips' defense before he'll see the field. In the meantime, he'll learn by watching Brooks Reed and Whitney Mercilus.
Biggest concerns
Ed Reed's health. The team admitted that Reed's offseason hip surgery came as a surprise, and in May, Phillips admitted to being a "little concerned." While Reed will eventually end up in Canton, CBSSports.com's Pete Prisco isn't convinced the Texans are better off by signing him.
"The bottom line is does Ed Reed bring street cred, football cred? Yes, he does," Prisco said in late May. "He's won a Super Bowl, but so what? What's it matter? If you can't play, you can't play and I just don't think he was very good last year. Now I will say he was hurt and he didn't tackle."
Prisco's words are bolstered by ProFootballFocus.com's numbers -- Reed graded out well below Grover Quin, who left the Texans in free agency.
Something to prove
Arian Foster. It seems silly to mention Foster here given that he led the league in rushing in 2010 and ran for over 1,400 yards last season. But his average yards per carry dropped from 4.9 in '10 to 4.1 in '12, a career low. Foster, who missed some offseason workouts with a strained calf, expects to be ready for training camp. He also expects to rebound in 2013. "I just want to bounce back. I didn't feel like I had the best season last year," he told the team's website in May. "I set a lot of personal goals, a lot of things that I do. I just didn't feel like I was at my best, and it's gonna change this year."