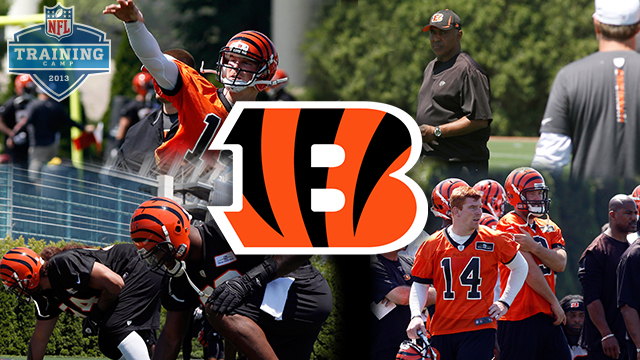 Have the Bengals truly changed their culture and broken with their past? Are the sins of past teams no longer cast upon them? Are they now, truly, a franchise that can compete for a spot in the postseason on a yearly basis?
This upstart group proved many people wrong by getting back to the playoffs in 2012 and continuing their growth on field and off. The former bad boys brought in by owner Mike Brown had largely stayed out of trouble (Adam Jones' recent incident notwithstanding). They seemed like a maturing unit capable of dealing with, and sustaining, success.
Having a drama-free camp would only help matters, as would managing to get a contract extension done with a defensive lineman or two. With many of the team's best young players in line for a payday in the next 6-12 months, sending a message to the locker room, the fanbase, and the rest of the NFL about the Bengals' intent to remain viable would be imperative.
Key changes
The Bengals have finally reached a point were continuity is the norm. After beefing up the scouting department and putting together strong drafts, they have a quality roster, much of it still young, cheap talent. Coach Marvin Lewis received a contract extension before last season and they've reached the playoffs two years straight, and managed to maintain coordinators Mike Zimmer and Jay Gruden, despite them having some head coaching interest.
They're never going to splurge in free agency as long as Mike Brown is in charge, but they did slap the franchise tag on Michael Johnson to prevent him from leaving, and waited out a lethargic market for Andre Smith before re-signing the right tackle. They took a shot on longtime Steeler James Harrison, who could add a situation pass rush to an already potent front seven, and brought in tight end Alex Smith. Otherwise their moves were decidedly low key, bringing in Josh Johnson and John Skelton to compete for a backup quarterback spot.
And they also managed not to lose much, besides longtime fullback Brian Leonard. they re-signed depth corners like Adam Jones and Terrence Newman and kept linebacker Rey Maualuga as well. The biggest move could be the drafting of tight end Tyler Eifert in the first round.
But for the most part, you're getting last year's team, plus some draft picks, and a few value free agents. And given the steps this franchise has made in recent years, that's hardly a bad thing for Bengals fans.
Position battles
Josh Johnson was brought into the league in Tampa on Gruden's staff, so I would give him the leg up over Skelton coming into camp to back up Andy Dalton. Johnson has elite athleticism and Skelton was pretty much awful in Arizona last season, albeit behind the worst offensive line in the NFL and without any aid from a run game. The jockeying for spots behind Pro Bowl receiver A.J. Green will be more closely watched. Mohamed Sanu is trying to come back from an injury that ended his rookie season early, with Marvin Jones, Brandon Tate and Andrew Hawkins among those trying to push for playing time.
In the secondary, Dre Kirkpatrick pretty much had a lost rookie season due to injury. Can he stake a claim to the corner spot opposite Leon Hall, or will a veteran like Newman or Jones hold him off? Kirkpatrick was a first-round pick in 2012, and expectations are high for him to break through.
And most notably, who carries the rock for this team this season? The Bengals absolutely love rookie running back Giovani Bernard, and I would not be surprised to see him get a good long look at displacing veteran BenJarvus Green-Ellis (who finally started actually fumbling the football last season) this summer.
New schemes
You can expect more of what you've come to know from this outfit, except that pressure will continue to mount for Dalton to take more ownership of the offense and the huddle and have his voice in Gruden's attack. Pedestrian performances, tepid at best, in the postseason two years in a row have the microscope on the offensive side of the ball, and with the drafting of Eifert look for more spread formations and two tight end sets from Gruden this year.
Zimmer, long one of the best defensive coordinators in the game, will just keep on doing what he does, only with some new toys to add to the mix like Harrison and second-round pick Margus Hunt.
Bubble watch
Harrison was signed to a decidedly team-friendly deal, and given his age and a body that has been succumbing to all the years of punishment, I suspect he gets abundant rest in camp to try to navigate him through a long season. His back issues have been chronic and there are concerns with his knees as well.
Can he really be a starter and play major reps for this team? No doubt he's crazy motivated to do so, and to try to show the Steelers he can still do it. The reality is the money he left on the table from Pittsburgh's reduced offer to him is coin he'll likely never see again, and getting through the preseason close to full health may be enough of a chore.
Biggest concerns
Does this team have the mindset to shed its past and become a playoff force? That's all that matters now.
Finding leadership come January and getting it done -- quite possibly on the road, given the makeup of the AFC North -- will define their season, and instilling that psyche in camp will be a big part of what Lewis is selling to his group. Harrison's arrival likely has something to do with that -- he only orchestrated one of the signature plays in Super Bowl history -- and the offense must find a way to match the defense's consistency.
Are there enough secondary cogs around Green? Will Dalton step up? Can they go running back by committee, or is there a feature guy on this roster right now?
On paper, the defense is stacked, but getting something off the edge in the pass rush from Harrison or Hunt to complement Carlos Dunlap and Johnson will be key as well, and the search for those options begins in July.
Something to prove
The Bengals have a few, starting with Dalton. They need him to make the kind of postseason progress Joe Flacco did with Baltimore, or something at least in that direction, because merely getting to the playoffs is not enough. After this season Dalton can renegotiate his deal -- having played three full seasons under this new CBA -- and these questions will loom over everything the franchise does in 2013.
Is Dalton the guy to lead this team for the next decade? Or is he a functional system guy? He's had flashes of brilliance in the regular season, but is not being judged on the biggest of stages.
The drafting of Eifert could signal that the time for change is drawing near for tight end Jermaine Gresham, who was just drafted in the first round himself in 2010. Even in a two tight end set, there are only so many balls to go around. And with so many Bengals in line for fat new contracts in the coming years, will there be enough money for Gresham here? His production this season will go a long way toward deciding that.
Maualuga has yet to develop as expected as well, playing out his rookie deal and returning to Cincy on more of a bargain rate. This is a prove-it year for him as well.