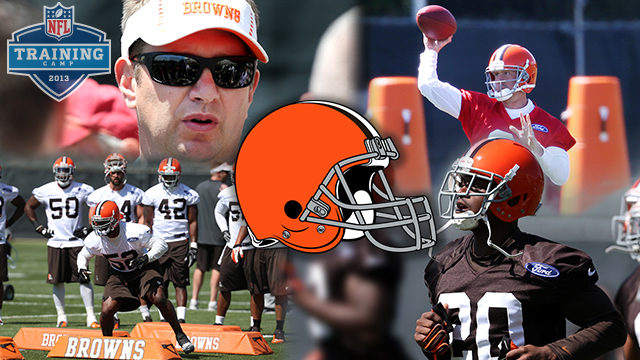 It's been a long time since the Browns entered a training camp free of concern or distractions and this one is no different. As the weeks go on, more troubling reports have surfaced about the conduct of executives at Pilot Flying J, the company run by new Browns owner Jimmy Haslam, and the financial state of affairs at that company. Haslam's non-football doings, his liquidity and any wrongdoing on his part in regard to Pilot Flying J will trump, say, embattled quarterback
Brandon Weeden
having a good day at camp.
Browns fans always have something to fret over, and as the investigation unfolds and more findings and eventual charges and penalties come out, more questions will be asked of Haslam, and the NFL for that matter. What seemed like the dawn of a bright new era in Cleveland is now much more murky during Haslam's first full training camp in charge.
Key changes
The Browns cleaned out much of the building this offseason, overhauling the business operations, front office and coaching staff, with Joe Banner now running the show. And the clean-up job is quickly extending to the roster as well. It will take more than one offseason, but expect a continued influx of talent as the squad is remade.
Banner and GM Mike Lombardi knew that with this program so bad for so long, they would have to dig deep financially to get free agents to come to Cleveland and they did just that, looking within the division to nab young pass rusher Paul Kruger from Baltimore for $8 million a season. He will be counted on to provide immediate impact and work with guys like D'Qwell Jackson to keep quarterbacks under duress.
Of course it all starts at quarterback and this regime came in with low expectations for incumbent starter Brandon Weeden. To that end, they signed free agent quarterbacks Jason Campbell and Brian Hoyer, and I would not be surprised at all to see either, or both, of them to end up with more starts that Weeden by the end of the season.
The Browns traded for possession receiver Davone Bess. Still in need of weapons, acquired back Dion Lewis for linebacker Emmanuel Acho, and also added free agent tight end Kellen Davis, linebacker Quentin Groves, and receiver David Nelson. They're hoping for big things from defensive lineman Desmond Bryant as well and believe they have a monster pass rusher on the way in first-round pick Barkevious Mingo.
As for key departures, Josh Cribbs was a record-setting return man for the team but has slowed in recent years and was battling injuries as well. Veteran linebacker Scott Fujita, a team leader, was forced to retire due to a neck condition, and linebacker Chris Gocong was released. Backup Colt McCoy, who lacked arm strength and never seemed like a good fit given the geographic realities of Cleveland, was dealt to the 49ers. Former top kicker Phil Dawson is gone, as are defensive linemen Frostee Rucker and tight end Ben Watson.
The biggest changes though are at head coach, with Rob Chudzinski in place, and new coordinators in Norv Turner and Ray Horton, giving the team very strong men with ample experience running both sides of the ball. And with a completely new set of eyes evaluating talent, including personnel man Ray Farmer, there is as much sel- scouting going on, sorting out this perennially last-place roster, as there is piecing through every other roster in the league looking for new parts.
Position battles
Position battles don't come any bigger than a quarterback competition, but we'll have one here as the preseason plays out. Weeden will need to show a quick grasp of this system and avoid the kind of mistakes that plagued him as 2012 rolled on. Lombardi has long had a feeling that Hoyer could be a diamond in the rough. He has many of the attributes he looks for in a quarterback. Campbell has a big arm and has been plagued by bad luck as much as anything else.
Does anyone emerge as anything close to a No. 1 receiver from this bunch? Josh Gordon and Greg Little have shown flashes, but neither is polished or seemingly ready to be a consistent go-to guy. The guard positions are up in the air a bit as well. Shawn Lauvao and Jason Pinkston will battle at left guard, while John Greco and Jarrod Shaw are part of the group vying for the right guard spot.
With Trent Richardson's health already an issue, as he enters just his second year, the battle between running backs like Montario Hardesty and Lewis will be interesting as well, with plenty of snaps up for grabs early in camp to see who gets the jump on being the backup/occasional starter, given Richardson's status.
New schemes
The Browns are totally changing their identity on both sides of the ball.
Turner may be the best playcaller in the NFL. He is a quarterback guru, and his entire focus is on the offense now without having to coach the entire team. That will free Chudzinski up to handle macro issues. The Browns offense has nowhere to go but up. Campbell throws a helluva a deep ball, which Turner loves, and could lead to him grabbing this job. The Browns have to find ways to stretch teams out, and I suspect Richardson's touches will be monitored more closely by Turner as well.
This team, while still lacking playmakers, won't be as predictable offensively any longer.
On defense, Horton's 3-4 hybrid scheme is much more aggressive than what the Browns ran under Dick Jauron. Expect much more pre-snap movement and varied looks. He will bring pressure from all over, and that should only aid a secondary with question marks outside of stud corner Joe Haden.
Bubble watch
Weeden was a first-round pick just a year ago, but he might not be long for Cleveland. If Campbell and Hoyer take off quickly, perhaps Weeden could be trade bait. He will be the most talked about Brown during camp, by far. He certainly is fighting for his job. The Browns did most of their purging already early in the offseason, trying to bring in younger bodies to fight for depth spots.
Unheard-of-guy to watch
Mitchell Schwartz enters his second year as a starting right tackle in Cleveland, but like many recent picks of the former regime, he will be watched very closely. The Browns couldn't upgrade at every spot in the offseason, but nailing down bookend tackles will be imperative when you look at the edge rushers division foes Baltimore, Pittsburgh and Cincinnati have to offer, And Schwartz had his share of difficulty in his rookie campaign.
Biggest concerns
Anytime your first-year owner has his business raided by the feds, on multiple occasions, it's never ideal. There are worries about how far the probe into Jimmy Haslam's truck stop company could go to eventually impacting the cash flow of the Browns, and whether or not his tenure at the helm could ultimately be cut short because of it.
It's not something the front office is concerning itself with -- they have enough work to do just trying to turn around the lagging franchise -- but the timing, for Haslam, could hardly be worse.
Cleveland still lacks talent on offense and, besides its center and left tackle -- both studs -- you have to wonder about the rest of the offensive line. With so much youth on that side of the ball, you'd prefer a veteran line anchoring things down, but again, this rebuild will take time. And if you have three quarterbacks, well, you know how that saying goes. It all starts and ends there, and the true quarterback of the future for the Browns likely is not on the roster that will open camp.
The Browns added bite to an already sound defense, which was huge, and loaded up on 2014 draft picks, which should be a better crop of players to add to what they are developing here. But taking immediate leaps forward playing in this loaded division won't be easy.
Something to prove
Josh Gordon was taken with a second-round supplemental pick a year ago, and while he displays moments of brilliance, he has a ways to go to become a true threat in this league. He is very raw after missing considerable time in college and while speedy, needs to learn the position and harness his ability. There were concerns about his maturity and off field habits coming out of Baylor as well. He will need to take a positive step forward in all regards, much like fellow enigmatic young receiver Little, to avoid receiver becoming a focal point of the organization come next offseason.