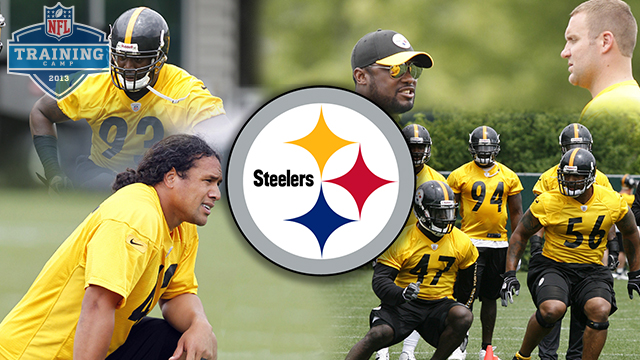 In Pittsburgh, fans start camp talking about adding rings to that second hand and seeking a seventh Lombardi. But just getting back to the playoffs would be a start. The front office has had its hands tied by cap and budgetary issues, and old age is catching up with them, on defense in particular.
The focus will remain on the offensive line, as an injury to Ben Roethlisberger derailed a promising 2012 campaign. Projected starting right tackle Mike Adams is trying to race back from a recent stabbing, and while Mike Wallace's holdout is no longer the distraction it was a year ago, his departure as a free agent, and how he will be replaced, will dominate summer chatter.
This team could still put up scary offensive numbers, but will the defense be able to bury opponents with the avalanche of sacks and turnovers that defined this defense in its prime? It's time for a host of 2010-2012 draft picks to step up and begin filling a void, as the former fixtures of Dick LeBeau's defense continue to depart, retire or slow down.
Key changes
The Steelers' roster is in transition. An era is ending there, particularly on defense, with James Harrison and Casey Hampton gone, Troy Polamalu likely a year away from the same. The Steelers lost top skill players in receiver Mike Wallace and running back Rashard Mendenhall to free agency, with Pittsburgh trying to get its salary cap back on track and tight on cap space. Longtime offensive linemen Max Starks and Willie Colon left as well. The onus is on kids from recent draft classes to emerge, while longtime backup quarterbacks Charlie Batch and Byron Leftwich are also gone.
Pittsburgh is never going to be all that active in free agency, and this year they displayed extreme caution. The stagnant cap tied their hands and they were bargain shopping. Plaxico Burress returns to try to bolster the receiving group and be an option in red zone situations. LaRod Stephens-Howling enters the running back mix as a free agent. Bruce Gradkowski comes in to serve under Ben Roethlisberger. And the Steelers matched the one-year offer sheet from New England to receiver Emmanuel Sanders, which can't be overlooked, either.
The staff is largely intact, with one key change being Danny Smith coming over from Washington as special teams coach. The Steelers had tried to hire him in the past, and the Redskins had always blocked, but Smith is now back in his hometown. His upbeat, relentless approach to practice should add life to their return units and bring a renewed energy as well. Mike Tomlin has wanted to hire him for a long time.
Position battles
Running back is screaming out for someone to step up and become the featured guy. Jonathan Dwyer earned more playing time as the season went on and can be a wrecking ball, and Isaac Redman returns on an RFA tender as well. The Steelers really like draft pick Le'Veon Bell out of Michigan State, and it wouldn't surprise if the rookie ended up with a hefty dose of carries before the season plays out. That process starts in earnest in camp.
With Wallace gone, and Sanders and Antonio Brown in line for even more work, the Steelers need a new slot presence to emerge. Jerricho Cotchery is the obvious candidate, but rookie draft pick Markus Wheaton has the body to serve that role as well.
It's also time for things to shake out at linebacker. Draft pick Jarvis Jones, taken in the first round, is seen by many as the natural replacement for Harrison, but he'll have to prove it. The pedigree of Pittsburgh linebackers goes back forever, and there is usually a learning curve. Jason Worilds is in that mix, and, frankly, he flashed enough early on that some thought he'd be ready to take over at right outside linebacker, but that's far from a certainty now. Veteran Larry Foote is back, though the team hopes more youngsters emerge, like Stevenson Sylvester.
New schemes
You know what you are going to get from Hall of Fame coordinator Dick LeBeau on defense. He's back for at least one more season, though at this point he could stick around five more years and no one would be surprised. He is truly ageless.
Todd Haley is back for his second season as offensive coordinator and expect to see more use of the tight end and quick-hitting passes on offense. Losing Wallace takes away a real longball threat and Wallace didn't find his way in the offense much in 2012. The interpersonal dynamics between Haley and Roethlisberger will be dissected on a weekly basis, too.
Bubble watch
At this stage of his career, Burress is by no means assured of a roster spot, even with a need at receiver. Tomlin is a fan of his, however, which helps. For a guy who couldn't find work a year ago, he should be plenty motivated and it will be interesting to see how many reps he gets early on. And can warrior Brett Keisel maintain and have his body hold up through the rigors of another season, given all the abuse he has absorbed over the years?
Unheard-of-guy to watch
Cortez Allen made some big strides last season when forced into a key role in the secondary and stands poised to get plenty of action this season as well, opposite Ike Taylor. Spreading out the Steelers and getting after their corners is a tact many clubs will take, especially if the pass rush is not as vaunted as in years past. Allen, from The Citadel of all places, is in line to begin making a name for himself if he can continue the progression he began to show last year.
Biggest concerns
For years people have been talking about the age of this team, particularly on defense. And while a transition is afoot, expect to hear plenty more. What some forget, however, is how well this team ended up finishing in overall defense again, in 2012. Can they keep it up?
The Steelers desperately need a handful of recent draft picks along the defensive line, like Cam Heyward, Ziggy Hood and Al Woods, to step up to maintain the level of defensive excellence Steelers' fans are accustomed to.
The offensive line remains a work in progress as well, and the stabbing of projected starting right tackle Mike Adams was unfortunate to say the least. He was starting to really adapt to his switch to the right side and the goal was to get as many reps as possible this spring. Will Adams be ready to go at the start of camp, as expected? Solidifying the tackle spots and also keeping guard David DeCastro healthy is another key.
And will the loss of Wallace limit the scope of this offense, one that -- even without him -- has the potential to be explosive?
Something to prove
Polamalu is the highest-paid safety in the league but hasn't been the same since signing his last contract extension. Merely staying healthy would be a big step. It's hard to put a first-ballot Hall of Famer in this category, but at this stage of his career he will have to improve if he wants to be around in 2014. This is Pittsburgh, after all, and they embrace change no matter how popular the player is when the time comes.
LaMarr Woodley hasn't been able to sustain his top pass rushing form, either, and he needs a bounce-back year, too. For some stretches, he looks like the best pass rusher in the NFL, but doesn't flash nearly as much during other portions of the season. With Harrison gone, they need sustained pressure from Woodley.