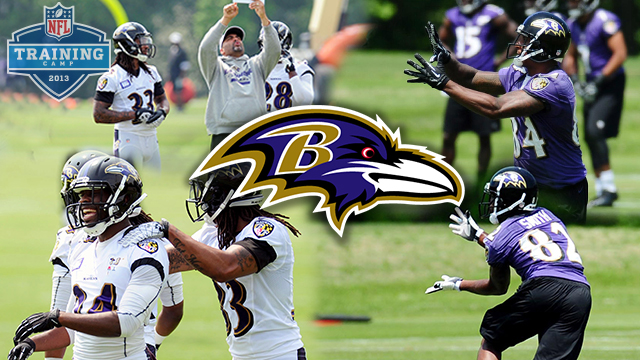 The Ravens are the only team in the NFL to reach the postseason each of the past five years. Coach John Harbaugh and quarterback
Joe Flacco
are flawless in that regard thus far through their careers.
Surely the time will come when they are watching at home come January, and as camp begins everyone is now shooting for the reigning champs. The bar has been raised, again, and with Flacco now the second-highest paid player in the history of the game, all eyes will remain on him as the practices begin. A year ago the Ravens were dealing with the Achilles tear by Terrell Suggs and looming questions about the age and health of the roster.
Their veteran purge has largely silenced that talk and the expectation is that a healthy Suggs begins taking over the vocal leadership reigns with Ray Lewis and Ed Reed among those gone.
Key changes
The exodus of talent from Baltimore was one of the NFL's primary early offseason storylines. Two future Hall of Famers departed: linebacker Ray Lewis retired, while safety Ed Reed left for Houston as a free agent. Veteran center Matt Birk, a natural leader, also retired, esteemed veteran receiver Anquan Boldin was dealt to San Francisco for a late draft pick and young defensive starters Paul Kruger, Cary Williams and Dannell Ellerbe left for greener pastures as well, as free agents. Special teams ace Brendon Ayanbadejo, the vocal leader of that group, is gone, too. Hard hitting safety Bernard Pollard was let go to save more cap room and fullback Vonta Leach is also gone. Um, am I missing anyone? That sounds like all the significant departures.
The Ravens were soon to offset much of this with signings of their own, however.
Versatile defensive linemen Chris Canty and Marcus Spears were signed in the second wave of free agency, at a value price. Patience was a virtue for them, and it served them well. The Ravens won the derby to land pass rusher Elvis Dumervil once Denver lost his rights over a fax snafu, filling a major void. Baltimore retains the rights to "retired" linebacker Rolando McClain, who they signed as a free agent after his release by Oakland. Safety Michael Huff was snapped up on the cheap as well, to help with coverage at the safety position. They also waited until deep into free agency to re-sign free agent tackle Bryant McKinnie, a key part of their late Super Bowl run, and addressed vacancies at safety (Matt Elam) and inside linebacker (Arthur Brown) in the top rounds of the draft.
On the staff side, Baltimore made its biggest change late in the 2012 regular season, when Jim Caldwell replaced Cam Cameron as play caller. Caldwell received the offensive coordinator title following the Super Bowl win, and Juan Castillo, former longtime offensive line coach and also a defensive coordinator with Philadelphia, came on as a consultant for the playoffs as well. Expect him to have an even greater hand in putting together blocking schemes and protections. Castillo worked with Ravens head coach John Harbaugh in Philadelphia, as did former defensive coordinator and head coach Steve Spagnuolo, who joins the staff as a defensive consultant. An already strong staff is even that much more experienced and varied, now.
Position battles
This roster is fairly set. It remains to be seen who emerges as the No. 2 receiver with Boldin gone, though team sources believe pass-catching tight end Dennis Pitta is ready to be a dominant presence in the slot and is also able to be split out wide. Depth receivers Tandon Doss, David Reed and Deonte Thompson were given a run with the starters during OTAs while receiver Jacoby Jones was on Dancing With the Stars, and perhaps one of them emerge as well. At various times all have generated a buzz, but nothing has carried over to actual games yet.
The Ravens drafted versatile fullback/H-back Kyle Juszczyk, who could end up filling a blocking and pass-catching role. And at center, second-year man Gino Gradkowski comes into camp as the favorite, but the Ravens acquired A.Q. Shipley from the Colts and he is expected to make a push there as well. If McClain comes back, things could get interesting at inside linebacker as well, with Brown and Jameel McClain, coming off a neck issue, also in that mix.
New schemes
Caldwell had the offense open up under his hand last year, and expect that to continue to be the case. Quarterback Joe Flacco has had more of a voice in audibles and game planning, and threw more passes down the seams and utilizing the middle of the field. There was more of an emphasis on spread formations and this offense wants to speed up things at the line of scrimmage.
Defensively, Spagnuolo can be very exotic and aggressive with his blitz concepts, and the Ravens got back to more of that attacking mindset with Dean Pees as the defensive coordinator last year. The renewed depth across the defensive line will allow for plenty of shuffling and creativity and could result in edge player Courtney Upshaw shifting inside some, too.
Bubble watch
Baltimore pretty much ended any mystery about its roster by parting with the last of their aging, higher-priced veterans with the release of Pro Bowl fullback Vonta Leach last month. Jah Reid is a player worth watching in camp. Drafted to be a right tackle of the future he might not even crack this roster as a swing tackle depending on how healthy and productive he is in camp. The Ravens don't miss on too many kids in the first three rounds, but Reid and defensive tackle Terrence Cody could face an uphill climb to avoid the turk.
Unheard-of-guy to watch
It wasn't that long ago that many on the Ravens' coaching staff were very high on receiver David Reed. He was seen as a potential special teams difference maker, and the heir apparent to Derrick Mason as a possession receiver. Since then, he's flamed out as a return man with fumbling issues and struggled with injuries and for playing time. But at a time when the team was cutting players all over the place, Reed got $2 million to stay. Seems to me he will get a good chance to move up the receiver pecking order with Boldin gone. This looks like his last stand and I wouldn't be shocked if he takes advantage of it.
Biggest concern
The reigning Super Bowl champs appear to be much better defensively from the middling unit that didn't live up to the franchise norm in 2012. But saying that, much will depend on how top corner Lardarius Webb returns from another knee surgery, with the secondary almost totally overturned. Sorting out the linebackers, post-Ray Lewis, will be a major chore and replacing Boldin's production will be key.
Most of all though, the Ravens must find harmony and leadership in the locker room given the kind of players, and people, who have departed. New voices must emerge. And avoiding the typical pitfalls that follow great success -- complacency, ego -- will go a long way toward dictating the type of season they follow their Lombardi with.
Something to prove
The Ravens won a Super Bowl with Terrell Suggs being a shell of his normal self. It was amazing that he came back at all after his Achilles tear last spring. Now, he needs to return in peak shape and ready to be the kind of force he was in 2011 as Defensive Player of the Year. Similarly, Haloti Ngata was paid just a few years ago as one of the elite defensive linemen in the game, but his production has waned with injuries taking a toll. Renewed depth should result in better matchups for Ngata and he, too, has the potential to be Defensive Player of the Year at his best.
With so many veterans gone, the focus and expectations will be even higher for this duo, and the way they bounce back from off years could determine the team's fate. If they do get back to their best, this defense could be infinitely more disruptive than it was a year ago.