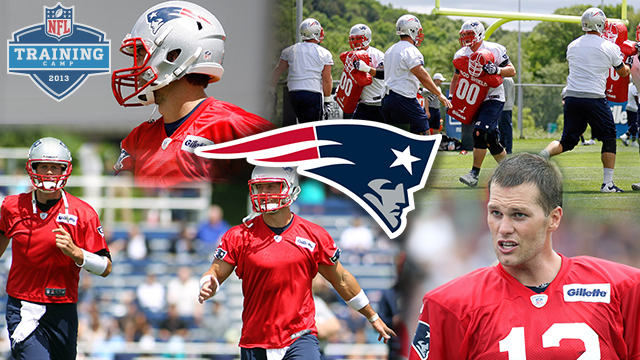 The Patriots have dominated the AFC East for so many years it's hard to remember when any of the other teams really challenged them for the division crown. There is an undercurrent that they are closer to the pack now with the departures from the roster and some of the additions to their opponents, especially down in Miami. I'm not buying it as long as
Tom Brady
is under center. Brady will need his greatest year as a pro to overcome some of the issues surrounding the club, but as former Patriot
Dan Koppen
said to me, "You won't hear a word out of Tom or any excuses. He will meet the challenge."
Key changes
The addition of Tim Tebow isn't a reason to believe the Patriots are developing a secret package that would put Tom Brady on the sideline. A few years ago I asked owner Robert Kraft if the club had any interest in the Wildcat offense.
"We have no interest in anything that doesn't have Tom Brady on the field running the offense," Kraft responded.
The Patriots have assembled a solid group of running backs and there could be more emphasis on the ground attack. Over the past two seasons the Patriots have averaged 654 pass plays and they could be considering cutting that back to the 550 range. That equates to six less pass plays a game and I could see the run game getting the extra work. That would make sense, especially with the significant changes to the receiver position. But in the end Tom Brady will still be leading one of the top scoring offenses in the NFL.
On defense the Patriots were ranked 9th overall but 29th against the pass. New England was outstanding in creating turnovers with 20 interceptions and 21 fumble recoveries, which is more important than pass defense. Imagine giving Tom Brady 41 extra series in a season. As for shoring up the pass defense, it starts up front with a better pass rush and hopefully the linebackers play a bigger role in coverage and pressure.
Roster additions: Two key players on defense have to step up for the Pats: safety Adrian Wilson and defensive tackle Tommy Kelly. Wilson is thought of as a box safety better against the run than the pass and time will tell how he plays in space against teams trying to match up their vertical threat tight ends against him. Kelly has talent but has been labeled an underachiever at times. He should provide some inside push with Vince Wilfork to help collapse the pocket.
On offense the Patriots have overhauled the receiver position and expect big things from oft-injured Danny Amendola, rookie WR Aaron Dobson and veteran castoffs Michael Jenkins and Donald Jones. Amendola replaces Wes Welker but has only been active in 42 of his 64 games and has 196 receptions and 7 touchdowns in his career. Not one of these four wide receivers has ever been in a real game with Tom Brady or experienced Brady's no-huddle attack.
Roster departures: Gone are Wes Welker, Brandon Lloyd, Aaron Hernandez, Donte' Stallworth, Deion Branch and Danny Woodhead. Last year as a group they caught 301 passes and 19 touchdowns. Tom Brady completed 401 passes last year and 75 percent of those receptions are not on the roster as well as 56% of the touchdowns. This group of missing receivers also moved the chains for a first down 179 times or 11 a game.
Staff changes: The Patriots return all key components to the staff with the offensive, defensive and special team coordinators still in Foxboro.
Position battles
Right cornerback: Second-year player Alfonzo Dennard is penciled in as the starter but veteran Kyle Arrington and rookie Logan Ryan will press to take the job. The top loser should be the nickel back.
Linebacker: The Patriots have invested heavily at linebacker over the past few years with Jerod Mayo and Dont'a Hightower as former first-round picks and Brandon Spikes a second-round selection. Keep an eye on this year's Round 2 linebacker, Jamie Collins, trying to fight his way on to the field.
Running back: This will be interesting to watch as Stevan Ridley and Shane Vereen should compete for most of the playing time, but the addition of LeGarrette Blount and Leon Washington make the situation very competitive.
New schemes
The Patriots are listed as a 4-3 defense, which they played last year as their base defense but they have a long history of being a 3-4. With the personnel on this roster right now Coach Bill Belichick could easily return to a 3-4 package. On the offensive side of the ball until the health status of tight end Rob Gronkowski is known they may have to be creative with their personnel groupings. Jake Ballard could get significant time at tight end or they could use more of a hybrid two-back system.
Bubble watch
Former 2010 second-round pick OLB/DE Jermaine Cunningham has fallen down the depth chart and is questionable to make the roster. Tim Tebow is no lock to make the team, especially with a non-guaranteed contract and the Patriots' recent history of keeping only two quarterbacks.
Unheard-of-guy to watch
Three guys that could play bigger roles this year include WR Donald Jones picked up from the Bills, WR/DB Julian Edelman, and center Ryan Wendell. Jones has as good a chance as any receiver to make an impression on Tom Brady. Edelman could see some of Woodhead's opportunities and might have more of Welker's skill sets than anyone on the roster. Wendell started all 16 games last year and no one knows the guy. Now with Hernandez gone and Gronkowski's health in question, the Patriots either trade or pick up tight end help or expect a lot more from Jake Ballard or Michael Hoomanawanui.
Biggest concerns
Inexperience at the receiver positions and the health of Gronkowski lead the list of concerns. Last year Tom Brady threw 13 touchdown passes to one interception in his six division games. Is that production still going to be there this season? How much emotional damage will the issues surrounding Hernandez inflict? What about the distractions they might cause?
Something to prove
Amendola has big shoes to fill replacing Welker, who year-in and year-out caught 100 balls. Michael Jenkins replaces Brandon Lloyd. Jenkins' best season as a pro was 53 receptions for the Falcons in 2007. Lloyd had 74 catches last year. Tim Tebow really has to open up to the idea of playing another position if he wants to stick with the Patriots. He's not better than backup QB Ryan Mallet and to make this team he may have to become a utility player.