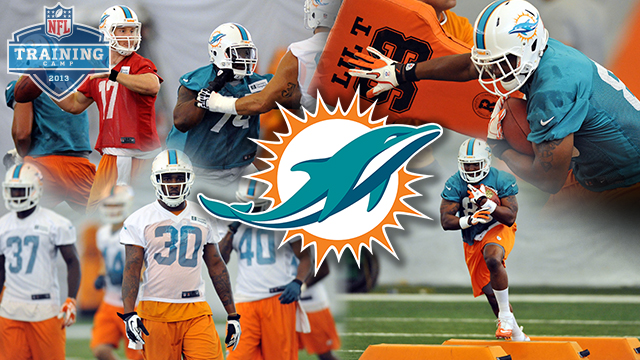 The
Miami Dolphins
were 7-9 last year and in many ways resembled the Dolphins of the last decade, a team in the middle of the pack and seemingly going nowhere. Don't bring that up to Dolphin fans this year as expectations are soaring with the development of QB
Ryan Tannehill
and all the offseason moves. The reality is that there's still lots of work to do for an offense and pass defense that were ranked 27th in the NFL last year.
Key changes
There were no key changes to the coaching staff, which is a good thing. Head coach Joe Philbin made a very favorable impression on me last year in his first year as a head coach as did his coordinators Mike Sherman and Kevin Coyle. Coyle's defense only gave up 18.6 points a game in the six division games. Unfortunately, the Miami offense only scored 18.1 points per division games.
The team decided to move on without the services of LT Jake Long, RB Reggie Bush, TE Anthony Fasano and slot receiver Davone Bess. Only time will tell if the offense benefits from the replacements for these players. Long played hurt last year but still rarely got any help blocking the key pass rusher on opposing teams. Bush, Bess and Fasano accounted for 2,388 yards of offense, 14 touchdowns and 99 first downs.
Roster additions: Wide receiver Mike Wallace was signed in the offseason for a five-year, $60 million deal with $30 million guaranteed. Wallace leads an overhaul of the roster that includes 8-9 new starters for the 2013 season. Seven new members to the roster include Wallace, CB Brent Grimes, linebackers Dannell Ellerbe and Philip Wheeler, offensive tackle Tyson Clabo, tight end Dustin Keller and first-round pick DE Dion Jordan.
Roster departures: Not everyone is convinced that dropping linebackers Karlos Dansby and Kevin Burnett for Ellerbe and Wheeler was that much of an upgrade, but the Dolphins got younger at the linebacker position and in the long run it may have been the right move. Dansby and Burnett were the top two defenders in tackles with 234 combined tackles, 3½ sacks and 14 passes defended. Ellerbe and Wheeler got $27 million guaranteed in their combined $51 million contracts and have a lot to live up to make the departures of Dansby and Burnett look like good football decisions.
Position battles
There will be competition at running back, fullback, the third wide receiver, defensive end and cornerback. RB Lamar Miller will be challenged for playing time by Daniel Thomas and rookie Mike Gillislee. The fullback battle will be between Jorvorskie Lane and Charles Clay. The third wide receiver has to replace Davone Bess' production in the slot with Brandon Giibson, Jeff Fuller, Armon Binns and maybe Marvin McNutt competing all summer. Dion Jordan is penciled in at defensive end but Jared Odrick will not go away quietly and may win the job on the early downs. Richard Marshall is penciled in at corner opposite Brent Grimes, but expect rookie Jamar Taylor to go after the starting spot and push Marshall to the nickel role.
Bubble watch
The Dolphins made the most of their big roster decisions in the offseason, but guys like CB Nolan Carroll, CB Dimitri Patterson, RB Daniel Thomas and maybe guard John Jerry will have to do well this summer or risk losing playing time or worse.
Biggest concern
The expectations are high, especially for quarterback Ryan Tannehill. He only threw 12 touchdown passes last year. I think Tannehill will take the next big step in his development, but will he lead Miami to the playoffs? Secondly, will Brent Grimes return to 100 percent and lead this team to a better pass defense than the 27th ranked pass defense last year. Tom Brady has led the Patriots to six straight wins over the Dolphins with 11 touchdown passes while averaging 283 passing yards a game.
Something to prove
There is a lot of pressure on running back Lamar Miller to replace Reggie Bush. Can Miller get 1,000 yards rushing on 220 carries, scored six touchdowns, catch 38 balls and score two more times because that's what Bush averaged in his two seasons with the Dolphins. Offensive tackle Jonathan Martin is now a permanent fixture on the left side with Jake Long gone and he got mixed reviews last year when he had to go to the left side. Miami tried to re-sign Jake Long, which should tell you they were happy with Martin on the right side. Brian Hartline was moving along nicely in a quiet career until the Dolphins signed him to a five-year, $31 million deal with $12.5 guaranteed this spring. That's a lot of money for a guy with six touchdown receptions in four years.