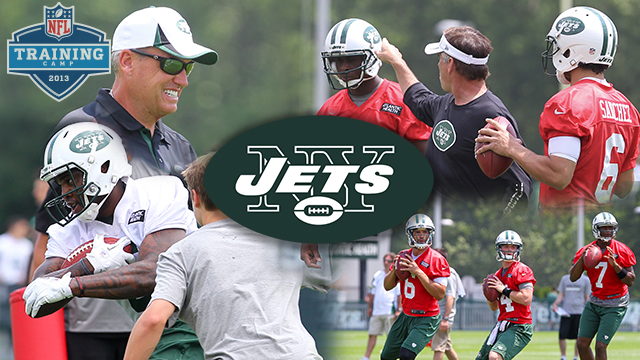 The bubble has appeared to burst in New York and Rex Ryan isn't talking about winning it all in 2013. According to
Nick Mangold
, Rex is still Rex behind closed doors with his team and the players appreciate his confidence in them. Things are changing for the Jets with GM Mike Tannenbaum and his personnel people out and a new front office led by John Idzik is in place. Ryan is probably on thin ice, but he will not coach scared for his job. No one is looking at the Jets as contenders but be careful and don't count them out. A few players have told me
Mark Sanchez
will not go away quietly and will fight to keep his job. As Mangold said, "He led us to the AFC Championship Game twice and everyone seems to forget it."
Key changes
The Jets were on their way to salary cap jail when John Idzik took over as GM, but after some though financial decisions they sit with close to $10 million in salary cap space. The biggest on-the-field change that potentially could happen is at quarterback with Sanchez battling rookie draft pick Geno Smith. There has been a steady flow of coaches out of the Jets organization over the past few years, and with Rex Ryan's job on the line, he enters 2013 with new coordinators on offense, defense and special teams. It's going to be tough for Ryan to tie this whole team together in time for the season.
Roster additions: The 2013 draft should put at least two starters in the lineup, CB Dee Milliner and DE Sheldon Richardson. Milliner replaces lock-down corner Darrelle Revis, who was traded to the Bucs. Tampa Bay is the opening game for the Jets, which should be very interesting. Veteran free-agent guards Willie Colon and Stephen Peterman bring much needed veteran help to the offensive line. If Colon can stay injury free the Jets will have a solid rush attack with newcomer Chris Ivory following Colon in the G-power game. Keep an eye on the recent addition at tight end, Kellen Winslow. He struggles to stay healthy but he is the best receiving tight end on the roster. On defense, Dawan Landry replaces LaRon Landry at safety and Josh Bush replaces Yeremiah Bell. They can't be considered upgrades at this point.
Roster departures: Revis is the biggest departure, but the Jets only had him for two games last year and still managed to be the No. 2 pass defense in the NFL. Tim Tebow is now a Patriot camp candidate, but he never did much for the Jets in 2012. If you go back and look at the starting lineup from December 2012 you will realize that 10 starters are no longer on the roster: Matt Slauson, Brandon Moore, Dustin Keller, Shon Greene, Sione Pouha, Mike DeVito, Bart Scott, Bryan Thomas, Bell and Landry. Basically, 50 percent of the starters are gone.
Staff changes: Three new coordinators with 11 new starters' sounds almost like an expansion franchise. Marty Mornhinweg takes over the offense and has a reputation for running the ball. Dennis Thurman takes over the defense and will be an extension of Rex Ryan's pressure 3-4 package. Ben Kotwica was promoted after the retirement of Mike Westoff.
Position battles
Quarterback is going to be a heavily contested battle and the media will be right in the middle of it. Sanchez is under the microscope, but will Geno Smith be ready to lead this team? At fullback, rookie Tommy Bohanon is a powerful lead blocker and he will compete with Lex Hilliard. On defense, Milliner will attempt to unseat Kyle Wilson for the corner job opposite Antonio Cromartie. The loser will be the nickel corner. The biggest experiment is moving Quinton Coples, a 4-3 defensive end drafted in the first round last year, to OLB. Calvin Pace was re-signed in case the project is a failure.
Bubble watch
A new GM and an old coach trying to keep his job. The GM wants to continue to get younger players on the field and the coach wants as much veteran experience as he can get. With the roster overhaul that has already taken place there isn't much left to do, but veterans like Winslow, Jaiquawn Jarrett, Antonio Garay, Greg McElroy, and Mike Goodson (legal issues) are always bubble players.
Unheard-of-guy to watch
Third-round offensive guard Brian Winters can play guard or tackle and he will find a way to get on the field as a rookie. Josh Bush and Antonio Allen were drafted last year in the sixth and seventh rounds and both could find their way on to the field by the start of the season. Garay sits behind Kenrick Ellis on the depth chart at nose tackle, though Ellis has four career starts, 16 tackles and no sacks. In the last three years Garay has 28 starts, 81 tackles and nine sacks.
Something to prove
Sanchez has won 4 of 6 playoff games, all on the road, with nine touchdown passes, three interceptions, four sacks and he's only 27 years old. But he is under constant attack. No one seems to care that he had a poor group of weapons and a shaky offensive line last year. Austin Howard is the starting right tackle and the film study says he can play, but he will have to hold off a few draft picks to keep his job. With Bart Scott no longer a member of the Jets, Demario Davis gets the call. Davis has three NFL starts where he did record 15 tackles.
Biggest concerns
Where is the pass rush? In 2012 the Jets 3-4 defense only generated 30 sacks and 12 1/2 of those were by players no longer on the team. The top 3-4 defenses get close to 20 sacks from their two outside linebackers and the pressure is on Coples and Antwan Barnes to generate bigger numbers than they have in the past or the Jets will find themselves blitzing too often in order to manufacture pass rush.
Last year the Jets scored 60 points in their last five games (12 per game) which tells you why they were the 30th ranked offense in the NFL. Don't be surprised if Sanchez is the starting QB to open the season and as soon as he throws his first interception the cries for Smith will be so loud that the rookie winds up on the field. There's a five-week stretch in the middle of the season when the Jets play Atlanta, Pittsburgh, New England, Cincinnati and New Orleans. I might wait until that part of the schedule is over before Geno Smith takes the field.