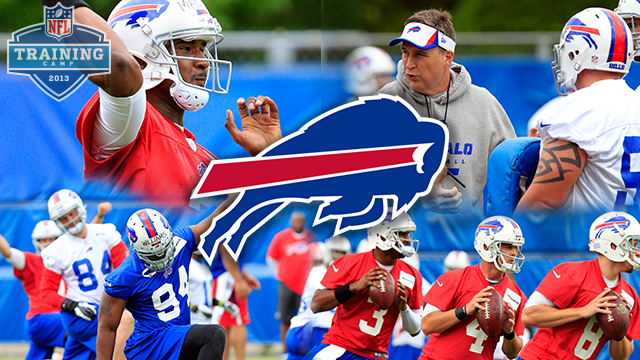 The
Buffalo Bills
are brand new from top to bottom. There's a new GM, head coach, coordinators and two new quarterbacks. The only thing that remains from the past decade is the fan frustration. Since 2000 the Bills are 82-126 with no postseason appearances. Against their three division opponents in the same 13 seasons they are 25-53. They are just 3-23 against New England during that stretch compared to more respectable records against Miami (12-14) and the New York Jets (10-16). There's a lot of work to be done to get back to the glory days. Last year the Bills went 0-6 vs. playoff teams and gave up an average of 38 points in those games. None of that matters now because head coach Doug Marrone only cares about the future and he says he believes the Bills can make the playoffs.
Key changes
The quarterback position is the key change on the roster. Gone is Ryan Fitzpatrick and in his place is a battle between Kevin Kolb and rookie first-round pick EJ Manuel. Fitzpatrick was the fall guy for the Bills' woes but he did throw 24 touchdowns to just 16 interceptions last year. Kolb has never thrown more than nine TDs in a season and only has 28 in his 21 career starts. Manuel, of course, has never thrown a pass in the NFL. When it comes to getting rid of the ball to avoid a sack time will tell if Kolb is better than Fitzpatrick. Last year Fitzpatrick was sacked once every 18 attempts with Andy Levitre at guard. Kolb or Manuel will not have Levitre, who left in free agency, and Kolb has been sacked once every 11 attempts through his career.
Roster additions: Manny Lawson comes over from the Bengals and will start at ROLB. Alan Branch comes from the Seahawks and will push to be in the defensive tackle rotation. Kiko Alonso, a second-round pick in the draft, is penciled in to start at right inside linebacker. Some felt Alonso was a fourth- or fifth-round pick but former GM Buddy Nix and present GM Doug Whaley convinced me that Alonso has what it takes to earn a starting spot. Keep an eye on him when Tom Brady goes no huddle.
Roster departures: The biggest departure was offensive guard Levitre. He was the Bills' best offensive lineman and is being replaced by former Dallas Cowboy Sam Young, who was claimed on a waiver back on September 2011. It can be tough for a guy who is 6-feet-7 to play guard, so keep your eye on this situation. The only guy on the roster with legitimate starting experience on the inside of an offensive line that is not starting is Doug Legursky. Legursky has 17 starts over the past three seasons as a Steeler. As for the other departures, safety George Wilson and linebackers Kelvin Sheppard and Nick Barnett are off the roster. Barnett, Wilson and Sheppard were the top three tacklers on the Bills last year, combining for 287 tackles and four sacks.
Staff changes: Whaley is the new GM and he will bring his Pittsburgh Steelers roots to western New York. The team will eventually take on the traits of the Steelers when it comes to physical players, toughness and a multiple-look defensive package. Marrone is the new head coach and even though he was only 25-25 as the head coach of Syracuse his experience under Sean Payton in New Orleans will be the foundation for the offense. New defensive coordinator Mike Pettine is known for his aggressive pressure defenses developed under Rex Ryan.
Position battles
The quarterback battle will be well documented and sooner or later Manuel has to take the field for the Bills. The next intriguing battle will be at wide receiver with T.J. Graham trying to hold off Robert Woods and Marquise Goodwin, two of Marrone's draft picks this past spring. Keep an eye on the kicking battle as Rian Lindell battles rookie sixth-round pick Dustin Hopkins. Hopkins has a long leg and Lindell is 36 years old.
New schemes
The Bills look like a 4-3 defense when you think about defensive ends Mario Williams and Mark Anderson, but you can expect a lot of 3-4 looks and pressure calls from the secondary. On offense, if Manuel wins the job, there could be some variations of the pistol offense even though Manuel was a drop-back passer in college. I watched Manuel at the Senior Bowl and he moves well enough to build a package much like Seattle did with Russell Wilson.
Bubble watch
Buffalo has just under $20 million of salary cap space and with very little pressure to cut for money reasons there should be true battles for positions. Guys that may be question marks during the summer include Brad Smith (WR), Alex Carrington (DE), and kicker Rian Lindell. Actually, Buffalo has the cap space to acquire a few veterans or make a trade or two as camp goes on.
Unheard-of-guy to watch
Undrafted wide receiver Da'Rick Rogers has first-round talent with off-the-field issues. If he walks the straight and narrow he could make this team. The Bills swapped out linebacker Kelvin Sheppard for Colts bust Jerry Hughes. Hughes has a real opportunity in Buffalo backing up Mark Anderson. Keep an eye on rookie safety Duke Williams, who will battle Da'Norris Searcy for the strong safety job.
Biggest concern
How will Doug Marrone use his "honeymoon" first year of his tenure as Bills head coach? The Bills open at home against the Patriots, a team they are 3-23 against since 2000. Do they play older veterans who may not be the future? Or do they play all the young players to build a foundation? This year, besides the Patriots, the Bills also play Baltimore, Pittsburgh, New Orleans, Atlanta and the Bengals.
Something to prove
In some ways the Bills have gone backward, not forward, with the loss of an experienced GM and head coach as well as an experienced QB, OG and safety. But changes had to be made, and if EJ Manuel offers hope to the organization and fans, then the team is on the way back. There's a lot of pressure on this organization to turn things around.