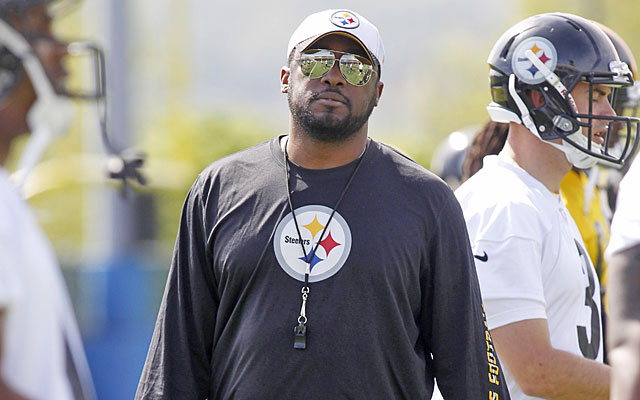 Everyone is granted one non-Aaron Hernandez question this month, so here's mine: What's next for the read option?
After what it did for Washington, Seattle and San Francisco last season, you would think we would see more of it in 2013 ... and maybe we will. Only this time defenses will be prepared, with coaches spending so much offseason time studying the scheme that Pittsburgh's Mike Tomlin predicted a short shelf life -- calling it "the flavor of the month."
If that sounds like a challenge, that's because it is. Which is why I wonder if the read option is here to stay, or if Tomlin's prediction is right. So I posed that question to several defensive-minded coaches last month, and the verdict was unanimous.
The arrow points toward Tomlin.
"I don't think it stays," said Cincinnati coach Marvin Lewis, defensive coordinator of the 2000 Baltimore Ravens. "A young quarterback can do it, OK? But that young quarterback will never get a second contract because he's going to be beaten up. And you can't be a passer and take hits on your shoulder like these guys are going to do getting tackled."
Makes sense to me.
Of course, talk to people in Seattle and San Francisco, and they'll tell you that neither Russell Wilson nor Colin Kaepernick took those hits. Both operate outside the pocket and -- unlike Washington's Robert Griffin III -- don't usually carry the ball through the middle of the field, instead using the sidelines to their advantage to avoid harmful blows.
But then I watched Kaepernick in Super Bowl XLVII when Baltimore had linebacker Terrell Suggs glued to him, and I remember one hit in particular -- after Kaepernick completed a handoff -- that convinced me Lewis is on to something. Suggs buried Kaepernick, knocking him to the turf and, in the process, sending an unmistakable message: Keep playing that game, and I'll keep hammering you ... with or without the football.
"It's option football," said Lewis. "We all coached in college, and we're used to playing option football and the assignments that come with it. When I was coaching at Idaho State we'd go down to BYU to watch spring practice, and they'd be working on Air Force and Wyoming and teams running the wishbone. They'd have a whole team of guys -- walk-on kids -- running the wishbone offense vs. their defense because they only saw it a couple of times a year. It was different than what they were used to, and it's the same theory here."
But the read option is more than different; it's wildly successful. It helped make RG3 the league's Offensive Rookie of the Year and Washington a division champion for the first time since 1999. It made an unexpected star of Seattle rookie Russell Wilson, who assumed more control of the offense as the season wore on. And it played to the strengths of the athletic Kaepernick, who led San Francisco to the Super Bowl and had the 49ers within five yards of a sixth Lombardi Trophy.
In a copycat league, you would assume more teams tilt toward quarterbacks who can run the read option -- figuring that if it works for others it can work for them. But there lies the problem: It worked so well that clubs spent the offseason preparing for it -- consulting collegiate coaches, assembling teaching tapes for players and, finally, practicing to defend it in OTAs.
What happens next is up to them and the RG3s of the NFL, but there's a feeling the read option is on the clock.
"It's obviously not being taken very lightly," said Indianapolis coach Chuck Pagano, whose Colts play the NFC West this season, "and I don't think anybody should. It's the trend right now. But if you go back to the wildcat when it was first sprung by Miami on New England ... they weren't ready for it. Nobody was. It had its success, then peaked a little bit, then fell off. I don't know how long this will last but we're going to be ready -- just as everyone else will be -- to defend it."
And there's the key: Being ready. It's another way of saying "playing disciplined defense," or what Green Bay didn't do in its playoff loss to San Francisco. Basically, it's assignment football, and those who deviate from it are those who catch glimpses of Kaepernick from behind.
"Just my opinion," Cincinnati defensive coordinator Mike Zimmer said, "but if you're a disciplined football team you're going to play it OK."
Too many times last season that didn't happen, with quarterbacks allowed to win as running backs. Kaepernick carved up Green Bay for 181 yards rushing in the playoffs. RG3 had 134 in one game vs. Minnesota and six times ran for 72 or more yards, while Wilson ran for 92 yards and three TDs against Buffalo. Heck, Cam Newton -- a quarterback who can run over people -- four times ran for 71 or more yards and has 22 rushing TDs his first two seasons.
"Seattle did a nice job with it with Russell Wilson -- with the concepts that they took out of it to use -- and Carolina does some of the same where they look to protect the quarterback more," said Lewis. "So there may be variations of that.
"But it's like Michael Vick when he first started in Atlanta and Donovan [McNabb] when he was first in Philly. It's a different style of quarterback. Then what happens when you get to that second contract is that it becomes a different deal. You're not running like you were.
"That's why the NFL had the wildcat guys. That was a way to take the quarterback out of the mix. You don't get him hurt, still probably run it but make it 11-on-11 football rather than 10-on-11 football. It evened the deck a little bit for the offense to defense. I think the same thing is true here."
Bottom line: While the read option is here, it probably isn't here to stay. I wondered when I saw RG3 play the piñata again and again; then became more skeptical when I first saw Suggs flatten Kaepernick. But it wasn't until I listened to defensive coaches detail how determined they were to stop it that I became convinced we may not be having this conversation in five years.
"As far as 'the flavor of the month,'" Zimmer said, "I believe that, but we have to stop it before it becomes 'the flavor of the month.' A few years ago they were running unbalanced all the time, they were running the wildcat and the same thing was happening defensively with the 'Tampa 2.'
"Some of the stuff we do, people are going to be catching up to. I just think everything in the NFL is cyclical, and everybody has good coaches -- and they'll figure out what they can do. It will vary a little bit depending on who the quarterback is, but you have to have a base way to play it -- just like everything else."