Who's the best coach in the NFL? The worst?
Which of the Harbaugh brothers ranks higher?
What new coach ranks highest of the first-year group?
With the 2013 NFL season approaching, I thought it a good time to rank the NFL's coaches 1-32, a sort of a Power Rankings for coaches.
In doing so, there were rules:
•  Any coach with a Super Bowl ring has to be ranked higher than any others, which means John Harbaugh has to be over brother, Jim.
• The coaches who have never been head coaches in either college or the NFL had to be at the bottom, which is why they are all lumped together. How do we know how good they will be? It's all speculation.
• Interim stints as a head coach matter. That's you, Bruce Arians.
• Personality doesn't matter. How you treat the media doesn't matter. Look at the No. 1 spot.
With that, here's your ranking of the 32 NFL coaches.
1. Bill Belichick, New England Patriots: He has taken the Patriots to the playoffs in 10 of his 13 seasons with the team and has three Super Bowl victories in that time. He has a .726 winning percentage with the Patriots, which helps to erase most of the memories of his Browns years. It helps that he's had Tom Brady, but he's a sensational coach, even if he can sometimes come across as an ogre. With all the off-field issues facing his team now, he might have to be at his best in 2013.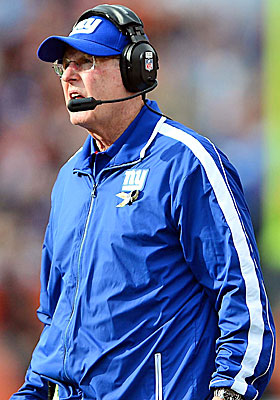 2. Tom Coughlin, New York Giants:
Two
Super Bowl
victories with the Giants should cement his spot in the Hall. What he did in Jacksonville with that expansion team was as impressive as any new franchise ever. And he's not done. Coughlin is at his best when his team isn't expected to do much, which is a trademark of a great coach. In 17 seasons as a head coach, he has just five where his team finished under .500 and he has seven seasons of double-digit victories.
3. John Harbaugh, Baltimore Ravens: Yes, John. Not Jim. John has that Super Bowl victory now and his team has been a Super contender for much of his stay with in Baltimore. I continue to say that his coaching job in 2012 exceeded the talent level on the field. It was a heck of a job. He's been to the postseason all five of his years with the Ravens, and he's 9-4 in 13 postseason games.
4. Sean Payton, New Orleans Saints: There is no better offensive mind in the NFL. He is smart, confident and arrogant -- and he coaches that way. His players love that about him. He was sorely missed last year when he sat out with the Bountygate suspension. He can be combative at times, which I kind of like, but there is no denying his smarts when it comes to offensive football. I want him calling my plays.
5. Mike Tomlin, Pittsburgh Steelers: In six seasons, he's never had a record worse than 8-8, which came in 2012. His overall mark is 63-33 and he's been to two Super Bowls, winning one. The Steelers were .500 last season in large part because of injuries. Tomlin has great rapport with his players and tends to let his coordinators do a lot of the game-day coaching.
6. Mike McCarthy, Green Bay Packers: Here is another coach who calls a game with confidence. It helps that he has Aaron Rodgers. But McCarthy is a smart offensive coach who has one Super Bowl title and will again be in the mix in 2013. There have been some postseason failures, which keep him from being even higher on the list. He is 47-17 the last four seasons.
7. Mike Shanahan, Washington Redskins: He has two Super Bowl victories, but he hasn't won one since 1998. In the 13 seasons since, he's had just five seasons of 10 or more victories. His postseason record is 1-4 in that time. Has he lost his touch? Or will Robert Griffin III help him get it back?
8. Jim Harbaugh, San Francisco 49ers: In two seasons, he's 24-7-1, which is good for a .774 winning percentage. That's special. He went to the NFC title game in 2011 and came close to winning a Super Bowl last year, losing when a late-game drive failed to get into the end zone. He marches to his own beat, and can be standoffish. He has turned off some of his brethren with his antics. But he can flat-out coach. One question: Do his rah-rah antics wear thin at some point?
9. Mike Smith, Atlanta Falcons: He is the most successful coach in Falcons history, taking his team to the playoffs in four of his five seasons. In two of those seasons, the Falcons were the No. 1 seed in the conference, only to lose at home. When Smith was hired, some mocked the move. But he has proved to be a great hire for the Falcons. The players respond to his ways, and he has evolved to realize that to win in this league the offense has to be explosive.
10. Andy Reid, Kansas City Chiefs: He had eight seasons of double-digit victories in 14 years with the Eagles, and he went to postseason nine times and went to the Super Bowl once. He is 10-9 in 19 playoff games. But his team was 4-12 last year, which cost him his job. Reid can coach, even if Eagles fans love to dispute that.
11. Jeff Fisher, St. Louis Rams: Fisher is 149-128-1 in his career as a head coach. That's impressive. He also took the Tennessee Titans to the Super Bowl, where they lost to the Rams. Amazingly, Fisher has just six seasons of 10 or more victories, the last coming in 2008 with the Titans. He is a hard-nosed coach who loves the running game and defense -- maybe too much.
12. John Fox, Denver Broncos: He is 94-82 in his career and took the Carolina Panthers to a Super Bowl. He had the best team in 2012, but lost in overtime to the eventual champion Ravens in the playoffs. In 11 seasons as a head coach, Fox has just one where he's won fewer than seven games. He won 13 in 2012.
13. Marvin Lewis, Cincinnati Bengals: In 10 seasons as the Bengals coach, Lewis is 79-80-1, which isn't great. But he has been to the playoffs four times. The problem is he's 0-4 in those games. He has been in the postseason each of the past two years.
14. Rex Ryan, New York Jets: He thinks he should top the list, which I like. Why not believe you are the best? But he's not in that class. He's done some good things with the Jets -- going to two AFC title games -- but his inability to crank up the offense could ultimately cost him his job.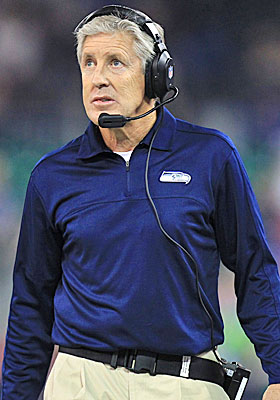 15. Pete Carroll, Seattle Seahawks:
He's done a nice job in Seattle, and his team is on the rise, but he has just two double-digit winning seasons in seven years as a head coach. His career record also has him only four games over .500. That's just OK. He's a hot coach now, but his record has him ranked in the middle.
16. Gary Kubiak, Houston Texans: He is one of the class acts of coaching. He is even-keeled and never seems to lose it. But there are some who think his stoic ways carry over to his team with the way they play. He seemed on the verge of getting fired when the Texans went 6-10 in 2010, but he's responded to go 22-10 the last two seasons. He does a nice job with that offense.
17. Leslie Frazier, Minnesota Vikings: He took over as the interim coach in 2010 and has a 16-22 record in 38 games, but the Vikings went 10-6 last season and made the playoffs. Frazier is highly regarded by a lot of longtime coaches, but he's been hurt by so-so quarterback play.
18. Greg Schiano, Tampa Bay Buccaneers: He did a nice job in his first year with the Bucs last year, getting them to 7-9, but his style seemed to wear on the players some. He has to back off in 2013. If he can, the Bucs could be one of the league surprises.
19. Chuck Pagano, Indianapolis Colts: His first season as the Colts head coach was marred by his fight with leukemia, which goes way beyond Xs and Os. The way he handled that speaks volumes about the man. Oh, by the way, he's a heck of a coach.
20. Bruce Arians, Arizona Cardinals: He is a well-respected offensive mind who did a heck of a job when he took over as the interim coach of the Colts last year after Pagano got sick. Arians did a great job running the Steelers offense a few years ago, but somehow was let go. I think he can have some success in Arizona.
21. Jim Schwartz, Detroit Lions: He is 22-42 in his four seasons with the Lions, with just one winning season. That's not good enough. He is another one who coaches with swagger, but that sometimes spills over to the field. As a defensive mind, you would think his defenses would be better. There is talk of friction between Schwartz and general manager Martin Mayhew, which means one will likely have to go.
22. Joe Philbin, Miami Dolphins: They didn't want him in Miami, and he seemed to be a bit tight for most of his first year, but he did a solid job as a rookie coach. He is well respected as a football guy. Now he just needs to do something to show he can loosen up, which he did some this offseason. Players like that.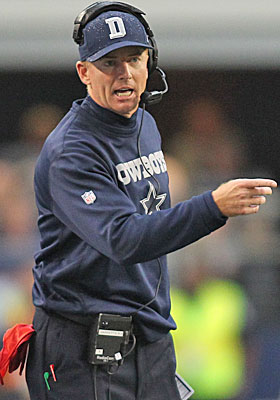 23. Jason Garrett, Dallas Cowboys:
He took over midway through the 2010 season and has a 21-19 record in 40 games with no playoff appearances. He's had two 8-8 seasons, which won't cut it in Dallas. He's also had his share of in-game blunders. His seat is as hot as they come in 2013.
24. Mike Munchak, Tennessee Titans: He is 15-17 in two seasons with the Titans, which is just average. The Titans have had some quarterback issues and he's done a nice job coaching around them. If he doesn't win this year, I would expect a change.
25. Ron Rivera, Carolina Panthers: He is 13-19 in two seasons with the Panthers, so this is a big one for his career with the team coming up. The Panthers did improve by one game to 7-9 last season, but he might need a playoff berth to keep his job.
26. Chip Kelly, Philadelphia Eagles: He is a bright, forward-thinking coach who will either revolutionize things or head back to college in three years. Can he adapt what he does to the NFL game? If he does, look out. He coaches without fear.
27. Dennis Allen, Oakland Raiders: How the heck do you evaluate him on what happened in 2012? He has a clean slate this year, but the Raiders are in rebuild mode. Does he make it to 2014?
28. Doug Marrone, Buffalo Bills: He is a former offensive line coach and coordinator with the Saints, so he knows offense. He did a nice job as a head coach at Syracuse with a program that was way down. He better hope EJ Manuel is the real deal. He is tied to him now.
29. Marc Trestman, Chicago Bears: I think he's a bright offensive mind. And Jay Cutler will love him. But my concern is whether he can command the room. He did a nice job as a head coach in Canada, but this is a big difference. Will the players respect his lawyer-like demeanor? If they do, he will be much higher on this list next year.
30. (tie) Gus Bradley, Jacksonville Jaguars: His first year will be played with a roster limited in talent. So it will be hard to gauge him. But his fiery personality and his smart defensive mind -- see the Seahawks tape from a year ago -- will pay off in the long run. The guy never turns it off, which players love.
30. (tie) Mike McCoy, San Diego Chargers: He has adapted to a lot of offensive systems and should do a nice job with Philip Rivers. It will help that he has former Cardinals coach Ken Whisenhunt on staff. McCoy is a rigid, no-nonsense coach. Can he be flexible if need be?
30. (tie) Rob Chudzinski, Cleveland Browns: He is a smart offensive mind, but I think he sometimes gets too cute. I like giving guys like him a chance to show what they can do. I hope he doesn't change the way he goes about things now that he's a head coach. Creativity is a strong point, as long as he doesn't overuse it.