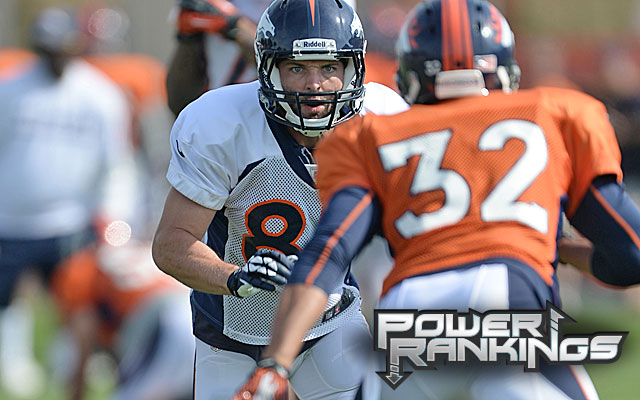 It's that time of the year when everybody is good, every player is improved, all the hard work in the offseason looks to be paying off and the true leaders are emerging all over the National Football League.
Everything is beautiful.
Only we know better.
The optimism of July will quickly turn to concern in August for a lot of teams -- if it hasn't already with a glut of season-ending injuries -- and by November we will know for sure how many of the 32 teams had false summer hopes. Some are easy to figure out, while others a little harder. The tough part is pegging the teams that have more problems than we think, and those that have fewer than expected.
As we ready for the NFL preseason to begin, and we get more on-field looks to find flaws and spot gems, it's time for another batch of the CBSSports.com Power Rankings. This is the first real set that has nothing to do with 2012.
That's gone.
So Baltimore, which won it all, isn't in the top spot. I used to keep the Super Bowl champions in the top spot to open the season, just for doing it out of respect. Now, I like to look ahead more for the coming season.
The Ravens could be a playoff team again, but they are not the best team in the league heading into the season.
The Denver Broncos are that team. Even if outside pass rusher Von Miller is suspended for four games, which is on appeal, they are the team to beat and therefore open in the top spot of the rankings.
The Broncos have to focus on January, and not the regular season. They learned that lesson well in 2012. One thing that will help in 2013 is a more aggressive approach. I expect coach John Fox, who has been known to play it tight, to cut Peyton Manning loose more. And he should.
You can bet there will be a handful of non-playoff teams from a year ago who get into this season's tournament. Trying to figure those teams out is a tough task. Some early possibilities: Tampa Bay, the Giants, Miami and Tennessee have shots.
In a month, there will be another batch of rankings coming before the season once we get through this preseason madness. Until then, enjoy the sunshine.
After all, when it comes to NFL summers, you need tons of sunscreen since everything is so bright and sunny.