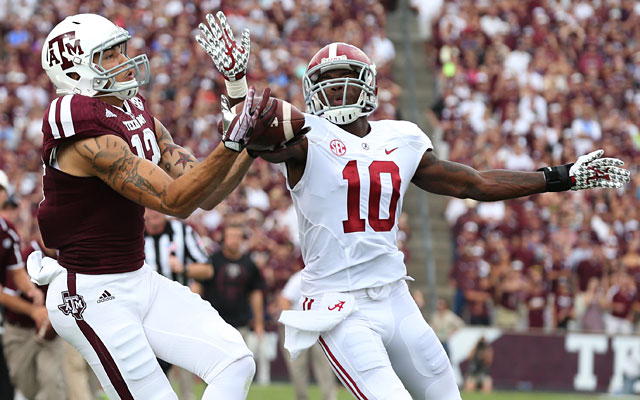 Rookie wide receivers can rarely be relied upon to make an immediate impact as they fine tune their route-running and adjust to the speed and complexity of NFL defenses. With first-year wideouts DeAndre Hopkins (Houston) and Justin Hunter (Tennessee) already making game-winning touchdown catches, however, that long-standing belief could be changing.
Playmakers Tavon Austin (St. Louis) and Cordarrelle Patterson (Minnesota) were also first-round picks in April who have made early contributions. If the 2013 crop was solid, the 2014 class could prove special, particularly if talented underclassmen Marqise Lee (Southern California), Sammy Watkins (Clemson) and Mike Evans (Texas A&M) elect to make themselves eligible.
The Big Board isn't a mock draft. There is no attention given to team needs or the projected selection order. It is simply a ranking of the 32 best prospects potentially eligible for the 2014 NFL Draft.
(*-indicates underclassman)
1. Jadeveon Clowney*, DE, South Carolina (6-6, 268): Three tackles for loss and two sacks in his first two SEC games (Georgia, Vanderbilt) should quiet some of Clowney's critics. With the bar set so high due to preseason hype, he's going to have a hard time living up to his billing. Clowney is a difference-maker in the mold of Julius Peppers and Mario Williams but he could fall lower than expected on draft day should the team with the first pick have any concerns at quarterback.
2. Teddy Bridgewater*, QB, Louisville (6-3, 220): In an era in which college quarterbacks' numbers are often inflated by short passing and relatively simplistic schemes, Bridgewater's sparkling production (71.8 percent completions, 1,214 yards, 14 touchdowns) is due to stellar accuracy. The biggest knock scouts have on Bridgewater is his slight frame and level of competition. These concerns won't keep him from challenging Clowney as the top pick should each make the NFL jump after their junior seasons.
3. Anthony Barr, OLB, UCLA (6-4, 238): As the No. 5 pick of the 2013 NFL Draft, Ziggy Ansah showed just what a breakout season can do for a pass rusher. Barr, a former running back, exploded onto the Pac-12 last year to the tune of 21½ tackles for loss and 13½ sacks. He didn't play much against New Mexico State on Sept. 21, but showed off his big-play ability quickly, registering a sack, tackle for loss and forced fumble in the 59-13 win.
4. Jake Matthews, OT, Texas A&M (6-5, 305): The Aggies may have lost to Alabama but don't blame that on Matthews. A physical, technically sound blocker like his father, Hall of Famer Bruce Matthews, Jake held up well at left tackle against the Crimson Tide despite it being just his third start at the all-important position. Matthews is every bit the player that former teammate Luke Joeckel was a year ago -- and Joeckel was my top-rated prospect in the 2013 draft.
5. Cyrus Kouandjio*, OT, Alabama (6-5, 312): Some questioned the wisdom of moving Barrett Jones from left tackle (where he won the Jacobs Blocking Trophy as the SEC's best lineman) to center in 2012. The reason for the switch was Kouandjio, a physically blessed athlete who some have compared to former Redskins Pro Bowl left tackle Chris Samuels, the No. 3 overall pick out of Alabama in 2000.
6. Louis Nix III*, DT, Notre Dame (6-3, 326): With broad shoulders, a thick lower half and surprisingly quick feet, Nix is a classic run-stuffer with enough burst and determination to also threaten the pocket.
7. Marqise Lee*, WR, Southern Cal (6-0, 195): Lee lacks the bulk of elite pass-catchers of recent years and USC's inexperience at quarterback will limit the reigning Biletnikof Award winner's production this season. Lee's extraordinary agility and acceleration, however, make him a potential game-changer in scouts' eyes.
8. Bradley Roby*, CB, Ohio State (5-11, 190): The Buckeyes used to churn out first-round defensive backs. Showing off his speed, fluidity and quick hands, Roby flashed the ability to renew this tradition Sept. 14 at Cal while recording 6½ tackles and two passes broken up. He notched his first interception of the year last week against Florida A&M.
9. Tajh Boyd, QB, Clemson (6-1, 225): Less-than-ideal size will always bring some detractors but critics are finding it tougher to identify flaws in Boyd's game. He was more efficient than dominant in the Tigers' conference opener vs. NC State on Sept. 19, tossing three touchdowns against zero interceptions. A true dual-threat quarterback, Boyd is earning comparisons to Pro Bowl passers Russell Wilson and the late Steve McNair from scouts.
10. C.J. Mosley, OLB, Alabama (6-2, 232): While a bit undersized, Mosley might be the best pound-for-pound player in the country. Athletic and instinctive, he is a true three-down linebacker capable of making plays against the run and pass.
11. Brett Hundley*, QB, UCLA (6-3, 227): Hundley shook off an early fumble Sept. 14 at Nebraska to complete 16 of 24 passes for 294 yards and three touchdowns to guide UCLA to an impressive comeback win in Lincoln. Hundley, one of three potential blue-chip redshirt sophomore quarterbacks in the Pac-12, remains a bit rough around the edges but his size, athleticism and easy throwing motion have scouts excited about his upside.
12. Marcus Mariota*, QB, Oregon (6-3, 214): Boasting a skill set that is already drawing comparisons to 49ers star Colin Kaepernick, Mariota is quickly proving that he's far from a product of Oregon's fast-paced offense but an emerging blue-chip QB prospect. The redshirt sophomore sensation showed more than capable of beating SEC speed by riddling Tennessee for a career-high 456 passing yards and four touchdowns Sept. 14.
13. Anthony Johnson*, DT, LSU (6-3, 305): Four former Bayou Bengal defenders have heard their name called in the first round since 2008. Johnson will have his work cut out for him this season with Barkevious Mingo and Sam Montgomery in the NFL but his prototypical blend of size, power and athleticism makes him a strong bet to continue LSU's dominance along the defensive line.
14. Antonio Richardson*, OT, Tennessee (6-6, 332): Nicknamed "Tiny," Richardson and his game proved anything but last season at left tackle for the Vols. Richardson is certainly a bit raw after just one season of starting action but he's shockingly smooth for a man of his size. With more consistency, Richardson's stock could skyrocket.
15. Sammy Watkins*, WR, Clemson (6-1, 200): It was Watkins, not USC's Lee, who was the more impressive pass-catcher as a freshman but injuries and suspension led to a disappointing sophomore season for the Clemson star while Lee won the Biletnikof Award. Watkins caught 10 passes against N.C. State on Sept. 19, but he hasn't shown the electric playmaking ability (averaging just 12.7 yards per reception) that caught the attention of scouts two years ago.
16. Taylor Lewan, OT, Michigan (6-7, 310): With an incredible combination of size and athletic ability, Lewan has earned comparisons to former Michigan standout Jake Long throughout his Wolverines career.
17. Cyril Richardson, OG, Baylor (6-5, 335): A dominating drive blocker who projects best at guard but spent the 2011 season protecting Robert Griffin III at left tackle, Richardson is massive, powerful and shockingly athletic.
18. Jason Verrett, CB, TCU (5-10, 182): Verrett lacks the size so en vogue in today's NFL but agility and ball skills never go out of style for cornerbacks. Verrett led the Big 12 with 22 passes defended and six interceptions in 2012. He fared well against LSU in the 2013 season opener (seven tackles, three passes broken up, sack) and shut out Texas Tech wideout Eric Ward, who had caught at least one pass in 27 consecutive games before matching up with Verrett and the Horned Frogs on Sept. 12.
19. Ryan Shazier*, OLB Ohio State (6-2, 226): Shazier may be 10-15 pounds lighter than scouts would prefer but his instincts, speed and bone-jarring hits make him a fearful defender that offenses must account for on every snap.
20. Cameron Erving*, OT, Florida State (6-5, 310): Erving played in 13 games as a redshirt freshman defensive tackle but looked like a natural when moved to left tackle a season ago. Long, balanced and athletic, he is a hidden factor in the impressive early play from freshman quarterback Jameis Winston.
21. Timmy Jernigan*, DT, Florida State (6-2, 298): Losing productive pass rushers Bjoern Werner, Cornelius Carradine and Brandon Jenkins to the NFL is certainly going to hurt the Seminoles but Jernigan's explosive hands make him a terror up the middle.
22. Eric Ebron*, TE, North Carolina (6-4, 245): A highly athletic and versatile prospect who stars not only as a matchup nightmare and powerful in-line blocker but as an occasional defensive end. Ebron's exciting athleticism was on display against Georgia Tech on Sept. 21, as he caught six passes for 108 yards and a dazzling one-handed touchdown grab.
23. Khalil Mack, OLB, Buffalo (6-3, 248): With an eye-popping 56 tackles for loss, 18 sacks and 11 forced fumbles already on his résumé entering the 2013 season, rest assured that scouts knew Mack well. Proving that his instincts and big-play proficiency could stand up when facing a big-time school like Ohio State (9½ tackles, 2½ sacks and an interception returned for a touchdown in the season opener) has Mack's stock soaring.
24. Ra'Shede Hageman, DT, Minnesota (6-6, 312): The Golden Gophers haven't had a first-round NFL talent since the Patriots nabbed running back Lawrence Maroney in 2006. That is precisely the sort of buzz the Minneapolis native is generating. Hageman has the length and athleticism to project well in 3-4 and 4-3 schemes.
25. Stephon Tuitt*, DL, Notre Dame (6-5, 303): Despite linebacker Manti Te'o and Nix generating most of the attention, Tuitt stood out on a strong Irish defense a season ago. Reportedly as much as 20 pounds heavier this year, Tuitt hasn't been as impressive in 2013 but is coming off his best game of the season, registering six tackles, including a sack, against Michigan State.
26. Kyle Van Noy, OLB, BYU (6-3, 235): While Ziggy Ansah received most of the hype at BYU, Van Noy was far and away the Cougars' more consistent defender last season, registering an eye-popping 22 tackles for loss, 13 sacks, six forced fumbles, two interceptions and two blocked kicks. Van Noy's all-around game was again demonstrated vs. Utah on Sept. 21 as he finished with a game-high 10 tackles, including 1½ for loss.
27. Adrian Hubbard*, OLB, Alabama (6-5, 252): Hubbard is the next Crimson Tide star on defense to keep an eye on. The lanky pass rusher recorded 10 tackles for loss, six sacks and three forced fumbles in a breakout sophomore campaign and could be on the verge of much bigger things. His length, athleticism and versatility (lines up at DE, OLB) is even more intriguing than his statistics to this point.
28. Lache Seastrunk*, RB, Baylor (5-9, 210): Baylor hasn't been challenged yet (they've outscored Wofford, Buffalo and Louisiana-Monroe 209-23) but Seastrunk has been as dominant as scouts expected, averaging a stunning 10.97 yards a carry through his first three games. Seastrunk is an "air back" with the agility, balance and stop-start ability to elude defenders.
29. Austin Seferian-Jenkins*, TE, Washington (6-6, 267): A two-sport star for the Huskies (football, basketball), ASJ provides a unique combination of size, overall athleticism and ball skills, making him a true mismatch for opponents. After struggling in his 2013 debut (Illinois), ASJ was back to his dominant self against Idaho State, leading the Huskies with five receptions for 62 yards and his first touchdown of the season.
30. Mike Evans*, WR, Texas A&M (6-5, 225): Like his famous quarterback, Johnny Manziel, Evans is just a redshirt sophomore, but he could have quite the decision to make after the season if he continues to light up the SEC. Few players dominate Alabama but that is precisely what Evans did two weeks ago, hauling in seven passes for 279 yards and a 95-yard touchdown as he was almost uncoverable with his combination of size and leaping ability.
31. C.J. Fiedorowicz, TE, Iowa (6-6, 265): A throwback tight end capable of dominating opponents as both a blocker and receiver, Fiedorowicz (pronounced feh-DOR-uh-wits) may lack in name recognition and production (seven catches, including one touchdown in Iowa's first three games) but not in talent.
32. Cedric Ogbuehi, OT, Texas A&M (6-5, 300): Overshadowed by all of the talent on the Aggies' roster, Ogbuehi is an exciting prospect in his own right. A standout at right guard in 2012, Ogbuehi (pronounced ah-BOO-hee) stands to make a lot of money if he continues his early stellar play at right tackle.
Just missed the cut
David Yankey*, OG, Stanford
Colt Lyerla*, TE, Oregon
Trent Murphy, DE/OLB, Stanford
Jordan Matthews, WR, South Carolina
Will Sutton, DT, Arizona State
Ifo Ekpre-Olomu, CB, Oregon
Hasean Clinton-Dix*, FS, Alabama
Denzel Perryman*, OLB, Miami
Johnny Manziel*, QB, Texas A&M
Aaron Lynch*, DE, South Florida