NFL Monday QB: Greatest Super Bowl performances
| | | |
| --- | --- | --- |
| 16 | Kurt Warner -- Super Bowl XXXIV | |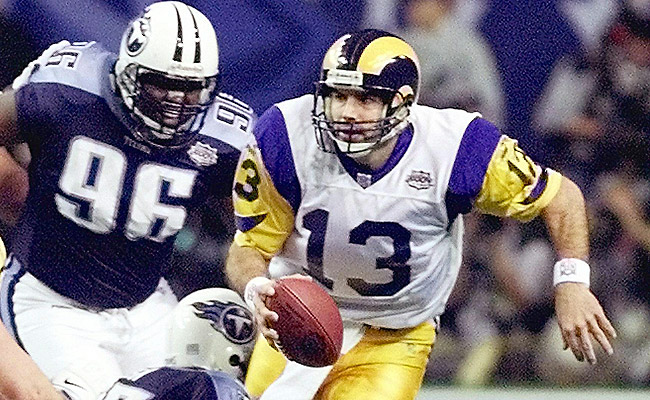 Was this the greatest Super Bowl performance by a QB?
Click Like to vote.

Kurt Warner, St. Louis Rams
Super Bowl XXXIV
St. Louis Rams def. Tennessee Titans, 23-16
Game Stats:
• 21/46, 414 yards (Super Bowl record)
• 2 TD
• 45.7% completion rate
• 97.6 passer rating
• Super Bowl MVP
Steve Beuerlein: "I remember playing against Kurt Warner twice that 1999 season and thinking that there was no way he could continue playing at such a high level in his first year as a starting quarterback. Well, he sure proved me wrong! He finished off one of the most improbable NFL seasons in history by winning the Super Bowl MVP after throwing for 414 yards and two touchdowns, including the game-winning 73-yarder to Isaac Bruce after the Tennessee Titans had tied the game at 16 with just over two minutes left."
Click here to return to the list of 24 Super Bowl QB performances.