NFL Monday QB: Greatest Super Bowl performances
| | | |
| --- | --- | --- |
| 17 | Tom Brady -- Super Bowl XXXVIII | |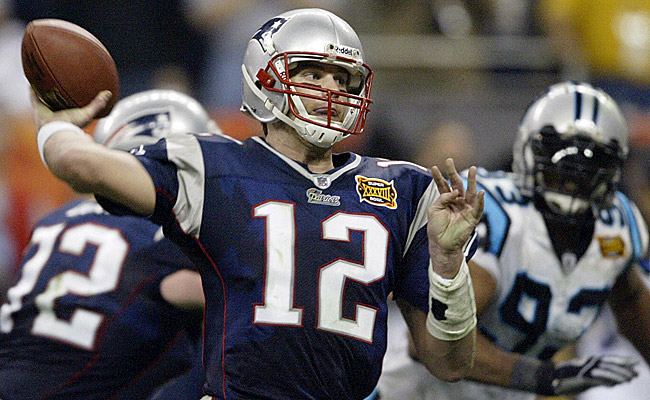 Was this the greatest Super Bowl performance by a QB?
Click Like to vote.

Tom Brady, New England Patriots
Super Bowl XXXVIII
New England Patriots def. Carolina Panthers, 32-29
Game Stats:
• 32/47 (tied for the Super Bowl record), 354 yards (6th most of all-time)
• 3 TD (tied for 6th most of all-time), 1 INT
• 68.1% completion rate
• 102.6 passer rating
• Super Bowl MVP
Phil Simms: "What I remember most is the kickoff that went out of bounds by the Carolina Panthers and Tom Brady got the ball back and made a great throw to the tight end down the right side. That throw alone is the reason why he should have been the MVP."
Click here to return to the list of 24 Super Bowl QB performances.