NFL Monday QB: Greatest Super Bowl performances
| | | |
| --- | --- | --- |
| 21 | Kurt Warner -- Super Bowl XLIII | |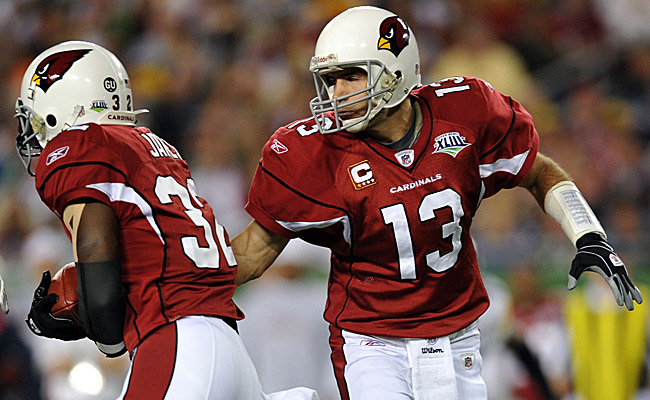 Was this the greatest Super Bowl performance by a QB?
Click Like to vote.

Kurt Warner, Arizona Cardinals
Super Bowl XLIII
Pittsburgh Steelers def. Arizona Cardinals, 27-23
Game Stats:
• 31/43, 377 yards (2nd most of all-time)
• 3 TD, 1 INT
• 72.1% completion rate (7th best of all-time)
• 112.3 passer rating
Steve Beuerlein: "I truly believed that Kurt Warner was going to top his Super Bowl XXXIV exploits with his 'rise from the ashes' 2008 season and playoff run! He gave it all he had against the Pittsburgh Steelers by throwing for 377 yards and three touchdowns. His Cardinals, who qualified as one of the NFC wild card teams, scored 16 unanswered points, culminated by a 64- yard touchdown to Larry Fitzgerald to take a 23-20 lead with 2:37 left in the game. Only problem... that was too much time to leave Big Ben! His performance cemented his Hall of Fame credentials."
Click here to return to the list of 24 Super Bowl QB performances.