NFL Monday QB: Greatest Super Bowl performances
| | | |
| --- | --- | --- |
| 24 | Eli Manning -- Super Bowl XLVI | |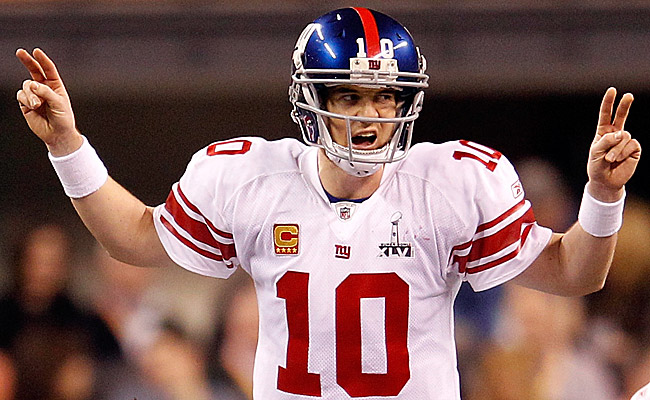 Was this the greatest Super Bowl performance by a QB?
Click Like to vote.

Eli Manning, New York Giants
Super Bowl XLVI
New York Giants def. New England Patriots, 21-17
Game Stats:
• 31/42 (tied for 3rd best of all-time), 298 yards
• 1 TD
• 73.8% completion rate (4th best of all time)
• 101.1 passer rating
• Super Bowl MVP
Steve Beuerlein: "In this rematch of Super Bowl XLII, Eli and his wild card New York Giants teammates were not given much of a chance to beat the Tom Brady-led New England Patriots. Eli and co. decided to show up for the game anyway and it was epic in every sense! Trailing 17-15 with less than four minutes to play, the 'other' Manning showed that, with the game on the line, there is nobody better than him... PERIOD! His game-winning 88-yard drive for a touchdown permanently removed him from Peyton's shadow and provided him with his second Super Bowl MVP trophy."
Click here to return to the list of 24 Super Bowl QB performances.