NFL Monday QB: Greatest Super Bowl performances
| | | |
| --- | --- | --- |
| 7 | Ken Anderson -- Super Bowl XVI | |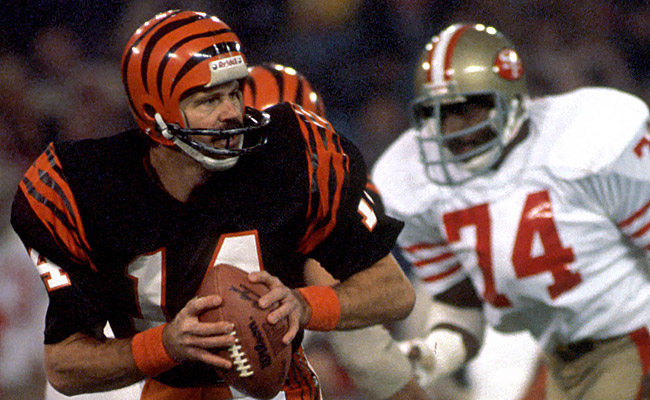 Was this the greatest Super Bowl performance by a QB?
Click Like to vote.

Ken Anderson, Cincinnati Bengals
Super Bowl XVI
San Francisco 49ers def. Cincinnati Bengals, 26-21
Game Stats:
• 25/34, 300 yards
• 2 TD, 2 INT
• 73.5% completion rate (5th best all-time)
• 95.2 passer rating
Boomer Esiason: "This was a game in which the Bengals and Ken Anderson never really got untracked. The Bengals arrived late to the Pontiac Silverdome due to weather and traffic and were knocked out of any pregame rhythm. A crucial interception by Anderson on the Bengals' first drive at the 49ers' five-yard line cost the Bengals dearly. Cris Collinsworth also fumbled at the 49ers' five-yard line in the second quarter -- two crucial mistakes deep in 49er territory along with a muffed kickoff return at the end of the second quarter, which gave the 49ers a chip shot field goal attempt at the end of the first half and a 20-0 lead."
Click here to return to the list of 24 Super Bowl QB performances.