NFL Monday QB: Greatest Super Bowl performances
| | | |
| --- | --- | --- |
| 9 | Doug Williams -- Super Bowl XXII | |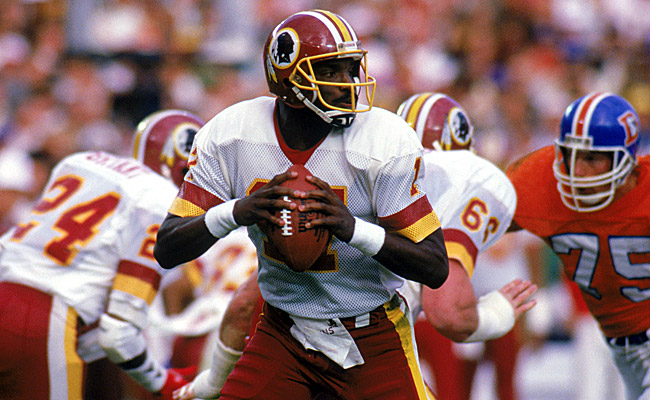 Was this the greatest Super Bowl performance by a QB?
Click Like to vote.

Doug Williams, Washington Redskins
Super Bowl XXII
Washington Redskins def. Denver Broncos, 42-10
Game Stats:
• 18/29, 340 yards (7th most all-time)
• 4 TD (tied for 3rd most of all-time), 1 INT
• 62.1 comp.%, 127.9 passer rating (6th best of all-time)
• 80-yard TD pass (tied for 3rd longest of all-time)
• Super Bowl MVP
Steve Beuerlein: "Trailing 10-0 to John Elway and the Denver Broncos, Williams, the first African-American quarterback to ever start in a Super Bowl, exploded with four-second quarter touchdown passes (NFL record) to take control of the game! Williams completed one of the most incredible NFL seasons in spectacular fashion by showering the Broncos with one big play after another on his way to Super Bowl MVP! Truly one of the top Super Bowl performances ever!"
Click here to return to the list of 24 Super Bowl QB performances.