Team-by-team free agency previews
| | | |
| --- | --- | --- |
| | Free-agency preview: Cardinals | |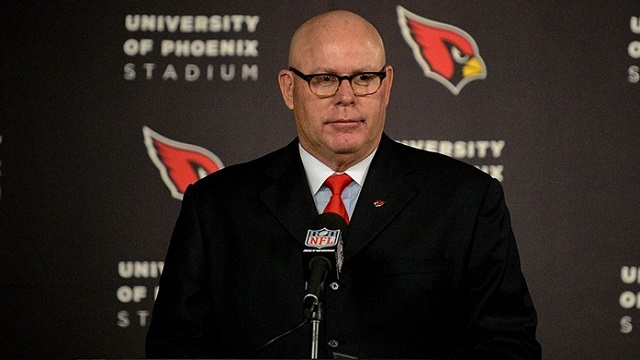 Team overview:
If the NFL would have ended the 2012 season after September, the
Cardinals
would have finished 4-0, won the NFC West and Ken Whisenhunt would have been a unanimous choice for coach of the year. Unfortunately, Arizona had to play the final 12 games of the season and in that 12-game span, the Cardinals went a dismal 1-11.
The biggest problem for Arizona -- and its been the team's biggest problem since Kurt Warner left after 2009 -- was at quarterback. The Cardinals started four different QBs last season, the same amount as the rest of the NFC West combined. 
Whisenhunt found out the hard way that you can't build a franchise around Kevin Kolb or John Skelton or Ryan Lindley or Brian Hoyer. However, if there's anyone who can figure out who to build a franchise around, it's new coach Bruce Arians. Arians was the quarterbacks coach in Indianapolis during Peyton Manning's first three years in the league (1998-200). He was also on the Steelers coaching staff during Ben Roethlisberger's first three seasons in the league (2004-06). And of course, let's not forget last season when Arians was Andrew Luck's offensive coordinator in Indy.
Arians will definitely be looking to bring his own quarterback in, but it won't be easy to do this offseason thanks to a mediocre free-agent pool and a draft class with no consensus first-round pick. 
Defensively, don't look for new coordinator Todd Bowles to change too many of the schemes of predecessor Ray Horton. The defense was one of the bright spots last season for Arizona, finishing 12th overall and fifth against the pass. 
[Related: CBSSports.com's Top 100 free agents]
What the depth chart tells you: The most glaring need for Arizona is at quarterback. Arians will have to decide if he wants to go the free agency route, the draft route or the "play Kevin Kolb for one year and wait until 2014" route. 
Although it's easy to blame Arizona's quarterbacks for the Cardinals' 5-11 season, its worth noting that they didn't get much help from the offensive line. Arizona's four quarterbacks were sacked a combined 58 times in 2012, which was the highest number in the league by seven sacks. The only other teams in the league to surrender more than 50 sacks were the Jaguars (50) and Packers (51). Any upgrade on the offensive line would help the Cardinals going forward. 
Running back is a position that's not in much better shape. Beanie Wells and Ryan Williams are practically injuries waiting to happen. Williams has missed 27 of 32 games in his two-year career, while Wells missed eight games last season. 
Defensively, the Cardinals have been mum on whether or not strong safety Adrian Wilson will return. If Wilson is gone, Arizona will need to draft or sign someone to take his place. Safeties Rashad Johnson and James Sanders are both unrestricted free agents and neither looked like the impact player Wilson has been since he arrived in Arizona. 
Ideal free agent and draft strategy: The ideal strategy for the Cardinals would involve a quarterback, but going after USC's Matt Barkley or West Virginia's Geno Smith with the No. 7 pick in the draft may be a reach. The pickings are pretty slim on the free-agent market too, unless the Cardinals are interested in Matt Moore, Brady Quinn or possibly Matt Cassel, if the Chiefs release him. Unless the Cardinals restructure Kevin Kolb's contract, they're only going to have about $6 million in cap room to work with, which won't be enough to make a big splash in free agency. This means the Cardinals will probably find that big name tackles like Andre Smith and Jake Long are out of their price range.    
What will happen: Although the Cardinals clearly need a quarterback, don't look for Arians to go for Barkley or Smith at No. 7. Arizona either needs to trade down from that spot or think about fortifying the offensive line by selecting a tackle like Oklahoma's Lane Johnson. Then, the Cardinals need to cross their fingers and hope Barkley or Smith lasts until they pick again at No. 38.
-- By John Breech

Click on the dropdown above to find previews for all 32 teams as we head into free agency.