Team-by-team free agency previews
| | | |
| --- | --- | --- |
| | Free-agency preview: Broncos | |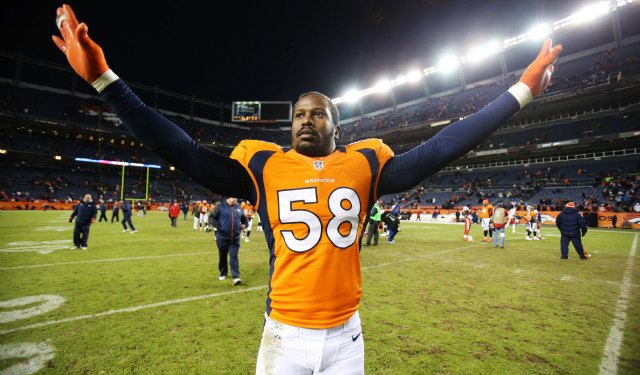 Team overview: When Denver signed Peyton Manning last offseason, it remade the entire franchise. With the same strong defense that had helped push Tim Tebow to his Broncos playoff run in 2011, the Broncos got much-needed pop from the offense with Manning in charge, and they finished second in the league in points and fourth in yards. And though Manning will be 37 before next season, it doesn't appear that he'll be done anytime soon. So, kudos to John Elway and team for the risky signing that paid off handsomely.
Still, this was a team that missed the Super Bowl. After earning a first-round bye and home-field advantage, the team allowed the Ravens to advance to the AFC title game when safety Rahim Moore somehow allowed Baltimore receiver Jacoby Jones to beat him for a 70-yard touchdown to tie the game. Then, Manning threw an awful interception in overtime that set up Baltimore's game-winning field goal.
The good news for the Broncos, though, is that they'll return most of their core group on offense. Guys like receivers Demaryius Thomas and Eric Decker, running backs Willis McGahee and Knowshon Moreno, and a more-than-solid offensive line (especially since the team franchised left tackle Ryan Clady). We'll have to see how Adam Gase, who replaces Mike McCoy as offensive coordinator, can manage with this group. Under new defensive coordinator Jack Del Rio last season, the Broncos were a top-five unit with a good mix of youth and experience. Cornerback Champ Bailey is getting older, but linebacker Elvis Dumervil -- inching ever so much closer to 30 -- is still effective rushing the passer.
[Related: CBSSports.com's Top 100 free agents]
What the depth charts tells you: Though 2012 fourth-round draft pick Brock Osweiler got very little playing time behind Manning, Denver has to feel good about its crop of quarterbacks (Caleb Hanie is the third man), and Thomas and Decker had fantastic seasons catching passes from Manning -- combined, they recorded 179 receptions. Manning also positively affected tight ends Jacob Tamme and Joel Dreessen, who caught 93 passes together. If you're a Broncos fan, you'd like to see more consistency from the running game, because McGahee couldn't stay healthy in 2012. Meanwhile, Moreno had a nice final seven weeks of the season, but he also was a healthy inactive for much of the season. What the Broncos could use is a short-yardage back who can score from five yards and in.
Defensively, the pass rushers, Derek Wolfe and Dumervil, are effective, but defensive tackle Justin Bannan and Kevin Vickerson did good under-the-radar work in the interior line. Bannan and Vickerson, though, are free agents, and neither is a sure bet to re-sign in Denver. Von Miller is perhaps the best 4-3 outside linebacker in the game, but Wesley Woodyard had a fine season as well. In the secondary, Chris Harris and Bailey make a good cornerback pair. And though Moore made a bone-headed play vs. Jones, he's a promising young player coming off an effective season. Overall, you've got to like this defense if you're coach John Fox.
Ideal free-agent and draft strategy: Assuming either or both of the defensive tackles leave, Denver will need to find somebody to shore up the interior of the defensive line so Wolfe, Dumervil and the linebackers can continue to make plays. A player like Purdue's Kawann Short could be a good fit. I also would consider a cornerback to begin the process of replacing the soon-to-be-35-year-old Bailey. He was torched repeatedly in the playoff game vs. the Ravens, and there will come a time when he won't be the Champ of old. A draftee like Washington's Desmond Trufant or Mississippi State's Johnthan Banks could be an option for Denver in the first round.
What will actually happen: There are holes to fill, but they won't have to undergo a drastic makeover for any one part of their roster. The team can continue to build depth at running back and at cornerback and begin to prepare for the future as well. And signing Clady to a long-term deal probably isn't a bad idea, either.

-- By Josh Katzowitz

Click on the dropdown above to find previews for all 32 teams as we head into free agency.