Team-by-team free agency previews
| | | |
| --- | --- | --- |
| | Free-agency preview: Lions | |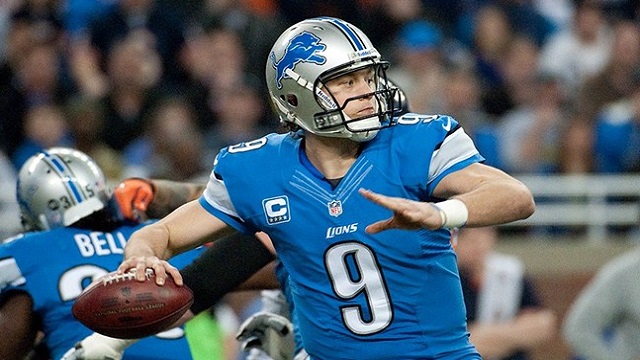 One year after reaching the playoffs, the Detroit Lions last year reversed direction and finished last in the NFC North -- with injuries, mistakes and a shortage of defense hastening their descent. The Lions have the franchise quarterback and wide receiver needed to get off the mat, but that's not enough ... and they keep proving it. Detroit has talent, but read the fine print, people: Since starting 5-0 in 2011, they're 9-19, including the 2011 playoffs.
[Related: CBSSports.com's Top 100 free agents]
1. Overall outlook: The Lions are in one of the toughest divisions in the NFL, and that will make it tough to get back in the game overnight. Only they were one of the NFC's playoff teams one year earlier, so they're not that far away. In Matthew Stafford, they have the star quarterback, and in Calvin Johnson they have the best wide receiver in football. But they need more, and I'd start with a running back. Since Jahvid Best bowed out in the sixth game of the '11 season, the Lions have struggled. They can't run. They can't play defense. And they can't win. Until or unless they find a running back to slow down the game and give their porous defense a rest, they're destined to play catch-up with the rest of the division.
Biggest concern: Running back. They don't have a reliable one.
2. What we know about this depth chart: What we know is that there's not a running back who scares anyone. Mikel Leshoure and Joique Bell aren't all that bad, but I don't want someone who's not all that bad as my lead back; I want someone opponents respect and fear. That didn't happen a year ago, when, without Best, the Lions had exactly three runs of 20 or more yards. By contrast, Minnesota had 33. Check, please. So bring speed to the backfield and bring depth to a wide-receiver corps that has Calvin Johnson and ... Calvin Johnson and ... Calvin Johnson. Rookie Ryan Broyles is coming off a major knee injury, but the Lions need more than him and Nate Burleson. They could use help at offensive tackle, too, where Jeff Backus is near the end of the line. When you're 27th in points allowed, your defense can use help everywhere ... and someone please dial 911. Without Kyle Vanden Bosch and with Cliff Avril a possible free-agent casualty, defensive end is a good place to start. So is a secondary that must face Aaron Rodgers and Jay Cutler four times each year -- especially with the futures of cornerback Chris Houston and safety Louis Delmas in question. And, did I mention special teams? Kicker Jason Hanson is unsure if he'll re-sign, and punter Nick Harris is out the door.
Biggest areas of need: Running back, offensive tackle, defensive end, cornerback, safety.
3. Free-agent strategy: The Lions don't have much cap flexibility, but they could ... and should ... when they lower the cap figure for Stafford with a contract extension. Then they can swing into action, and address virtually everything but Stafford, Johnson and the middle of their defensive line. Where they need help is the outside of their defensive line, with no pass rusher outside of Avril in sight. I'd stay away from the aging star like a Dwight Freeney and look more closely at someone like Tampa Bay's Michael Bennett. Of course, there are pass rushers galore in this draft, which means Detroit can find relief there, too. If you're talking a free-agent running back, maybe it's Reggie Bush, who has speed, quickness and can catch the ball out of the backfield. Or maybe it's a pile driver like Rashard Mendenhall. All I know is that the Lions had better find someone through free agency or the draft, and the same goes for the secondary. If you're serious about catching Green Bay, then you'd better have an answer for Rodgers and his receivers ... and Detroit doesn't. Delmas has been terrific, but that's when he plays; the guy is always getting hurt. If the Lions re-sign him, it's incumbent on them to find a suitable backup. It's also incumbent on them to land a play-making cornerback, and here's one reason why: They had 11 interceptions last season.
Guys I would target: Reggie Bush, Michael Bennett, Shaun Smith, Glover Quin.
4. What should happen: So it's a passing league. The Lions must find a running back to take the pressure off Stafford and a passing game that carries too much of this offense. So find one in the draft or sign one in free agency. Just do it. San Francisco didn't win the Super Bowl because the 49ers couldn't run five yards, and take a hint, Detroit. This draft is deep in offensive linemen, so I'd like to see the Lions take a tackle reasonably high and groom him to take Backus' place. Most of all, I'd like to see them find a quality pass-rushing end like Bjoern Werner or a quality cornerback like Dee Milliner with their first draft pick. Milliner probably won't be there at the fifth spot. But if he is, the Lions should jump for him. As I said, when you play in a division with Rodgers, you'd better figure out how to stop the pass. The Lions haven't, and look no further than defense for why this club wilted.
-- By Clark Judge
Click on the dropdown above to find previews for all 32 teams as we head into free agency.