Team-by-team free agency previews
| | | |
| --- | --- | --- |
| | Free-agency preview: Dolphins | |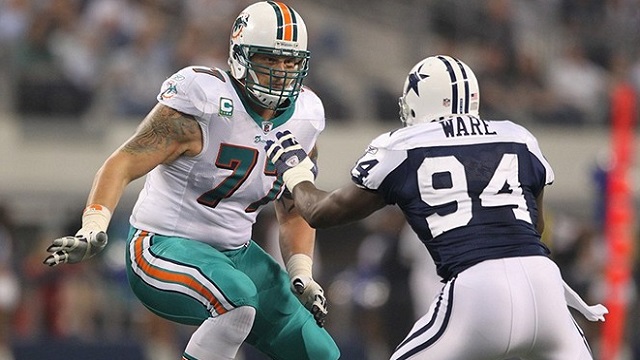 Team overview: There are plenty of positives to be gleaned from the Miami Dolphins' 7-9 season a year ago, not the least of which being the encouraging play of rookie quarterback Ryan Tannehill. The question now becomes, what weapons can the Dolphins bring in? With a ton of room under the salary cap -- somewhere in the neighborhood of $40 million -- Miami can make some moves or afford to keep around their own talent.
The team has reportedly locked up wide receiver Brian Hartline, but there are plenty of other pending free agents -- including offensive tackle Jake Long and running back Reggie Bush -- that need to be considered.
[Related: CBSSports.com's Top 100 free agents]
What the depth chart tells you: The Dolphins need more talent on offense. Hartline is a fine No. 2 receiver, but he's not much of a threat down the field. Bush was solid in 2012, but he's also somewhat shaky as an every down back. The defense is solid, led by playmaking defensive end Cameron Wake, but they need more big plays on that side of the ball.
If the Dolphins do decide to let Bush walk, they'll be forced to employ a running back by committee, with Daniel Thomas and Lamar Miller acting as the two-headed monster. Depending on what Bush is asking for contract-wise, this may not be too bad an option. Though he had just 51 carries, Miller averaged almost five yards per touch.
Ideal free agent and draft strategy: The Dolphins must reel in a wide receiver. Mike Wallace is available, as is Greg Jennings -- the latter has a past relationship with coach Joe Philbin. Regardless, they need someone who can stretch the field and give Tannehill plenty of options. Defensively, a corner would be a good play, and that can come via the draft. The Dolphins pick 12th, so Xavier Rhodes would almost certainly be available. Miami could nab a top-tier wide receiver with that pick and snag some defensive players -- especially defensive backs -- in free agency.
The Dolphins are sitting on a mountain of money, so they basically will have their pick of the litter in free agency.
What will happen in 2013: There's no way the Dolphins start camp without at least a big name wide receiver. Beyond that, there's a lot of directions they could move. With the quarterback position taken care of, shoring up a defense that struggled against the pass would be a wise move. 
It will also be interesting to see what the Dolphins ultimately decide to do with Long, who's commanding a rather large price. Regardless, there's a lot of wiggle room for Miami and, if the right moves are made, the Dolphins could be building a playoff team.
-- By Evan Hilbert

Click on the dropdown above to find previews for all 32 teams as we head into free agency.