Team-by-team free agency previews
| | | |
| --- | --- | --- |
| | Free-agency preview: Vikings | |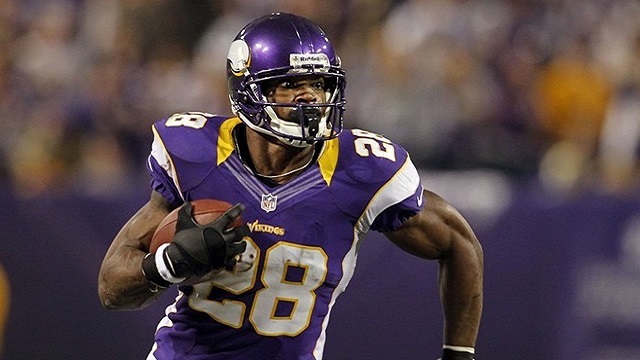 Team overview: Adrian Peterson carried the Vikings to a seven-game improvement in 2012 and won the MVP award. It's not true he tore his other ACL to prepare for 2013.
Peterson (2,097 rushing yards, 12 TDs, 6.0 ypc) put up historic numbers even though defenses did not fear Minnesota's passing game at all.
The Vikings enter 2013 desperate for receiver help, even if Percy Harvin is back. They ranked 31st in passing yards (171.9) and Christian Ponder finished 31st in yards per attempt (6.1), ahead of only Blaine Gabbert. But before Minnesota addresses that need, the team must lock up right tackle Phil Loadholt and fullback Jerome Felton.
Minnesota extended coach Leslie Frazier through 2014, providing stable leadership with general manager Rick Spielman.
[Related: CBSSports.com's Top 100 free agents]
What the depth chart tells you: Spielman says he has no intention of trading Harvin, who led the team with 62 catches for 677 yards despite missing seven games. That's good because he's the only playmaker at wideout. Jerome Simpson and Devin Aromashodu are free agents who might not be back. Simpson was supposed to be the deep threat but couldn't stay healthy. Jarius Wright, Stephen Burton and Greg Childs don't appear to be the answers. So Minnesota is expected to draft a wideout 23rd overall.
Minnesota is thin at linebacker after Chad Greenway (191 tackles). Jasper Brinkley, Erin Henderson and Marvin Mitchell all are free agents. If one or two aren't re-signed, the team must add linebackers through free agency or the draft.
The Vikes also need help at defensive tackle.
Ideal free agency and draft strategy: The Vikes should grab a wide receiver 23rd overall, such as California's Keenan Allen or Clemson's DeAndre Hopkins. Spielman has made it clear the team won't spend big in free agency. The team has about $17.5 million in cap room after releasing wideout Michael Jenkins but will need most of that to re-sign their own free agents, including Loadholt, Felton and Brinkley.
Still, free-agent wideout Donnie Avery and linebacker Daryl Smith could fit in Minnesota's budget.
What will happen: Spielman called it risky to sign other teams' undrafted free agents.
"I don't want to call them rookies because they're veterans," Spielman told the Star Tribune. "But they take time to adjust to their new teammates, take time to adjust to their new surroundings, take time to adjust to the new offense that they're running. So it's not always as smooth a transition as people would think it would be."
It would be a surprise if Minnesota went after Mike Wallace or Greg Jennings.
Look for Spielman to spend most of the available cash, including some that could be freed up by restructuring deals, to retain Minnesota's own free agents. Then he'll address needs, possibly wide receiver, linebacker and defensive line, with the 23rd, 52nd and 83rd picks.
It's not a sexy approach.
-- By Larry Hartstein
Click on the dropdown above to find previews for all 32 teams as we head into free agency.