Team-by-team free agency previews
| | | |
| --- | --- | --- |
| | Free-agency preview: 49ers | |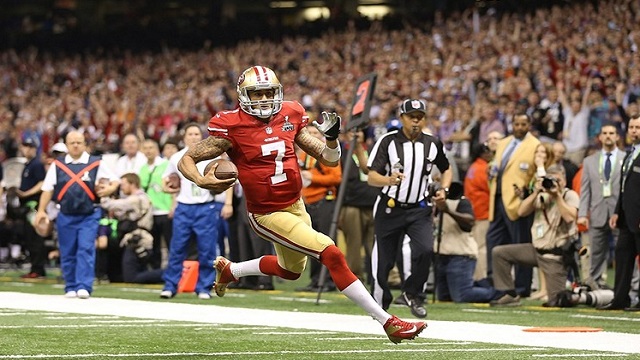 Team overview: If you don't count the first two quarters of Super Bowl XLVII or David Akers' entire season, the 49ers were almost perfect in 2012. The defense finished the season ranked third in the NFL and the offense wasn't too shabby either, ranking 11th overall -- but lets talk more about the defense. The 49ers defense had four All-Pro players, including linebackers NaVorro Bowman -- who finished second in the league in tackles -- and Aldon Smith, whose 19.5 sacks in 2012 trailed only J.J. Watts' 20.5. 
Offensively, coach Jim Harbaugh's decision to start Colin Kaepernick is the gift that keeps on giving for San Francisco. First, it paid off when Kaepernick led the 49ers to the Super Bowl. Then it paid off again when the 49ers were able to send backup Alex Smith to the Chiefs for a 2013 second-round draft pick and a conditional 2014 pick. The trade will free up $9.75 million in cap space for the 49ers. Except for taking receiver A.J. Jenkins in the first round of the 2012 draft, Harbaugh's decision-making has been almost flawless.   
[Related: CBSSports.com's Top 100 free agents]
What the depth chart tells you: The 49ers don't really have any gaping holes, but they do have several that need to be filled or at least shored up, starting with the defensive line. Justin Smith is getting old -- he'll be 34 in September -- and he won't be able to start offseason training until he recovers from a torn tricep that he had surgically repaired in February. Ricky Jean Francois is a promising talent on the defensive line, but he's an unrestricted free agent and there's no guarantee he'll be back. Nose tackle Isaac Sopoaga is also a UFA and like Jean Francois, could be on his way out. 
The 49ers biggest decision on the defensive side of the ball is going to be whether or not to re-sign safety Dashon Goldson. Goldson will reportedly be  asking for as much as $8 million a year, which would probably be out of San Francisco's price range. As for the rest of the secondary, cornerback Carlos Rogers is getting up there in age -- he'll be 32 in July -- but should be serviceable for at least another season. Corner Tarell Brown and safety Donte Whitner are both capable starters.
On the offensive side of the ball, the 49ers need to find a No. 2 wide receiver who can stay healthy -- and maybe not complain about their role on the team the week before the Super Bowl. Speaking of Mario Manningham and Randy Moss, Manningham will spend the offseason rehabbing a torn ACL while Moss will spend the offseason looking for another team to play for because the 49ers reportedly don't want him anymore. Jenkins hasn't panned out and had exactly zero catches in 2012. 
Besides a No. 2 receiver, the 49ers could also use a backup quarterback and a kicker. Akers caused the 49er fan base one too many anxiety attacks in a season where he only hit 69 percent of his field goals and now the team is reportedly ready to dump him. 
Ideal free agent and draft strategy: In an ideal world where money doesn't matter and salary caps don't exist, the 49ers would probably try and sign a big named free-agent wide receiver like Greg Jennings, Danny Amendola, Wes Welker or Mike Wallace. However, with limited cap space, that's most likely not an option. Going after Darelle Revis by trading three or four draft picks to the Jets seems to make sense, but that might be too high of a price for Harbaugh, especially if the Niners are only renting Revis for one season.    
What will happen: Don't look for the 49ers to make a big splash in free agency, but do keep an eye on them in the draft. Actually, keep both eyes on them. Once the Alex Smith trade is finalized, San Francisco will have 15 picks to work with. Harbaugh and the 49er brass have to figuring there's no way 15 rookies will make the team's roster next season, which means San Francisco will most likely be making a trade or two leading up to the draft or on the day of the draft. As for free agents, the Niners should spend most of their negotiating time trying to re-sign Goldson and tight end Delanie Walker. 
-- By John Breech
Click on the dropdown above to find previews for all 32 teams as we head into free agency.