Team-by-team free agency previews
| | | |
| --- | --- | --- |
| | Free-agency preview: Bills | |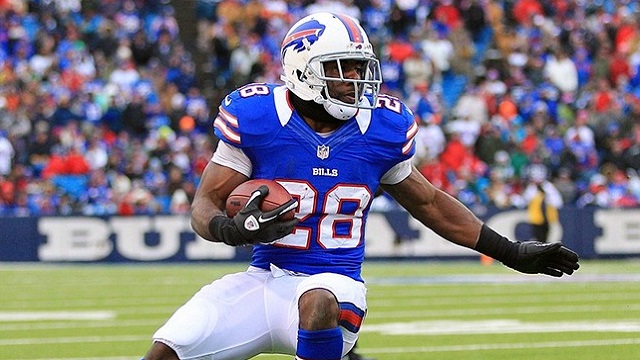 Team overview: If there is a silver lining to the Buffalo Bills' 6-10 season in 2012, it's this: C.J. Spiller can make plays. In just his third season in Buffalo, the running back stepped in for the injured Fred Jackson and ran right past him. Spiller rushed for 1,244 yards -- a whopping 6.0 yards per carry -- though his production didn't result in many wins.
And there's plenty of blame to go around. Quarterback Ryan Fitzpatrick struggled and the defense was abysmal against the run. But sweeping coaching changes could make an immediate impact, with Doug Marrone bringing a fast-paced offense to Buffalo. The pieces are in place for the Bills; it's now just a matter of that translating to on-field success.
[Related: CBSSports.com's Top 100 free agents]
What the depth chart tells you: This team has plenty of talent. Offensively -- aside from Jackson and Spiller -- Stevie Johnson has proven to be a dynamic receiver, with Scott Chandler an effective tight end. There is a question mark with regards to Chandler's health -- he tore his left ACL in Week 16 -- but he shouldn't miss much time, if any. The Bills were also hindered by the absence of wide receiver David Nelson, who was placed on injured reserve in  Week 1 after tearing up his right knee. His return, coupled with a new offensive scheme, could make things easier on Fitzpatrick -- assuming the offense plays to his strengths, which is more of an intermediate passing game.
Defensively, the Bills tried to make a splash last offseason by signing defensive end Mario Williams, and he was solid, recording 10.5 sacks, but he needs help. The defensive backfield is young, but 2011 first-round pick Stephon Gilmore has loads of potential. Again, most of the pieces are there if they can just put it all together.
Ideal free agent and draft strategy: General manager Buddy Nix has not been shy about his desire to get another quarterback -- perhaps someone for Marrone to build his offense around. That could be a smoke screen, but it shouldn't come as a surprise if Nix and the Bills take Matt Barkley or Geno Smith with the eighth pick. But there are certainly other areas of need. A big-play receiver to play alongside Johnson would be ideal, or some defensive players to fill the holes in the run game. They've already released their two leading tacklers from a season ago -- safety George Wilson and linebacker Nick Barnett -- so there is space to be filled.
Perhaps the best approach for the Bills would be to address their non-quarterback issues later in the draft while adding bulk on the defensive line and maybe a playmaker on offense. If a quarterback is around in the middle rounds -- Marrone's quarterback at Syracuse, Ryan Nassib, would be nice -- they could take one then. But there's no sense in forcing Fitzpatrick out before he has a chance to prove himself in the new offense.
What will happen in 2013: The Bills are still a couple of seasons away from a playoff team, but they can certainly make some noise. Spiller is poised to bust out next season, which would take some pressure off Fitzpatrick. If the defense could figure out how to stop opposing backs, the Bills could find themselves in contention for a playoff spot. 
-- By Evan Hilbert


Click on the dropdown above to find previews for all 32 teams as we head into free agency.