Celtics make interesting hire, but it's anything but a no-lose for Stevens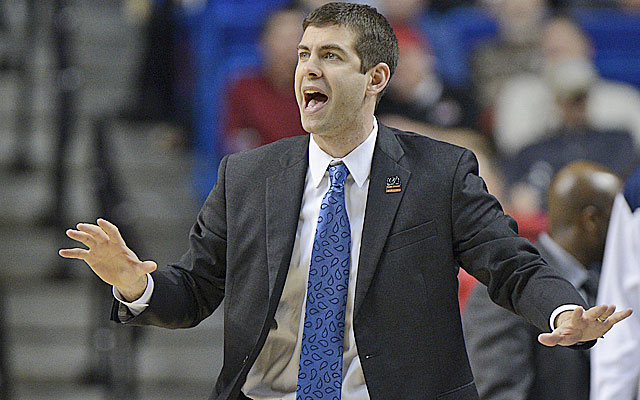 After Brad Stevens' first year at Butler, my alma mater Oklahoma State was looking for a head coach. As a sounding board I offered up my thoughts on 50 or so coaches that were proposed to follow Eddie and Sean Sutton, the latter of whom had been fired after his second full season as head coach.
Mike Holder, the athletic director at Oklahoma State asked me, "What about that really young-looking coach at Butler? I love his sideline demeanor and his team's attitude."
My response was, "I love him. I called one of his games against Valpo and he thoroughly outcoached Homer Drew, who I think is pretty darn good.''
But I also told Holder that it was too soon to know whether Stevens could recruit Texas and get players to Stillwater. It seemed like he was a year or two away from a Big 12 job."
Holder responded, "Well I like him a lot. Maybe if Sean Miller or Jamie Dixon turns us down we can double back."
I thought there was no doubt Stevens would be a can't-miss someday. But at that time I wasn't sure how he would work in Stillwater.
Man, was I wrong.
Stevens has always said he would listen to offers, but he made it clear that few have actually called.
College coaches do not view the NBA as a higher level of coaching, just one that is different and more challenging in terms of thinking on your feet, managing player minutes, creating matchups and prepping for games. That's in contrast to the college game where the coach is the GM but also has to woo talent, mold it and hope that it doesn't fly the coop before that talent matures on a college floor.
The NBA is at a bit of a crossroads. There are two types of coaches who seem to fit the desirable list of NBA brass. Either you are a coach who can relate, a former player like Jason Kidd, Mark Jackson, Jacque Vaughn, Brian Shaw, Kevin McHale, Mike Woodson or Jeff Hornacek, or you are a numbers geek.
Sure, new Grizzlies coach Dave Joerger was a longtime successful minor league coach, but Joerger, Frank Vogel and Erik Spoelstra are the latest craze in NBA hiring. Guys that buy into PER (Player Efficiency Rating) much more than they buy into P-n-R (Pick and Roll). Former players have cachet, are good when the bullets are flying, but they need help in the practices. Player development may not be their niche, whereas motivating and team-building is.
Numbers geeks are cheap and have been the ones running the practices for the coaches in the past. They have a plan -- lots of plans, in fact -- but they lack the cachet that must be earned in a locker room standoff.
Gone are the retreads like Jerry Sloan, Flip Saunders (who is now a partial owner) and Avery Johnson, once a wonder child who is now out of the league. Don Nelson, Bernie Bickerstaff, P.J. Carlesimo and George Karl are all experienced basketball minds of varying degrees of competence and yet none were hired this offseason.
Phil Jackson's body is a mess, and he wants too much power and money and wants to spend too little time on a team that he has to coach without the likes of a lucid Tex Winter to help. Phil is done, despite the greatest collection of championship jewelry to make his salient points.
So the Boston Celtics do something interesting. They hire a numbers guy, maybe the ultimate numbers guy, who, because of his ties to USA Basketball, has everyone from Coach K to Coach Pop as a believer. He is the ultimate flat liner in his play calling and game management, and when the pressure is at its peak, baby-faced Stevens is peerless in his precision.
What is being described as a no-lose is actually anything but. Stevens was a boy king in college, and now he is just another young coach in an expensive suit, in a city to which he is foreign (and vice versa), and in a league that eats college coaches for lunch.
Could he go back and have his choice of jobs? Of course, but there is only one Butler. Cases in point: Barry Collier, Thad Matta and Todd Lickliter all had great success as head coaches at Butler but only Matta has been able to recreate it elsewhere, though it looks little like the Butler Way.
Collier's belief in winning players from two-parent homes morphed slightly into getting plain buy-in kids who adored the fundamentals of screening, defending, grinding their way to ugly victories in a conference containing a pro here or there, and who did not call Hinkle Fieldhouse home.
I'm not down on the Stevens hire, but anyone who thinks that calling the perfect play -- which Brad not only does, but his teams execute those sets with the personnel in just the right place -- is what makes a great NBA coach is just kidding themselves. Stevens, unlike Lick, is affable to all. Unlike Collier, his "Dork in an oversized suit" doesn't hurt his swag and he can relate.
Stevens is more X's and O's than Matta, and if you have ever watched his teams practice, it is a work of art. Andy Enfield told me three years ago, "Butler may look like choir boys, but they hit you like sailors. They are the most physical team in the country."
If it all goes bad, sure, he can go back to college. But happiness is hard to recreate.
On the other hand, why not take the big NBA job? It is the Celtics -- with draft picks and cap room coming for days.
Stevens' Butler job just got a hell of a lot harder going from the Horizon to the A-10 to the Big East in two seasons. Would you rather play UW-Green Bay, UW-Milwaukee and Cleveland State or Marquette, St. John's and Creighton in home-and-homes?
Indiana isn't coming open anytime soon as Tom Crean has it rolling, and frankly if he ever did not, Stevens is still the guy. While no one wants to fail, and to this point Stevens has not, to not try is failing by not trying.
It isn't "F-you money" but $22 million over six years, when the average NBA coach lasts less than three, is a decent enough pay day. Butler has been here before, and if worst comes to worst, Collier is more than qualified. After all, he started this thing to begin with.
Rajon Rondo can be a pain, and will likely challenge Stevens at some point, but that can be managed or he could be gone. In truth this is not that dissimilar to the state of the Celtics when Rick Pitino was in charge. The lotto balls sent Tim Duncan to San Antonio back then, and of course Pitino shipped off Chauncey Billups before he finished his first year.
Stevens reads, studies and knows the rules to the game, but here's some advice for his new job. Don't become a "Naismith Guy" and think you invented the game. Don't bring in "your guys" like Pitino did by drafting Kentucky guy after Kentucky guy, or even Lon Kruger signing Dan Cross. Don't be afraid to coach. Don't lose sight of who you are or what makes you desirable, and don't undersell how hard it is to go to back-to-back national championship games at Butler.
Spoelstra was born with an NBA silver spoon in his mouth, but he earned his way from the video room to the podium. Why can't Stevens start as a marketing guy at Eli Lilly and go on to hang banner No. 18 above the parquet floor?
Will it work? Who knows, but maybe the Celtics, who lost Len Bias to cocaine, Reggie Lewis to a bad ticker, Larry Bird to a bad back, Tim Duncan to San Antonio, and Greg Oden and Kevin Durant one rebuild ago as well, will land Jabari Parker (whom Brad coached with USA basketball) or Andrew Wiggins -- or maybe that cap room will bring LeBron or KD in the near future. Anyone who says they "know" what will happen is full of it. But as Stevens and those numbers guys believe, if the process is right, the results should statistically follow.
In Boston, a drinking fountain is a "bubbla," a grocery cart is a "carriage," "wicked" is awesome and "wicked awesome" is well, better. But winning basketball is winning basketball. Turn it over less, get more rebounds than the other team, bump every cut, set every screen, and the more times the play is run correctly, the more likely the shots will fall. It doesn't mean they will, but it will be fun to watch with Stevens.
I'm betting that Stevens is better than expected in his first season and that by his third his job will hang in the balance. But no one seems to remember that before Doc Rivers brought Beantown a title, before the Celtics dumped games simply by playing Allan Ray and Sebastian Telfair in tight games late, that Doc got pink-slipped in Orlando after his Magic opened the season 1-11.
So if you want to question Stevens' credentials, that is fine. But take a peek at Spoelstra, Vogel, Gregg Popovich, Scott Brooks and Tom Thibodeau before they got their current jobs, and you realize he has far surpassed their résumés already.