Aaron Rodgers soon to become NFL's highest-paid quarterback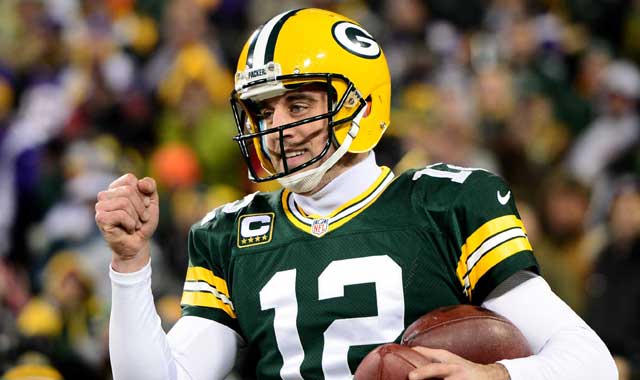 It won't be too long before Aaron Rodgers becomes the highest-paid player in NFL history. It could be a week or two. Perhaps a month or two.
But given the ongoing negotiations between the star quarterback and the Packers, the progress to this point and the accepted reality between the sides that Rodgers is going to eclipse in most every way the recent record contract signed by Ravens quarterback Joe Flacco, it's only a matter of time before he becomes the league's first $25-million a year man, or damn close to it.
It will happen this offseason and after the rumblings I've heard the last few weeks, including the league meetings in Arizona last week, I would not be surprised if a deal was struck before the draft. Green Bay also has to figure out a way to extend Clay Matthews, who could be in line to become the highest-paid defensive player in league history, as well as defensive tackle B.J. Raji, who will require an extension as well (interestingly enough, all three players are represented by Athlete's First, the mega-agency run by David Dunn).
The small-market Packers need to figure out their budget and cap situation for the coming seasons. Always needing to prepare ahead of time, and with record-setting contracts ahead, the sooner that picture clears up the better. And, just as eagerly, other teams and agents are waiting to see exactly how much coin Rodgers gets, because his deal will have an immediate trickle-down impact on a group of other young quarterbacks seeking extensions of their own, most notably Atlanta starter Matt Ryan.
There isn't a hard and fast timetable for completion at this point. But sources said it's conceivable the final hurdles will be overcome in short order. There has been a strong buzz in the agent community that this new benchmark will be set sooner rather than later, and no one with knowledge of the negotiations would call a deal imminent at this point, but they would not dispute that everything is pointing to this being resolved this spring.
It's hard to imagine a scenario in which Rodgers isn't shattering the benchmarks for salary per year and guaranteed salary ($65 million? $70 million?). If the deal is structured similarly to those of Drew Brees and Flacco -- the two most recent top quarterback contracts -- then you could expect the payout over the first three years of new money to be truly massive.
The Packers know it and now with the team completing its cap cuts and doing its normal restrained tap dance through free agency, the franchise's attention will be focused on securing its quarterback's services for the bulk of his career.
Rodgers is currently scheduled to earn just $9.75 million this season and $11 million in 2014, the final years of his current deal (and it could end up that those salaries don't change all that drastically. But with a series of huge bonuses sprinkled in future years -- when the cap should finally budge some -- to provide some short-term relief.
Packers coach Mike McCarthy didn't try to hide the significance of resolving the Rodgers situation when I asked him about it at the owners meetings in Arizona last week, saying it's "obviously important" and it's the primary focus of the organization's financial people at this point. While the coaching staff isn't sweating the details, McCarthy said there is a sense that it will get done.
"I have great confidence in (general manager) Ted Thompson, and (chief negotiator) Russ Ball and (team president) Mark Murphy, that they can get these things done," McCarthy said.
They have to. There is no counter-argument.
There really isn't a knock you can find on Rodgers. He's 29 and still well in his prime considering guys like Tom Brady and Peyton Manning had MVP-type seasons in their mid-30s. Rodgers handled with aplomb falling down the draft board and landing with a team with a Hall of Fame quarterback in Brett Favre. He also displayed maturity and poise in rising above Favre's childish treatment of him as a backup, and has done nothing but shine since taking over the reins for the Packers, including signing a very team-friendly new deal in November of 2008, relatively shortly after establishing himself as one of the most talented youngsters in the game.
What this means for other QBs
Consider the following, if you will:
Since 2008, when Rodgers became a starter, only Brees (24,730) has thrown for more yards than he has (21,332). Only Peyton Manning (67.6) and Brees (67.5) have a better completion percentage (65.9). Only Brees (190) has thrown for more touchdowns than Rodgers (170), and only Brees (193) has more completions of 25 yards or more (Rodgers is at 183).
However, Rodgers is superior in pretty much every other way. His touchdown-to-interception ratio tops all, an incredible 170-45. Rodgers has the best touchdown ratio of anyone in the NFL since 2008 (6.5 percent) as well as the second-best interception ratio (1.7 percent, while Brady is at 1.6)
No one has a better passer rating than Rodgers (105.6) in that span, with Brady (102.4) second to him. Rodgers has proven to be incredibly durable, and tough and confident. He can thwart you with his legs and he's already bagged one Lombardi Trophy, rising to meet challenges in the postseason, which hasn't been the case for Manning, for one.
So, yeah, pay the man. And pay him soon. Rodgers' peers are waiting. In what has been the offseason of the quarterback -- roughly a quarter of the NFL projects to have a new starter for 2013 -- there are more dominoes to fall.
Ryan, who is coming off a largely masterful regular season but still has some playoff demons to slay, will be looking to slot in between Flacco and Rodgers, and his agents at CAA will kickstart talks with the Falcons once Rodgers does his deal, sources said. Some expect $22 million a year to be Ryan's asking price (frankly I wouldn't pay him more than Flacco, but that's just me). The Cowboys want to extend Tony Romo, who has one year at $11.5 million left on his deal, and the Bears are in a tricky spot with Jay Cutler, set to make just under $9 million this season (somewhere in the $15 million range might end up being the sweet spot for this tier of quarterback).
Josh Freeman is also entering the final year of his deal with Tampa (a rookie contract under the old CBA in this case), but his wildly erratic swings in production will lead to him playing out that deal in all likelihood. Matt Stafford is counting more than $20 million against the Lions' cap ($12 million salary) and Detroit is trying to negotiate an extension with him, too (Stafford and Romo are represented by CAA as well).
There will be more quarterbacks changing teams as well between now and whenever Rodgers sets the market. Already, former starters Matt Cassel (Kansas City), Ryan Fitzpatrick (Buffalo),Kevin Kolb (Arizona), Matt Hasselbeck (Tennessee) have been dropped, with Alex Smith taking over the Chiefs, via trade, and Drew Stanton the probable starter for the Cardinals as the roster is presently constituted.
Jason Campbell could easily beat out Brandon Weeden in Cleveland, and the Browns would take a pick of any sort for former starter Colt McCoy, too (McCoy could end up as Rodgers' backup in Green Bay, by the way). Cassel could unseat another struggling young quarterback, Christian Ponder, now that he is in Minnesota.
Seattle continues to try to trade backup Matt Flynn and have talked to the Jaguars, Raiders, and Bills, with all having at least some interest in him, sources said (if Flynn is dealt, Tyler Thigpen would be a natural fit as a backup option in Seattle). Many believe the Jags will make the best offer, and that Flynn could beat out Blaine Gabbert for the job there. Kolb could still end up with the Jets, who want to add more passers to compete with Mark Sanchez, and the Raiders, as I have long reported, will not pay Carson Palmer $13 million to stand under center this season, and his eventual departure could lead to him landing in Arizona.
The Bills will draft a quarterback in the higher rounds (many believe Syracuse QB Ryan Nassib, who played for Bills coach Doug Marrone in college, to be starting there in 2013. The Jags and the Raiders, picking second and third overall, are doing a lot of work on West Virginia quarterback Geno Smith (no way he is getting out of the top five, bank on it), and Smith could end up a trade target within the top three picks as well.
So, ultimately, the Bills, Chiefs, Browns, Raiders, Cardinals, Jets, Jaguars and Vikings -- a quarter of league, could have new starters -- at some point in 2013. The quarterback carousel never really stops, which only heightens the need to get a good one, or, or keep the good one you have by any means necessary.
In the Packers' case, that means giving Aaron Rodgers considerably more money than any in this game has ever earned before. And should he continue to perform the way he has throughout his career, they won't regret a penny of it.
---
Speaking of QBs, check out the video to see if our experts think Geno Smith will be a viable starting signal caller from day 1.