Ravens considered front-runner to land troubled LB Rolando McClain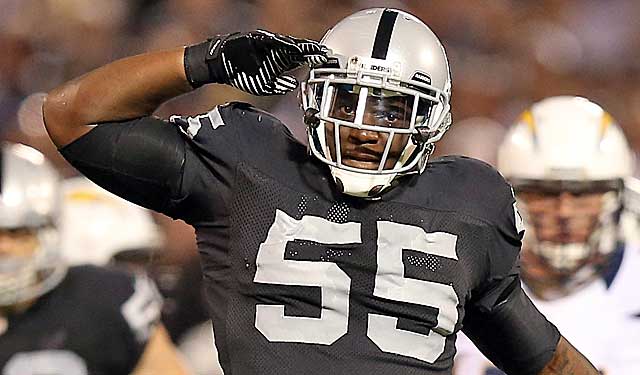 Rolando McClain -- cut recently by the Oakland Raiders -- is talking to several teams, with the Baltimore Ravens considered the favorites to land the troubled linebacker.
McClain cleared waivers when Oakland released the former No. 8 overall pick, which was no surprise given the money left on his rookie contract. As a free agent, several teams are interested and sources said the Ravens are the favorite to land him.
Nothing is complete yet and "there is still work to be done," a source said, but it would be a surprise if he did not land there. Ravens GM Ozzie Newsome knows McClain (a former Alabama star) well; Newsome is a former tight end at the school with a Hall of Fame playing and management career who is able to show tough love and is not afraid to reach for certain players who have character issues.
McClain was a bust in Oakland, but has great athletic talent. His troubles with the law, coupled with an incident where he had a heated exchange with Raiders coach Dennis Allen before a practice led to him being banished from the team last season and his eventual release.
Baltimore has had a strong locker room, however, even with Ray Lewis and Ed Reed gone, and the Super Bowl winners may be able to keep him in line. It's at least worth a look on the cheap for the Ravens, who have become very thin at inside linebacker because of free-agent defections (Dannell Ellerbe), injury (Jameel McClain) and retirement (Lewis).
Back at the combine I suggested maybe at the extreme the Ravens send a conditional seventh-round pick to Oakland for McClain -- who was being shopped in trade before his release -- but teams were smart enough to wait for him to simply become a free agent. Few teams have done a better job coaching and producing linebackers than the Ravens.
New England coach Bill Belichick also has strong ties to Alabama coach Nick Saban, though they don't have the acute need at this position that Baltimore does. The Bengals historically gamble on troubled, young players -- and were rewarded a year ago with the signing of Vontaze Burfict -- and some have linked them to McClain as well.