2013 NFL season preview: Baltimore Ravens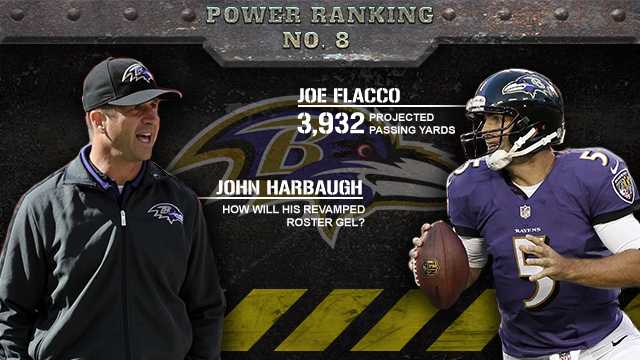 There's an old adage that you can never have enough depth. This preseason proved that true for the Ravens. The reigning Super Bowl champs fortified their roster through patient and astute moves this winter, but then found themselves running short at key positions by the time the exhibition games began.
Specifically, the loss of tight end Dennis Pitta to hip surgery was a massive blow and now they have to keep their fingers crossed that Ed Dickson, the other starter there, can get back from his hamstring tear by Week 1. They had to delve deep into a thin group of free-agent pass catchers to round out the roster, and the first-string offense didn't exactly light the world on fire consistently in the preseason games.
So, overall, it's hard not to look at this group as one that could be much improved defensively, but could be hard-pressed to sustain the kind of offensive efficiency they achieved in the 2012 postseason. It's still a very formidable roster, and Baltimore's front office and coaching strength can never be underestimated. But they certainly seem a little vulnerable in what could be the NFL's best division.
Offense:
Ravens' Rivals: AFC North


2013 Preview • Schedule
Steelers @ Ravens: 11/28 (8:30 p.m. ET)
Ravens @ Steelers: 10/20 (4:25 p.m. ET)


2013 Preview • Schedule
Bengals @ Ravens: 11/10 (1 p.m. ET)
Ravens @ Bengals: 12/29 (1 p.m. ET)


2013 Preview • Schedule
Browns @ Ravens: 9/15 (1 p.m. ET)
Ravens @ Browns: 11/3 (4:25 p.m. ET)
Joe Flacco has no lack of confidence, and there should be no concerns about his huge contract going to his head. But who is he going to throw the ball to with any regularity beside Torrey Smith? Can Brandon Stokley be a regular contributor in the slot as he approaches age 40? Will an older tight end like Dallas Clark make an impact? Which one of this hodge-podge of unproven youngsters will translate their flashes at practice into a full-time gig? There are more questions than answers here.
Jim Caldwell's play calling, however, will remain a plus. Expect some different looks from the Ravens. They'll have to scrap their plans to carve people up in two-tight-end sets, but would like to be able to have three receivers and a tight end on the field a good bit. Ray Rice could see some time in the slot and they need to get emerging back Bernard Pierce on the field at the same time as Rice on occasion.
The offensive line should be very stout -- assuming Bryant McKinnie stays in condition and Marshal Yanda staves off injury -- but even with all of that, it's a little more difficult to see Flacco having the kind of All-Pro year he seemed capable of when guys like Pitta and Anquan Boldin were still in the mix.
Defense:
They have their swagger back, they have some pass-rushing options back, they have a deep rotation on defensive line for the first time in a while. Look for a unit that sagged in 2012 to be back among the league's best in 2013. Haloti Ngata has something to prove, as does Terrell Suggs, and both are in great health after dealing with major health issues last year. Elvis Dumervil and Courtney Upshaw give them options opposite Suggs, and the return of top corner Lardarius Webb ahead of schedule cannot be minimized.
As the season rolls on, look for rookie safety Matt Elam and linebacker Arthur Brown to make their presence felt, and veteran linebacker Daryl Smith has fit in smoothly, replacing Ray Lewis as the central nervous system of this defense. He quickly earned the trust of coaches and teammates.
This looks like a group that should be capable of creating turnovers and giving the offense short fields, and that will be imperative with the Ravens still figuring out some of their offensive personnel.
Final thoughts:
The schedule could set up pretty well for the Ravens, and I have a feeling the head-to-head games with the Bengals could settle this division. I'm not sure I love that matchup for Baltimore. This remains a formidable team, one I expect to be able to get to the playoffs, and once you are in the dance, anything can happen.
Repeats are so tough, and I don't see that happening given the run of injuries already, but then again, I changed my Super Bowl pick from the Ravens last offseason when Suggs got hurt, and they ended up getting it done. If they can maintain their usual form at home -- where they have been dominant since Flacco and Harbaugh arrived -- I like their chances to improve from last year.
More 2013 NFL season previews: Select a team
AFC North
AFC South
AFC East
AFC West
NFC North
NFC South
NFC East
NFC West