Titans' Chris Johnson to have knee scoped; near lock to hit FA market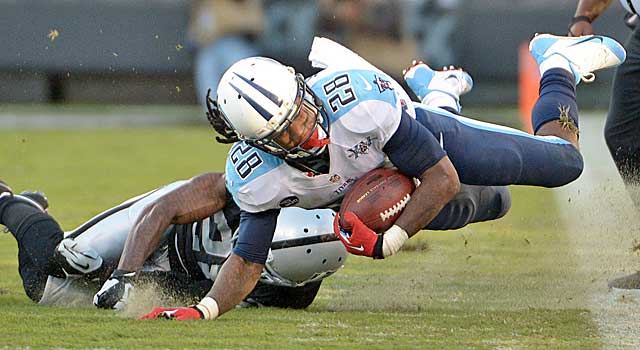 Former Pro Bowl running back Chris Johnson of the Tennessee Titans will have a knee scope Tuesday to repair a meniscus he tore in Week 3, according to a league source, and seems a virtual certainty to hit the free-agent market this spring.
Johnson had an MRI on the Monday following the Sept. 22 game vs. San Diego and opted to play out the season despite considerable pain and discomfort, still grinding out a 1,000 yard season. The surgery will be performed by Dr. James Andrews.
Johnson faces a 4- to 6-week recovery period and should be in good shape to pass a physical by the time free agency opens in mid March. Johnson is set to make $8 million in 2014 on the record contract extension he signed with the Titans, and the team will ask him to take a pay cut. Johnson is not inclined to do so, sources said, and thus his release seems inevitable.
Johnson remains one of the more explosive backs in the game, though the injury limited his last season. The Titans have also lacked any semblance of a passing game in recent years, the run game scheme has not always fit Johnson's style and overall the team has lacked innovation on offense.
A change of scenery, and amicable split, makes sense for both sides, with new head coach Ken Whisenhunt recently taking over. Johnson, to his credit, did not want trainers to speak about his knee issues last season and hoped to keep the matter quiet while he tried to play through the injury and return to top form.
It's likely the Titans will look to finalize Johnson's status with them, and assess his willingness to agree to a lesser deal, at the combine, when most discussions of that nature take place. This is not an especially deep free agent class of running backs, and in recent years very few players at that position have been first-round picks as well.
Johnson has spent his entire career with the Titans and is yet to experience free agency. He has previously rushed for 2,000 yards in a season and been an MVP candidate for the Titans, who have lacked stability and sustained productivity from the quarterback position since Steve McNair's heyday.