Ravens sign mainstay Suggs to cap-friendly extension through 2018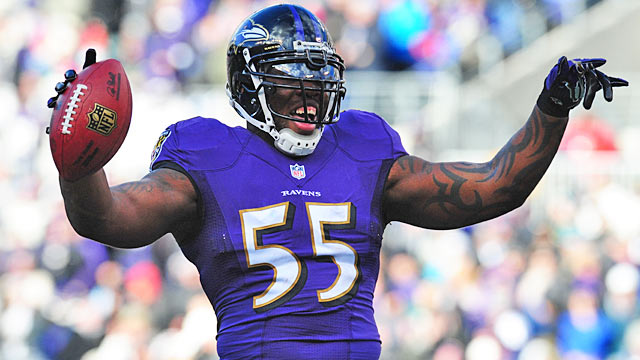 The Baltimore Ravens signed former Defensive Player of the Year Terrell Suggs to a long-term extension Monday, according to a team source, with Suggs now signed through 2018. The extension effectively makes him a Raven for life, creates badly needed cap space for Baltimore and rewards Suggs for his past performance.
Baltimore enters this offseason in a cap crunch, with roughly in $12 million in cap space before this move, several key free agents still to sign. This deal creates $5 million to spend, the source said, lowering Suggs' cap number to $7.8 from $12.4M. In what is truly a win/win for the team and the player, Baltimore also keeps a key player, while Suggs, 31, lands one of the more lucrative payoffs for over-30 pass rushers in recent years. He now will make around $12 million in 2014 (he was to earn $7.8 million this season under his old deal). Suggs has $16 million of the $30M deal fully guaranteed, significantly exceeding guarantees that veterans like Dwight Freeney, John Abraham and Osi Umenyiora were able to achieve on the open market.
Suggs, who helped lead Baltimore to a Super Bowl title in 2012 after a shocking return from a torn Achilles, slipped in form in the second half last season. He has long been considered one of the team's top players and leaders, and this deal is a testament to his import. The Ravens can use the cap space to land other starters, with the team hopeful of retaining free-agent tackle Eugene Monroe, tight end Dennis Pitta, defensive tackle Art Jones (whose price tag might become too steep) and linebacker Darryl Smith, according to sources. The Ravens also need to upgrade the roster at critical positions as well, wide receiver in particular.
The Ravens could end up restructuring defensive tackle Haloti Ngata's deal as well (he has a team-high $16 million cap hit this season) to create additional space as well.
Suggs has played 11 seasons with the Ravens since being a first-round pick in 2003. He is a five-time Pro Bowl selection, is the franchise's all-time leader in sacks, sack yardage and forced fumbles. Suggs flew from his offseason home in Arizona (he is from Arizona and played collegiately at Arizona State) to Baltimore, arriving Monday to sign the new contract. He has registered double digits in sacks five times in his career, and, with the departure of Ed Reed and Ray Lewis before last season, is the dean of Baltimore's defense.