Revis available? High cap number, new regime means CB may be moved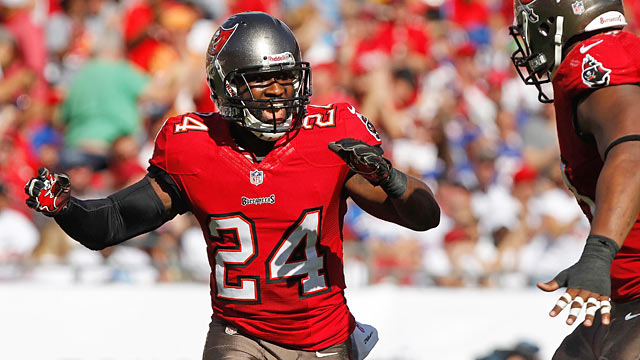 Prisco: Under-the-radar free agents to watch | Bucs trying to keep FB Lorig
Teams are exploring dealing for Bucs corner Darrelle Revis, according to league sources, with some believing there is a good chance he will be dealt by the start of the league year.
During the combine, sources from several teams began reaching out to the Bucs about the possibility they might deal corner Darrelle Revis, and rival executives believe a deal could be possible.
At this stage no one is making offers, and the Bucs haven't contacted other teams about the Pro Bowl player, and are not shopping him, but talks could certainly progress as we approach the start of the league year next month. Revis makes $16 million this season and counts $16M against the cap (that holds true for every season through 2018), and Tampa has several other tricky contracts to sort through, particularly along the offensive line with an aging and highly paid group, many of whom are nearing the ends of their contracts.
This is the first year of Tampa's new regime with general manager Jason Licht and coach Lovie Smith. They did not acquire Revis and Revis may not the best fit in their new defense, with more Cover-2 principles. Smith has talked about retaining Revis publicly, but as the free agency period begins, teams are seemingly more convinced he could be had via trade. Hence the calls of inquiry.
Revis got no guaranteed money, so he could be traded or released without cap or cash ramifications (no cap acceleration) and thus Tampa could conceivably get assets in return for him, and then use his cap and cash savings to address several other positions. A sampling of general managers during the combine asked what they thought Revis would earn per season on the open market, put him in the $8M-$9M million range given his ACL injury from 2012 and what has transpired in the corner market in recent years. They figured Revis might earn in the range of the Titans' Alterraun Verner, the top free agent corner, might get on the open market. Verner is younger.
Would all of that be enough to convince Licht and Smith to part with him? And how much could Tampa actually get in return for him?
League sources anticipate the degree of conversations to intensify as March 11 approaches. Revis had a strong return from his surgery and played at a Pro Bowl level last season, and his agents, Neil Schwartz and Jon Feinsod did a tremendous job in getting him $16M/season, or roughly $6M more per year than any other corner in the game. But with Revis turning 29 in July, there is a growing sense among general managers that Tampa could end up moving Revis in the coming weeks if there is sufficient interest.