Chip Kelly's DeSean Jackson question: Is it hubris or the system?
More NFL offseason: Mock Drafts | Prospect Rankings | Pro Days | Top free agents
ORLANDO, Fla. -- When it comes to DeSean Jackson, the clues are not in what Eagles coach Chip Kelly says, but what he doesn't say.
Few players took to Kelly's dynamic system the way Jackson did, leading the team in receiving (with 500 yards more than anyone else on the roster), setting career marks, looking like the perfect embodiment of the speed and special-awareness and versatility that the innovative coach craves. And yet it still almost certain that Jackson, set to earn $10.5M this season, will not be a part of Kelly's offense in 2014, according to league sources, even after the coach's recent meeting with the sometimes surly receiver that was reportedly supposed to cement his status with the team.
For while Kelly met the media for an hour Wednesday morning, peppered with inquiries into Jackson's future with the club throughout the session, he never came close to declaring the 27-year old a sure thing to be back. In fact, nothing has changed, and the fact remains that Kelly is anything but afraid to embrace change and entertain fairly drastic measures in the pursuit of optimum offensive efficiency and a Super Bowl title.
Sure, Kelly delivered a few measured platitudes like -- "DeSean did a really nice job for us," -- and Kelly declared that Jackson "knows where he stands with us," but this was anything but a championing of Jackson's singular import to this multi-faceted offense. If anything, it reaffirmed the idea that most anyone is replaceable in Philadelphia's offense, that Kelly wouldn't fret over trying to upgrade any position -- even quarterback -- at any time, and that despite a remarkably successful first season in the NFL, after a storied college coaching career, Kelly is anything but satisfied with the rapid gains he made.
"I think we can get a ton better," Kelly said matter-of-factly, with a determined look in his eye that conveyed just how serious he is. Despite a roster that included decorated players across the offensive line and at the skill positions, all of whom Kelly integrated and maximized in his first season, the coach wasn't joking around, either, when he said: "I don't think we're fine at any position," and went on to mention running back (where he already acquired match-up nightmare Darren Sproles to go with starter LeSean McCoy, who might be the best in the game) and quarterback (where Nick Foles put up startling numbers as a first-time starter).
So if that means that a Pro Bowl talent like Jackson, who could be perceived as being unhappy about his contract or anything else, ends up getting dealt for a late-round pick, or even released, then so be it. Because that is where this thing is going, and the ability to get anything of value in trade seems remote (several executives were stirring during the just-concluded league meetings about the possibility of a Jackson for Mike Wallace trade with the Dolphins.
And if it means that elite guard Evan Mathis, who broached the topic of a new contract after out-performing the deal he signed a few years back, is then shopped around the league, well, then that's exactly what is taking place. Mathis's agent, Drew Rosenhaus, has been given permission to talk to teams about a trade, according to league sources, with the Eagles seeking a third-round pick in return. Unlike the Jackson situation, however, there is an expectation that barring trade options the Eagles might still keep Mathis, who is coming off a great season, and whose work ethic and mentality Kelly praised much more effusively on Wednesday, lauding Mathis' "lunch-pail mentality" that Kelly wants to permeate his entire team.
"I don't think our offense has ever been predicated on one player," Kelly said amid the repeated probing about the potential of an Eagles offense sans Jackson. "It's never been about one guy."
There is a certain hubris to Kelly's thinking -- to respond to Jackson's groveling through the media or Mathis' desire for a better contract with in essence -- a take-it or leave-it attitude, entertaining the notion of moving on without two vital contributors from his first NFL campaign. Perhaps, it reveals a bit of naivety as well, in that these sorts of instances are hardly unusual or unique in the professional game, and this is clearly a side of the business Kelly didn't have to deal with during his ascent through the college ranks (indeed, at the NCAA level the cash transactions and dirty business is usually conducted between boosters and street agents and the like).
But I'd make the argument that it's also hard to knock Kelly at this point. All the man does is win, and often in dramatic fashion, with an offensive panache that drives fans delirious with possibility. The man knows exactly what he needs to win and what fits his system and who can be more easily replaced. The ethos that he sells to players clearly resonates at a macro level, and the occasional outlier in that regard can be substituted elsewhere.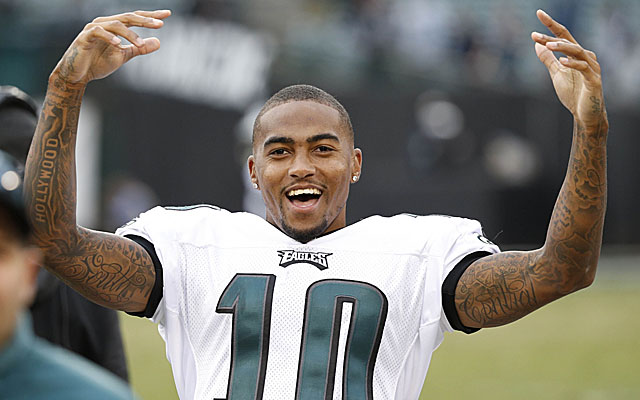 This draft, in particular, is loaded with talent at receiver, and while Kelly conceded he hasn't exactly been involved in too many drafts, the available pass catchers this spring are indeed special. "It's more talented than it's been in the past," he said, and given his track record with his offense, he may already see a bigger, stronger, less high-maintenance and dramatically cheaper version of Jackson somewhere in the first or second round of this May's draft. Entirely possible.
Kelly was gushing about the possibilities of finally getting receiver Jeremy Maclin on the field, excited to have him resigned despite missing all of last season with an ACL tear. The Eagles were proactive in retaining receiver Riley Cooper, who emerged as a big-play target in Kelly's system, as well before the market opened, giving them plenty of flexibility at the position.
The trade for former Saints running back Darren Sproles adds another wrinkle as well as another outlet in the passing game that could take away potential touches from Jackson, and might minimize his loss as well. Sproles can still make it happen in the screen game, is a dervish on wheel routes and his skillset meshes with Kelly's endless search for match-up issues to present to opposing defenses. As for the trading of a fifth-round pick for an aging player, Kelly summed it up nicely as such: "If Darren Sproles was available in the fifth round of this draft would you take him?"
(Valid point, indeed, though the same could be said of, say, Jackson, who given his salary the Eagles might not land more than a fifth-round pick for.)
Mathis, to me, more so than Jackson, would be more difficult to replace and his annual salary around $5M a season is much easier to stomach as well. For while Kelly claims to be unaware of cap numbers and the like, it's difficult to imagine there being quite the furor to get Jackson out of the building if he had a more manageable contract. In the end, maybe he stays, but the decision to let him shop his wares at all is telling as to how the Eagles will operate with Kelly in control. And when it comes to his offense, certainly he knows best.
Kelly espoused the virtues of free-agent back-up quarterback Mark Sanchez, who Kelly knows from his time in college, and given the limited other options for veteran passers, Philadelphia might just emerge as the best bet for the player formerly known as Sanchize to attempt to salvage his career. Working under Kelly does have a particular cache, and it's not like anyone was raving about Nick Foles this time last year, before Kelly got his hands on him.
Kelly's acumen should give the Eagles a continued advantage with their personnel, able to bargain shop and find system players who fit at a lower price, while the opportunity to blossom in his go-go scheme would also appeal to the right kind of higher-end free agent as well. At this point, if I'm an Eagles fan I'm giving Kelly the benefit of the doubt.

The rapid turnaround of the franchise in Year One, the development of Foles, the array of players who had career years in Kelly's offense, all work strongly in his favor. Time will tell how defenses adjust and what the future holds, and if the Eagles end up being shortsighted with their willingness to flirt with casting aside Pro Bowl players on that side of the ball. But above all else, in Kelly they trust, and for good reason thus far.
---
For more on Chip Kelly and his thoughts on the Eagles, check out the video below: