NFL, Bills planning for more time, games away from Buffalo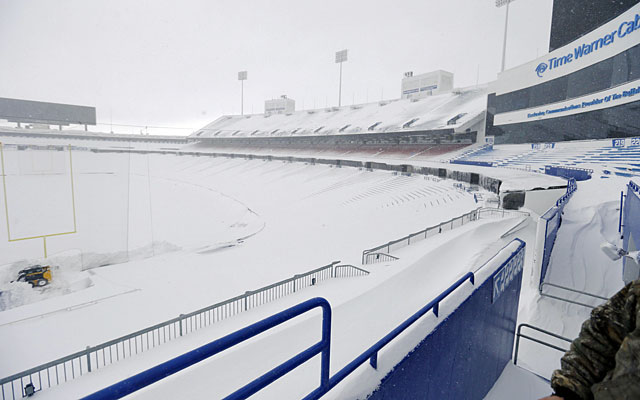 With the record snowfall accumulation in Buffalo, and now major concerns about flooding and water damage, the Buffalo Bills could remain vagabonds beyond this weekend. The team has been practicing in Detroit since Friday ahead of their "home" game against the Jets on Monday night at Ford Field, and it remains possible they could be practicing and staying somewhere else that Buffalo this week.
The Bills' home game against the Browns in Week 13 could change locales depending on the state of emergency in Western New York and the feasibility of having a safe and secure traveling and game-day experience for fans at Ralph Wilson Stadium by next Sunday. In addition to that, the Bills and league officials are discussing contingencies for moving practices and housing players elsewhere this week as well, as the authorities ensure that the Bills' practice facility has not been damaged or compromised in any way by the storm.
With the death toll still rising in the region and others still in a state of distress due to the storm, the NFL is very conscious of not steering assets and relief efforts away from the needy in any way in order to allow the Bills to practice and play. With several players needing to be dug out and relying on snowmobiles to get them to safe roads when they could be picked up, getting them back to their homes could be difficult, as well as then getting them back to the facility for a normal work week of practices and meetings.
They were unable to practice in Western New York at all last week. With colleges on Thanksgiving break, its possible a setting like that could host the team for housing, meals and training facilities. New Bills owner Terry Pegula is a huge Penn State booster, and, sources said, when he and the NFL were discussing where to play their Week 12 game, Pegula was enthusiastic about moving it to Happy Valley, but the lack of NFL game day infrastructure (replay booths, sidelines wired for tablets and headsets, etc.) made those non-starters given the available NFL stadiums. There are obviously several colleges closer to Buffalo as well that have quality facilities (like Syracuse).
The Lions, who have graciously offered their practice facility to the Bills this weekend, return from New England on Sunday night and have a very short turnaround because they host the Bears on Thanksgiving, which would make staying there very difficult. MetLife Stadium – home to the Jets and Giants and a facility that was in play for moving the Week 12 game – is not hosting a game Sunday (the Jets are at home Monday night).
Of course, with this being Thanksgiving week, and several players having families still back in distressed areas of Western New York, many would prefer to be back in Buffalo no matter what. The team and the league are working to make sure that is a safe and feasible option, and, if not, that contingencies are in place by late Monday night, when the Bills would be chartering out of Detroit.