Luck or Griffin? The Colts win no matter who they take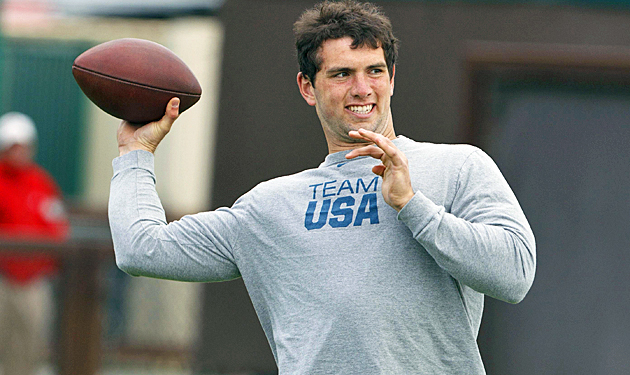 Andrew Luck displays everything to be ready to immediately in the NFL. (US Presswire)
There's really no reason to spend the next three weeks comparing Andrew Luck and Robert Griffin or why the Colts should take one or the other. They're both fine young players that should experience great success in this league.
I wonder what the former GM of the Colts, Bill Polian, would do if he was still in charge? He built a few franchises in his time. And if the Colts are struggling with the decision, then maybe the lack of program-building experience from ownership on down is starting to show. I haven't talked with Bill on this subject but I bet I know what he would do! He'd take Andrew Luck because he is the most ready for the NFL game, just like Peyton Manning back in the day.
I don't think there's any chance Robert Griffin will fall on hard times like Ryan Leaf did after he was passed up by the Colts. Polian had no idea what was in store for Leaf back then. No one saw the demise of Ryan Leaf back at draft time. Polian went with the most polished, NFL-ready QB that had a family heritage of play at this level in Manning. Luck has the same traits and is ready to go.
I understand why Robert Griffin III declined the opportunity to hold a private workout for the Colts. He wants to go to the Redskins! Right now the Redskins are a better team and Shanahan has an offense that features a perimeter attack, if needed. RG3 will become a great Redskin under the guidance of Mike Shanahan but I don't think the Redskins would do anything but jump up and down with joy if Andrew Luck ever fell to them.
One of my favorite GM's in the league told me the Robert Griffin III talk is nothing more than a calculated charade and the Colts aren't considering anyone but Luck. I have watched both Luck and Griffin on game tapes and they're close in talent.
Go watch both quarterbacks against Oklahoma State and you tell me what the Colts should do.