Old-school scouts find diamond in the rough at WR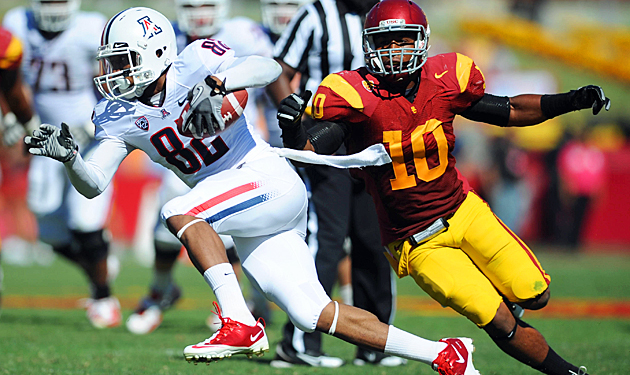 Juron Criner led Arizona last season with 75 receptions and 11 touchdowns. (US Presswire)
I really enjoy asking some retired football people to grade some players for me this time of year. They aren't tainted by the media reputations formulated about players, They simply watch a lot of game tape without former knowledge and then we discuss what they watched.
This week I had an old secondary player/coach watch many of the wide receivers in the 2012 draft class. I knew he would like Oklahoma State's Justin Blackmon and Notre Dame's Michael Floyd, but who else would jump out at the old pro?
As my old boss, the late Dick Steinberg would say "pay attention to the scout that has a different opinion than all the rest of the evaluators. Maybe we should restudy the guy and try and see what he sees." That's definitely the case for the wide receiver that emerged from this film study.
What if I told you there is a wide receiver that at 6'3", 225 lbs. and could jump 39 inches vertically, which in basketball terms means his elbows are above the rim. He has bigger hands than Justin Blackmon, and even though he has 209 receptions and 32 touchdowns in his career, he is thought of as a fourth- or fifth-round pick because of a 40 time.
The former scout/coach came to me for discussion with the following report: The wide receiver has good hands, good open field skills, quick feet, plays hard, gets open, competes for the ball and is more than a willing blocker. He is a good fit as a 'Z' in a west coast system. I had my old scout also evaluate Justin Blackmon and Michael Floyd during the same session and he was still high on the mystery man.
The receiver's name is Juron Criner from Arizona, and his draft status ranges from the 10th-best receiver to not even in the top 20 according to some draft analysts. Some describe him as a guy with subpar straight line speed, relies too heavily on his size down field and inconsistent hands. Go back and look at the report on Marques Colston of the Saints from 2006 and it's similar. That report was wrong and damaged Colston enough that he went in the seventh round. Eighty-six games later Colston has 449 receptions and 48 touchdowns.
Finally, if your team happens to be looking for a big receiver with production and a great attitude then Criner could be your man in the early fourth round. What a bargain!