Second round of 2012 NFL Draft, like 2011's, is place teams get max value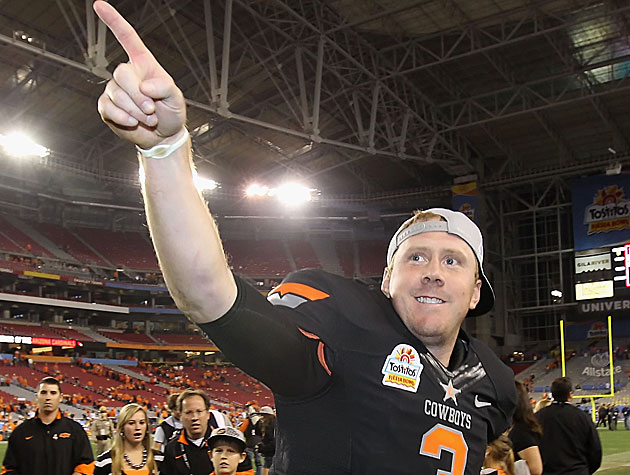 Will Brandon Weeden be this year's Andy Dalton? At least one OC really likes him. (Getty Images)
Whether it's moving out of the bottom half of the first round into the second round or moving up into the second round from the top of the third, it once again looks like a good move to get into Round 2.
More on NFL Draft
Related links
Last season, the 32 players from the second round made 163 starts -- especially impressive when you consider Mickel Leshoure, Bruce Carter, Marvin Austin couldn't get on the field because of to injuries. Every team in the league would love to find an Andy Dalton in the 2012 second round. And he may just be there.
Granted A.J. Green and Julio Jones were outstanding rookie receivers from the first round. But second-round receivers Randall Cobb, Titus Young, Torrey Smith and Greg Little and tight ends Lance Kendricks and Kyle Rudolph combined for 238 receptions. Can 2012 beat that kind of production?
When it came to second round pass rushers, Brooks Reed, Jabaal Sheard, Akeem Ayers, Da'Quan Bowers, and Stephen Paea collected 20 sacks.
The point is last year's second round was darn good in many areas and it is looking more and more like 2012 will yield more of the same.
Projected second-round prospects include QB Brandon Weeden, who could be this year's Andy Dalton. He may old by normal draft standards but one offensive coordinator told me, "Just take him and let him go."
Running backs Lamar Miller, Doug Martin, Chris Polk, Isaiah Pead, and David Wilson should all go in in the second and there is at least one 1,000 yard rusher as a rookie in the group. The coaches' favorite seems to be Miller.
Wide receiver is a deep position, too. Stephen Hill, Alshon Jeffery, Reuben Randle, Chris Givens and Mohamed Sanu should combine with tight end Dwayne Allen and Coby Fleener to beat the 238 receptions the second round pass catchers produced last season. At least one from that group will be more productive than a first round receiver like Michael Floyd, according to one GM I spoke with this week.
The first round will take most of the quality pass rushers. But mark my words: Vinnie Curry, Jared Crick and Bruce Irvin will go in the second round and get after quarterbacks like first-rounders.
Figure at least two full time starting offensive linemen in the second round from the group that includes Bobbie Massie, Amini Silatolu, Kevin Zeitler, and Peter Konz. If Mike Adams drops to the second round, then it's a lock that round will produce two starters.
As for linebackers, Luke Kuechly deservedly is the first-round headliner, but the second round should see Donta Hightower, LaVonte David, Mykal Kendricks and Zach Brown come off the board and at least one guy from that group will record 100 tackles next season.
Consequently, once again, 2012 second round picks as the place to be for great value at the right price. Smart teams are going to try and get at least two picks in this round.