2012 NFL Draft: Rams' Rounds 2 and 3 could be huge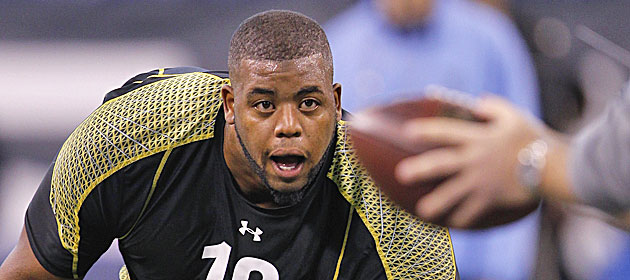 On Kirwan's wish list for the Rams on Friday: Georgia's Cordy Glenn. (Getty Images)
Day Two of the
NFL Draft
is very important because players taken in Rounds 2 and 3 have very close grades to those chosen in the bottom half of the first round, so Friday's rounds figure to produce a significant number of starters.
No team is better situated to hit a home run Friday night than the St. Louis Rams. They have four picks among the first 33 and the talent left on the board sets up nicely with the Rams' needs.
Consider that new coach Jeff Fisher is looking for a wide receiver, and offensive tackle, cornerback and running back and they should come out of tonight with a formidable player at all four spots.
At No. 33 they could be looking at wide receivers
Stephen Hill
or Reuben Randle. At No. 39 they should be able to select a tackle from the group that includes Cordy Glenn,
Mitchell Schwartz
, or Bobbie Massie. At No. 45 at least one corner remaining among
Janoris Jenkins
,
Casey Hayward
,
Trumaine Johnson
and
Josh Robinson
. At No. 65 there's a shot for a running back like
Robert Turbin
,
Cyrus Gray
,
Isaiah Pead
or
LaMichael James
.
Depending on how their draft board is set up they could easily be selecting these four positions in a different order but in the end they will get four very good players.
My wish list for them would be Cordy Glenn, Stephen Hill, Janoris Jenkins and Robert Turbin. One thing is for sure: The Rams will be better by midnight!