If NFL officials go on strike, don't expect much active support from players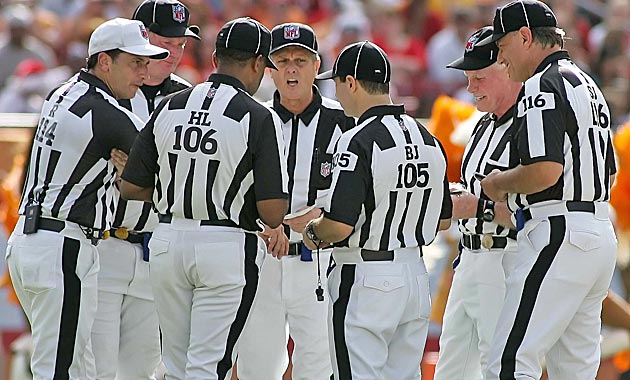 The NFL is already lining up replacement officials if there is a referee strike. (US Presswire)
It seems like the NFL has labor issues on every front, which I suppose is part of doingbusiness. Now the officials are looking for a new contract, and both sides have agreed to go to mediation to resolve the issues. I hope that works.
There are suggestions of a strike by officials and some weak speculation that the players might honor their picket line if it ever really happened. The NFL is already lining up replacement officials, and believe me, the games will go on. As for the players ever honoring a picket line, that seems totally out of the realm of possibility. It didn't happen in 2001, and 2012 would be the same.
Does anyone think players like most elite NFL quarterbacks are going to surrender a $1 million game check or any player with a much shorter career than an official
surrender 1/17th of his yearly salary to support the guys who throw the flags and cause the fines they pay? Think again.
Last year for example just against the defense officials called 388 personal fouls and 99 roughing-the-passer calls on players. Guys like Yeremiah Bell, now with the Jets, had nine of those calls against him. Now he's supposed to be concerned about the officials who in many cases are paid over $100,000 a year in officiating salary as a second income by not getting paid for a week in protest?
Don't think for a second that the NFL wouldn't try to also go after a portion of any signing bonus or roster bonus paid to the players who decided to honor a picket line
and not show up for a game. If a week of games was canceled because of support of an officials strike, the players would see a decrease in gross revenue,s with the TV sets off and the stadiums dark, which in turn would affect the player's portion for the next salary cap.
Back in 2001, the officials were on strike in Weekl 1, and all the players showed up and played with replacement officials on the field. There were two overtime games that
went well and 152 penalties called that weekend. The Raiders were flagged 10 times that week, and some things never seem to change. Last year, the Raiders led the NFL with 181 flags against them, and it doesn't matter who the officials are, the Black and Silver get penalized. Hopefully that will change with the new regime in Oakland.
I truly hope it doesn't come down to an officials strike, but if it does, I suspect they will stand alone on this one. The NFL officials have a very tough job in a game that
constantly adds new rules, and the technology gives the fan at home an advantage when scrutinizing the official calls.