Secondary penalties not called as often as you might think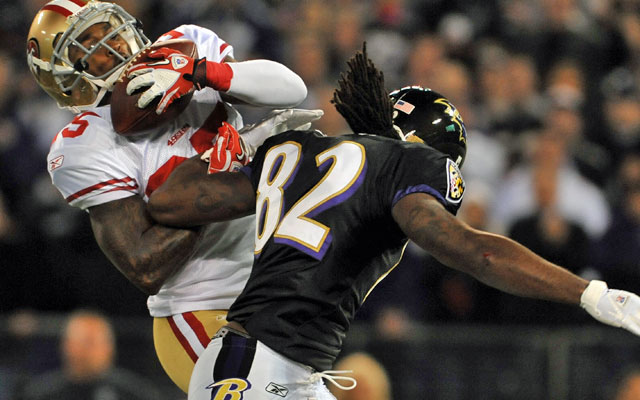 Penalties called against defensive backs in passing situations don't happen as often as you think.
(Getty Images)
In my continuing look at penalty calls, it is time to look at one aspect of the defense. Contrary to offense, where people believe holding could be called on every pass play but is ignored all too often, there is an opposite sentiment that pass interference and illegal contact is called all too often.
Simply stated, many fans just believe that the rules are tilted toward the offense and scoring points and these penalties are called much too often. Consequently, fans get the feeling there are far too many calls against the defense when the ball is in the air. You might be surprised by the frequency of these calls in 2011.
More on officiating
Related Links
What if I told you that there was a team in 2011 that only had three pass interference calls and zero illegal-contact calls and they faced 631 pass plays, which means they got flagged once for every 210 pass plays. Hard to believe? Well, the Chicago Bears are that team; Bears fans can't complain that the officials were flag happy against their secondary.
As for the league average, would you believe in 2011, pass interference and illegal contact were only called once for every 63 pass plays, which is a lot less than the perception? The 32 NFL teams averaged nine combined calls all season, but when I surveyed 20 NFL fans, they guessed there were "about 28-32 calls a season per team."
Here's a look at the top five teams that kept it clean in pass coverage with the best ratio of pass interference/illegal contact calls to pass attempts.
1. Chicago Bears -- one call for every 210.3 attempts
2. Jacksonville -- one call for every 128.3 attempts
3. Green Bay -- one call for every 127.4 attempts
4. Indianapolis -- one call for every 98.6 attempts
5. Atlanta -- one call for every 93.3 attempts
As for the teams that suffered the most when it came to pass interference and illegal-contact calls, here are the worst five, which shakes out to be more than one a game for two teams.
1. Oakland -- one call for every 33.3 attempts (18 total)
2. Arizona -- one call for every 34.0 attempts (17)
3. Cleveland -- one call for every 36.0 attempts (13)
4. Tampa Bay -- one call for every 37.0 attempts (13)
5. Seattle -- one call for every 38.7 attempts (14)
Yesterday I looked at the frequency of holding calls against offenses, and the Green Bay Packers were the best in the NFL with one holding call for every 78.8 pass attempts. Today, they also surface as a top-five team on defense. This basically tells me that they go a long way to not beat themselves.
On the other hand, the Raiders surfaced on both bottom-five lists. They were last in holding calls per pass attempt (once for every 21.8 pass attempts) and last in defensive calls (pass interference, illegal contact). Oakland was 8-8 and suffered some significant injuries in 2011. Don't be surprised if they clean up some of their penalty issues and stay healthy. They will be a factor in 2012.