After breakout 2011, Giants' Victor Cruz says contract won't be an issue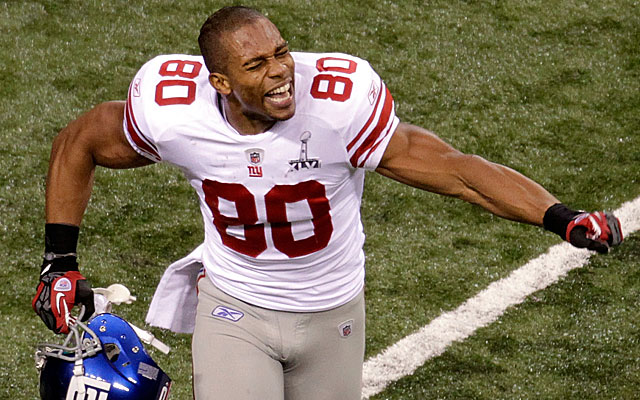 Victor Cruz seems to have an understanding that production means cash. (Getty Images)
I had a great day at Giants camp -- sitting down with Tom Coughlin, Eli Manning, Justin Tuck, Antrel Rolle, and Victor Cruz. The general attitude is a humble football team ready to take on the challenge of defending the Super Bowl title.
But Cruz is the center of attention for the Giants' offense because Hakeem Nicks is sidelined and made it clear he would not miss any time over his contract (one year left at around $500K after a breakout season in 2011). In fact, Cruz said he is not going to let his contract be an issue.
He knows Steelers wideout Antonio Brown just got a five-year, $42 million deal, but with a big smile on his face said, "I just gotta get back to work."
GM Jerry Reese told me there have been some discussions about Cruz but I believe the club will wait until the end of the season. As Reese said, "Another year like last year [82 catches, 1,536 yards, nine TDs] will only benefit Victor in the long run."
Reese added that Nicks is running well enough now to be ready for the opener -- and may be back for a preseason game or two -- but will not rush him back.
More nuggets from Saturday at Giants camp:
• Manning reminded me they went 11-1 after their first Super Bowl win and there are enough core players still on the roster from that team. He added that he is working overtime to get his young receivers ready. Manning said Reuben Randle is much more advanced than other rookie receivers who have come through this franchise.
• Coughlin is concerned about limited real practice time in camp and he is constantly warning the players to take serious mental reps on every play. He likes stopping a play and challenging players on the sideline to tell him what the play is and what his assignment is down to the finest detail.
• Tuck reminded me how much defensive lineman Dave Tollefson did for the Giants as a special teams player, defensive tackle and defensive end. Tuck said it might take two players to replace all the things Tollefson did, a claim Coughlin backed up -- adding that Tollefson's toughness has to be replaced, too.