Numbers show that subbing Tebow for Sanchez in red zone is debatable strategy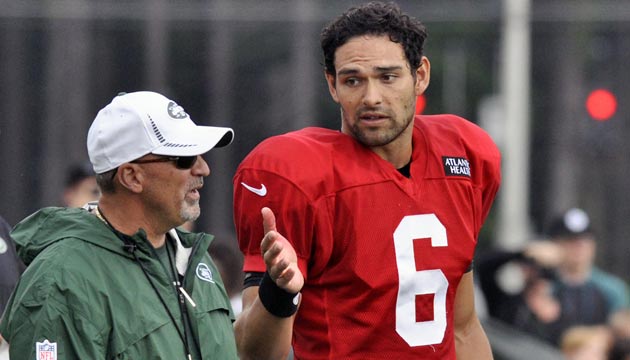 Mark Sanchez has done quite well in the red zone actually. (AP)
For the Jets to remove Mark Sanchez in the red zone because the offensive line doesn't pass block well enough may be a good idea. However, doing it because Tim Tebow presents a bigger problem for the defense is very debatable.

Sanchez finished fifth in the NFL last season in red zone touchdown passes (21) and he was only sacked four times or 1 or every 21 red-zone pass attempts.

Sanchez threw more red-zone TD passes than Eli Manning (Giants), Philip Rivers (Chargers), Joe Flacco (Ravens), Tony Romo (Cowboys) and Ben Roethlisberger (Steelers) in 2011 and none of those teams would ever consider removing their QB in the red zone.

Beyond that, look at Sanchez's first three years in the red zone. He has 37 touchdown passes while being intercepted five times while taking nine sacks. Big Ben in his first three seasons: 34 touchdowns, five INTs and 10 sacks.