Week 2 Rundown: 49ers take over No. 1; Patriots at 10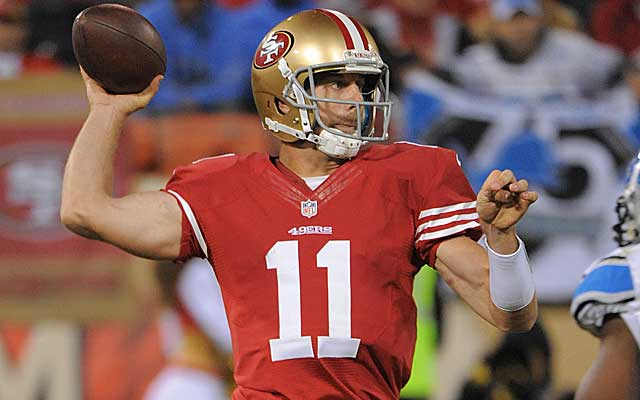 Alex Smith continues to make progress as the 49ers' starting quarterback. (US Presswire)
1. 49ers -- The Niners have the best defense right now and Alex Smith is much improved on offense. They are also working hard on an expanded passing game for when they need it. Right now this team wins without taking many risks.
2. Falcons -- The Falcons' offense is explosive and the defense is opportunistic. This week we find out how they do on the road at undefeated San Diego. Matt Ryan looks ready for the best year of his career.
Week 2 Review
Related content
3. Texans -- The Texans have a stingy defense, a solid running game and don't beat themselves. If they establish a wide receiver opposite Andre Johnson they could be the best team in the AFC when December rolls around.
4. Broncos -- Manning will correct the interceptions and the defense has pass rushers. They will be close to impossible to beat at home. Look for more teams to use the "radar'' defense against Manning that the Falcons employed.
5. Packers -- An opening day loss was a good wakeup call. The Bears' win put the running game back in the equation and that just makes Aaron Rodgers and his receiving weapons hard to defend. Clay Mathews is on his way to leading the NFL in sacks this year.
6. Ravens -- They had a setback with the loss to the Eagles on the road, but their offense finally matches up well with their defense. They need more Ray Rice in critical situations.
7. Steelers -- The Steelers beat a solid Jets team without Troy Polamalu, and James Harrison. The Steelers' passing game and their no-huddle attack is only going to get better.
8. Eagles -- Michael Vick got a big win over Baltimore and the Eagles are back in the race as a top 10 team if the QB can stay healthy. Eagles fans have to keep their fingers crossed that the small receivers can stay healthy as well. Offensive line injuries are now a concern.
9. Cardinals -- Wow! This team went into Foxboro and won. The defense is a problem for every team it plays. The offensive tackles are playing much better than expected and maybe Kevin Kolb can lead this team to a home win over the Eagles this week.
10. Patriots -- The loss to the Cardinals on a missed field goal was shocking for a team that came into the game 35-1 at home. Adjusting to the loss of Aaron Hernandez is next and it means more Wes Welker.
11. Chargers -- A surprise 2-0 team that still has Philip Rivers running the show without Ryan Matthews. The Chargers played two teams that have yet to win a game and may not be able to hold down this spot unless they get Antonio Gates going again and get an effective pass rush.
12. GIANTS -- Eli Manning can battle any defense, but the team is getting hit with injuries. The pass rush still isn't up to speed and the secondary is questionable.
13. Buccaneers -- Greg Schiano has his team playing a physical tough brand of football and the Bucs don't look like they will beat themselves. Making the playoffs is another matter in that division.
14. Jets – Mark Sanchez can be just like Alex Smith is for San Francisco as long as the defense plays like the Niners.
15. Lions -- Too many injuries in the secondary to move up right now, but when they get people back they will go right to the top 10.
16. Seahawks -- This is a dangerous team that plays a physical brand of football and has a rookie QB that operates like a veteran. Dallas found out how hard it is to play in Seattle.
17. Panthers -- They beat a messed-up Saints team this week but still need to win on the road. They get the beat-up Giants at home this week on Thursday, which should help them move up.
18. Cowboys -- World beaters one week then 11 days to prepare for the second game and they fire a blank.
19. Redskins -- Injuries this week on defense knock two starters out for the season and that puts more pressure on RG3 and the offense.
20. Bengals -- Their defense let Brandon Weeden, in his first road game, throw for 322 yards and two touchdowns. The Browns' defense also sacked Andy Dalton six times.
21. Bears -- The Bears have to fix the issues between the QB and the offense. Without Matt Forte for a while it will be tough. This team could go either way and this week the Rams present more problems than you might think.
22. Rams -- The Rams' defense is looking like a Jeff Fisher defense and the offense is a work in progress. If the offensive linemen protect Sam Bradford he will continue to have 300-yard passing days. It appears they found a running back in Daryl Richardson to take some of the workload off Steven Jackson.
23. Saints -- Drew Brees is watching game tape of himself and the offense he doesn't recognize. He will fix what he can fix, but the defense isn't helping at all.
24. Bills -- The pass rush came alive last week, which changes everything. The Bills don't have to blitz to get to the QB. C.J. Spiller looks like the most explosive back in the league. I see this team moving up next week.
25. Colts -- Andrew Luck will play like a veteran and probably not lose games, but does he have enough of a running attack to take some of the pressure off? The defense without Dwight Freeney had four sacks last week against the Vikings and Adrian Peterson's longest run was 6 yards. It could be two in a row with Jacksonville coming to town.
26. Dolphins -- Reggie Bush went from saying he wanted to lead the league in rushing to serving notice that he meant it. As long as Ryan Tannehill gets big days from Bush and the defense he should be able to do his part.
27. Browns -- The Browns may be 0-2, but there is hope for this team with two great efforts. Three more weeks until Joe Haden gets back. Buffalo comes to town this week in a game the Browns could win.
28. Vikings -- The Vikings go as Adrian Peterson goes. He needs 22 touches and 125 yards a game for the Vikings to be competitive. Jared Allen needs to start collecting sacks so they don't lose to teams like the Colts.
29. Titans -- The club decided to go with Jake Locker at quarterback, which is the right thing in the long run but as long as Chris Johnson is ineffective Locker will struggle.
30. Chiefs -- There are a lot of questions and little answers for a Chiefs team with talent and no wins. Last week they got their best pass rusher and best corner back and they gave up 35 points.
31. Raiders -- Not a good sign when Reggie Bush runs 26 times for 172 yards and two touchdowns against the Raider defense. In two games Darren McFadden has rushed 26 times for 54 yards with a long run of 8 yards.
32. Jaguars –- One good game for Blaine Gabbert and the next week he has an "injury'' that puts him on the sideline. This team needs Maurice Jones-Drew to carry it on offense. The Jags are better than No. 32 but need to beat the Colts this week for a chance to move up.