Week 3 Rundown: Falcons take over top spot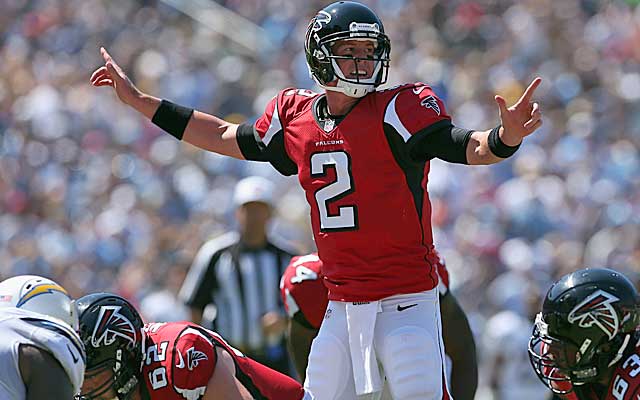 Matt Ryan has been sensational through three weeks of the season. (Getty Images)
1. Falcons : It's a toss-up for the top spot with Houston. Atlanta's Matt Ryan is on fire in a quarterback-driven league.

2. Texans : I could easily make a case for the Texans in the top spot the way they play defense and run the ball.

3. Ravens: The passing game is better, Ray Rice keeps everyone honest and the defense can still dominate at times.

4. Cardinals: They are undefeated with a win in New England and a defense that doesn't quit.

5. 49ers: They looked asleep last week but are still a very balanced team. Alex Smith is good enough to keep this team in the top 10 all year.

6. Giants: Eli Manning and a pass rush is a deadly combination.

7. Patriots: The Pats need to fix a few things like pass protection, but two tough losses don't represent how good they still are in 2012.

8. Packers: They got robbed in the Seattle game at the end, but Aaron Rodgers also got sacked eight times in the first half, which is troubling.

9. Seahawks: Russell Wilson plays like a veteran quarterback and the defense is underrated, giving up a league-best 39 points in three games.

10. Broncos: I still think Peyton has enough left to win this division and the pass rush will stop teams playing catch-up.

11. Chargers: Philip Rivers and an improved defense make them a tough out.

12. Cowboys: Which Dallas team shows up every week is anyone's guess. The good one can go toe-to-toe with any team.

13. Bears: Unless Jay Cutler starts acting like a leader, this team is headed in the wrong direction.

14. Jets: With Darrelle Revis lost for the year so may be the season. Rex Ryan can't run his pressure schemes with the same effect.

15. Eagles: There are questions about Michael Vick and turnovers. Not a good combination for a team with Super Bowl aspirations.

16. Bengals: The defense was the backbone of this team last year, but they have given up more than 100 points in three games.

17. Bills: The Bills have won two in a row, but let's see what happens when the schedule gets tougher.
18. Steelers: There are injuries on defense but there are also questions about the defense. They don't seem capable of imposing their will on teams.

19. Vikings: Christian Ponder is a pleasant surprise, as well as the defense. Their wins are both at home, and the road can be an ugly place for a young team.

20. Lions: A few bad calls by officials and, more importantly, a pass rush that has disappeared and this team is down here in the standings. I see the Lions crawling their way back up in the next few weeks.

21. Redskins: Injuries on defense have led to 101 points against them. Robert Griffin III is still a rookie finding his way. The 'Skins need to create a home field advantage.

22. Buccaneers: A very conservative offense leads to questions about QB Josh Freeman. So far he looks like the 2011 QB, not the 2010 QB.

23. Titans: Their strength for years was the guys in the trenches and running back Chris Johnson. Right now that's not the case.

24. Panthers: Cam Newton and the offense have hit some bumps in the road, and the defensive front struggles to rush the passer and stop the run.

25. Dolphins: The Dolphins are a tough out because of their defense and a healthy Reggie Bush. In the end, they don't have enough firepower yet to win a lot of games.

26. Chiefs: The Chiefs have talent and shouldn't be down this far in the standings. I could see this team starting to inch their way back up over the next few weeks.

27. Saints: Now we know the value of a head coach and a quality defense. This is starting to look like a lost season at 0-3.

28. Jaguars: Maurice Jones-Drew carried this team on his back for years, and he has to do it again. Blaine Gabbert flashes talent but isn't consistent.

29. Colts: I think the Colts will be a much better team in the second half of the season when all the young players get some experience. Right now they look like a team rebuilding.

30. Raiders: The Raider roster is paper thin but god enough at times to win a game. The team goes as Darren McFadden goes, and that was once in three games.

31. Rams: Jeff Fisher and his defensive schemes makes this a tough team on opposing quarterbacks, but the offense struggles to protect Sam Bradford.

32. Browns: An 0-3 start is unfortunate. All the other rookie starting quarterbacks have a win under their belt. They play teams tough, but just can't close out a game yet.