Six from Sunday: Impact rookies, risky kickers and do-or-die QBs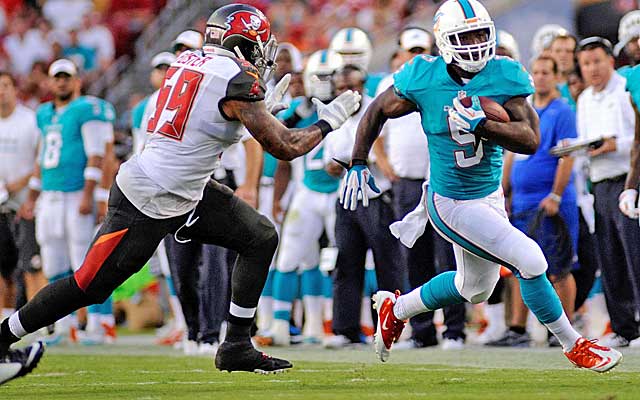 Each week I will post my Six from Sunday column reacting to the top half-dozen things that shaped the NFL weekend. This week Six from Sunday will focus on the season ahead of us.
Rookie impact
There's always a natural flow of young talent into the NFL and this year is no exception. Things can change between now and kickoff on Sunday but here's the latest count on the rookie impact to the 2014 season. Two-hundred and 62 rookies made the final 53-man cut. There are 1,696 roster spots in the NFL which means this year saw a 15.4 percent turnover on rosters with veterans being shown the door.
At this moment about 25 rookie position players are penciled in to start and another six rookie kickers and punters bring the rookie the total to 31, but I suspect the total number of starters will swell to close to 40 by opening day. With 22 starting jobs plus a kicker and punter there are 768 starting spots which means the rookies of 2014 only represent five percent of the league's starters. Remember all the hoopla at draft time that the rookies will change the fortunes of teams? The Browns (12) and Dolphins (11) lead the way with rookies making the team while the Steelers, Bengals, Buccaneers and Washington have the fewest with six each.
As of now, 59 undrafted rookies made teams with the Browns and Dolphins once again leading the way with five each. As for rookie starters there are five guards getting the call and only one of them is a first-round pick (Zach Martin, Cowboys). The others are Joel Bitonio (Browns), Jack Mewhort (Colts), Zach Fulton (Chiefs), and Trai Turner (Panthers). At linebacker opening day starters are C.J. Mosley (Ravens), Anthony Barr (Vikings), Khalil Mack (Raiders), Ryan Shazier (Steelers) and seventh-round pick Randell Johnson (Bills).
Players not on the field
It is amazing how many players just aren't ready for opening day or have already been sent to injured reserve. Would you believe at this time there are 218 players out of commission for one reason or another. The list is sure to grow quickly. Here's the breakdown; 152 on injured reserve, 22 on PUP (physically unable to perform), 15 on NFI (non-football injury), three who did not report and, most troubling, 26 on suspension.
The 49ers lead the way with 15 players sidelined, followed by the Seahawks with 11. The Jaguars and Colts each have nine. The top three teams in the best shape are the Bears, Lions and Bucs with one player each.
Kicker risk
Six teams appear to be venturing into the 2014 season with rookie kickers, which can be a big risk in a league where so many games are decided by a missed kick or three or less points. Arizona, Detroit, Kansas City, Philadelphia, Tampa Bay and Tennessee are all taking their chances with guys that have never put a ball through the uprights in a real NFL game.
Thursday Night Football
The NFL and CBS are about to make Thursday Night Football an institution in the NFL. The expectations are for the same effect that games on Sunday and Monday night have had on NFL fans. The Thursday night schedule is 100 percent divisional games, minus the opener this week, which is not a CBS/NFL Network production. Roster depth and quick recovery time will play a big factor in the quality of these games. Keep an eye on the number of players who couldn't be ready on Thursday night but could have gone on a Sunday or Monday game. Teams with older rosters could be at the most risk.
Points of emphasis
I have seen the point-of-emphasis routine with certain penalties in previous summers and it better slow down in the regular season or people will start turning off their TV sets. Fans want action and fewer stoppages. My prediction is that we will go right back down to seven penalties per team, per game and not the double-digit calls for each team we witnessed in August.
QB issues persist
Nothing could be worse than heading into Week 1 with quarterback questions. It usually spells disaster for teams in that situation. The Browns, Texans and Rams head the league in this problem and there are do-or-die situations brewing in Washington, Buffalo, Tennessee and Miami. Also, Geno Smith better deliver early and often for the Jets or the pressure will mount fast.
>> Need more Week 1 prep? NFL Expert Picks