Week 10 playoff picture projections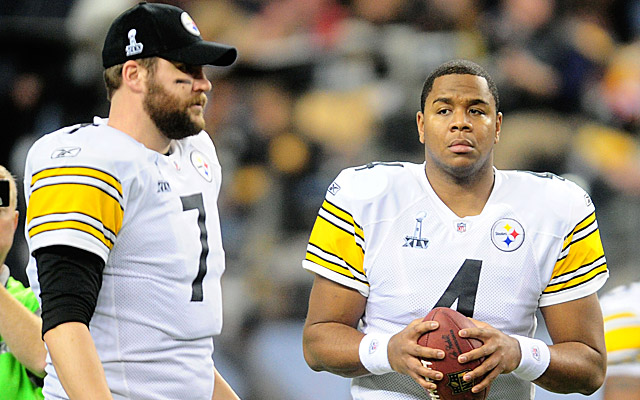 Would the Steelers be able to hang in the playoff hunt with Byron Leftwich under center?
(US Presswire)
Editor's note: After each week of the NFL regular season, Pete Prisco will update his predictions for which teams will make the playoffs, ranked in order by seed.

Playoff picture projections: Week 10

AFC

1. Houston Texans (South champion)
2. Baltimore Ravens (North champion)
3. New England Patriots (East champion)
4. Denver Broncos (West champion)
5. Indianapolis Colts (Wild card No. 1)
6. Pittsburgh Steelers (Wild card No. 2)

NFC

1. Atlanta Falcons (South champion)
2. Chicago Bears (North champion)
3. San Francisco 49ers (West champion)
4. New York Giants (East champion)
5. Green Bay Packers (Wild card No. 1)
6. Seattle Seahawks (Wild card No. 2)

I have the Steelers in the sixth spot. But if Ben Roethlisberger is out for any length of time, that could change.

The problem is this: There is nobody in the AFC to take that spot. Can Cincinnati get it going? The Jets? The Dolphins get back on track? San Diego? Who?

Can the NFL move an NFC team over to take that spot? Didn't think so.