By any name, Dolphins' Cameron Wake a force as an elite pass rusher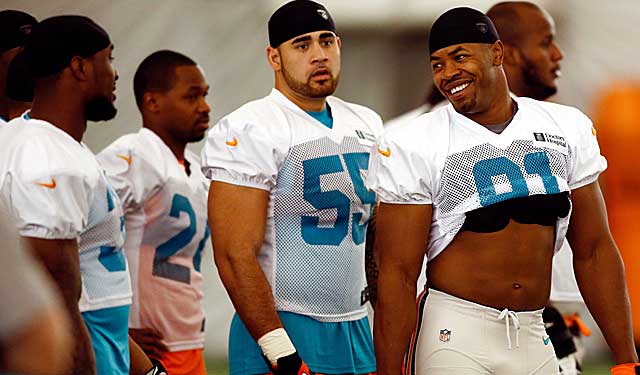 DAVIE, Fla. -- Derek Wake always dreamed about playing in the NFL, hoping one day to be a pass rusher making life miserable for quarterbacks -- and making a lot of money in the process.
Derek Wake never made it to the league.
Or did he?
Isn't Derek Wake really that pass-rushing star, one of the league's more underrated players who now goes by the name of Cameron Wake?
He is -- sort of.
The story of the name change is as odd as the path Wake took to get to the NFL, where he now reigns as one of the league's best pass rushers, playing for the Miami Dolphins.
Out of football after being cut by the New York Giants in 2005 before camp even began, Wake worked at a gym mainly to keep in shape. When he was handed his nametag at the gym, it had the name Cameron Wake on it, with Cameron being his middle name.
"I didn't fight it because I didn't think [the gym] would be any kind of lifelong career," Wake said this week during a break from Dolphins camp.
So when he was signed to a contract in the Canadian Football League later in 2007, he went there as Cameron Wake.
After twice being named the CFL's Defensive Player of the Year, then developing into a Pro Bowl pass rusher with the Dolphins, Derek Wake is no more. Change it back? Are you kidding? His family calls him Derek, but on the football field it's Cameron and it will stay that way.
"When I went to the CFL with it, I had the success and I said to myself 'this Cameron guy is doing better than Derek,' " Wake said. "I never fought it. It's kind of that cliché: A new experience, a new guy, a whole new persona. A new me."
The "new me" is now a pass-rushing force, and has become an amazing story of perseverance that fuels his want for even more.
Wake had 14 sacks in 2012. He also had more combined hits, sacks and hurries that any other pass rusher in the league.
"He's an animal," Dolphins safety Reshad Jones said when asked about Wake.
Not only on Sundays either. The guy is relentless even in practice, an all-day sucker for whoever lines up against him. During a minicamp practice in May, a practice that some veterans of Wake's stature might have cruised through, he was praised by Dolphins coach Joe Philbin for his work.
"We showed the young guys a clip of the defense, and I made a point of highlighting Cam Wake," Philbin said. "It was a May practice. And some veterans who are 30 years old wouldn't really care. And he was flying off the ball. He was getting to the quarterback. He was there in seconds. And he's All-Pro. He probably doesn't have to do that because he's probably going to play anyway. I really like his example."
When you've traveled the somewhat bizarre odyssey he's taken to get to where he is, it's easy to understand why Wake is so passionate about the game.
After playing linebacker at Penn State, Wake went to the scouting combine and performed well in all the tests. But he wasn't drafted. Somehow he slipped through the cracks, which is amazing considering where he is today. He signed with the Giants, but never even got the chance to put on the pads.
Out of football, he worked as a mortgage broker and then at the gym before getting signed by the British Columbia Lions of the CFL. Once there, he was twice named Defensive Player of the Year before signing with Miami as a situational pass rusher who was inactive his first five games.
"Back then, I was crying and sitting on the couch thinking about it [being out of football]," Wake said. "Now, I've come a long way. I wasn't a silver spoon, first-round pick. I had to scratch and claw and fight to get every single piece of it. It's what makes me who I am. I wouldn't change it for the world. You have guys who have always been high-school All-Americans and the top picks. I didn't have that. I played for 40-grand in the CFL. I lived in a basement. I rode my bike to work. To go from that to where I am now is amazing. I remember telling guys at the gym that I would play in the NFL. And I remember them laughing at me."
Said Philbin: "As we all know, this is an inexact science. It's a great story of a guy believing in himself and not giving up. And taking advantage of the opportunities."
At 31, with, as Wake says "low-mileage," he is now considered one of the top defensive players in the league. Yet, you wouldn't know it by some rankings. Wake was ranked 89th on The NFL Network's list of the top-100 players (He wasNo. 13 on mine).
That led to some ribbing in the locker room.
"Guys were telling me I was All-Pro and I was ranked that low," Wake said. "I didn't watch it, but guys came in and were making fun of me. At the end of the day, that's not where I butter my bread. I can't worry about the popularity contest. I just go out and do my job."
After the season, Wake studied himself on tape and came away thinking there was so much more he could have done. Little things stood out, the kind of things only the greats notice, and want to fix.
"I looked at all opportunities I missed, plays where I should have recognized it quicker or used my hands and got a sack or just missed a sack," Wake said. "I want to do better and do more than I have done before. Every day, I have a chip on my shoulder that makes me want to do more. So what if I had 14 sacks? I can get 16, 18 or 20 sacks. I haven't reached my peak yet."
Nope, Cameron Wake has a lot more to do. And it's time he got the due he deserves -- no matter what his name.