2013 All-Prisco Team Linebackers: Lavonte David silences critics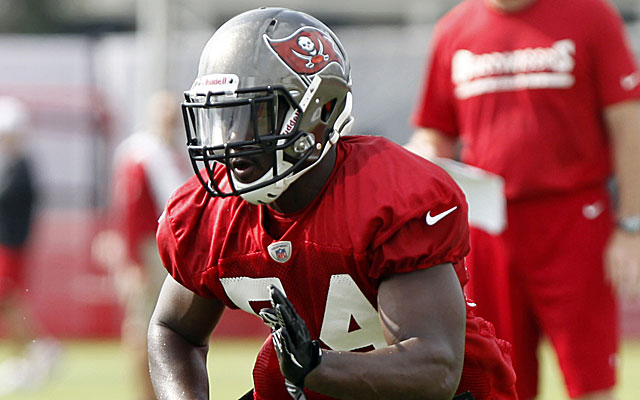 2013 All-Prisco Team: Skill positions | D-line | O-line | Secondary | Linebackers
There are certain guys who are just my type of guys. They're young, they're often fast and they tend to do the things that sometimes only film study can reveal. This week I'll be sharing with you some of these players as I present my All-Prisco Team 2013. For more on what I mean, you can read this.
TAMPA -- Lavonte David heard it all. Some said he was too small to play linebacker in the NFL. They said big offensive linemen would overpower him. They said his speed wouldn't save him in the NFL, even after the Tampa Bay Buccaneers picked him in the second round of the 2012 NFL Draft.
The critics said he would be engulfed at the point of attack, unable to make his way to the runners like he did in college at Nebraska, where he was a tackling machine.
"That's just a stereotype," David said. "That goes in one ear and out the other. I think I proved them wrong, don't you?"
In a big way, which is why he is one of the linebackers on the All-Prisco Team heading into this season. I have to admit I expected this. David was the captain of my 2012 pre-draft Better-Than Team, a player I thought could be a star in the NFL. While he wouldn't quite be labeled a star just yet, he might be there in four months. Oh, and he's just 23.
At just under 6-1, 230 pounds, he is the prototype for the current NFL linebacker. He can run. He can tackle. He can cover. And he's physical enough at the point, despite his size. He led the league in solo tackles last season with 112. He also made the defensive calls all season long. Heady stuff for a rookie.
Before the 2012 draft, I compared him to former Bucs star Derrick Brooks, who almost certainly will be voted into the Pro Football Hall of Fame next year.
Brooks came into the league as a smallish linebacker at Florida State -- with some teams insisting he move to safety in the NFL -- but he bucked that thinking and went on to become a game-changing linebacker.
David is in that same mold. During the offseason, he met Brooks for a lunch, linebacker to linebacker.
"It was a getting-to-know-him type of lunch," David said.
So did you pick his brain?
"Not too much," he said. "But I hope to do more of it down the line."
David said he feels much more comfortable with the scheme now. He will not get caught out of place as much as he did a season ago. Even when he did miss an assignment, he had the speed to get back into and make some of those plays.
He is a student of the game, which is why he's able to get so many tackles despite not being a big linebacker.
"It's the combination of the film study and my speed," he said. "It's about identifying what you are seeing and beating the guy to the punch. That makes my job a lot easier to do."
Here's a play that allowed David to not only show off his speed, but also his awareness and ability to slip blocks. It was a screen pass against the Redskins on a first-and-10 play. David (yellow X) was lined up outside the right shoulder of the defensive end, one of two linebackers on the field. The play was a screen to Alfred Morris (red circle). At the snap, David dropped into zone coverage. But he quickly recognized the screen, and made a fast move to beat the blocks of guard Kory Lichtensteiger to slice underneath and drop Morris for a 4-yard loss.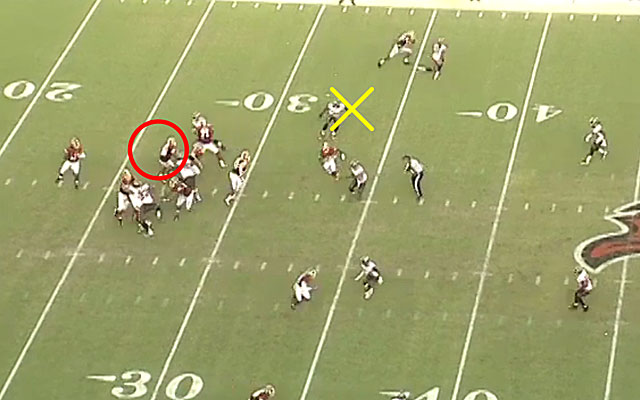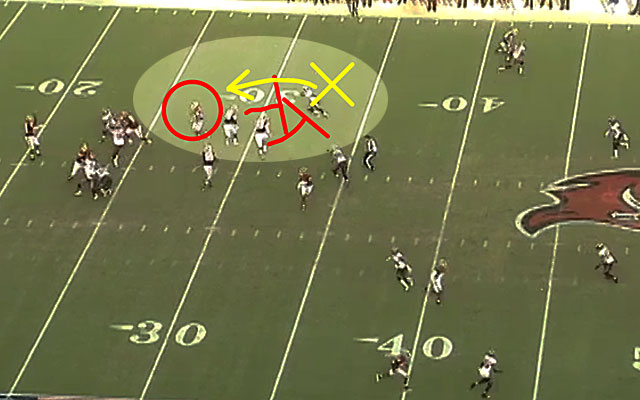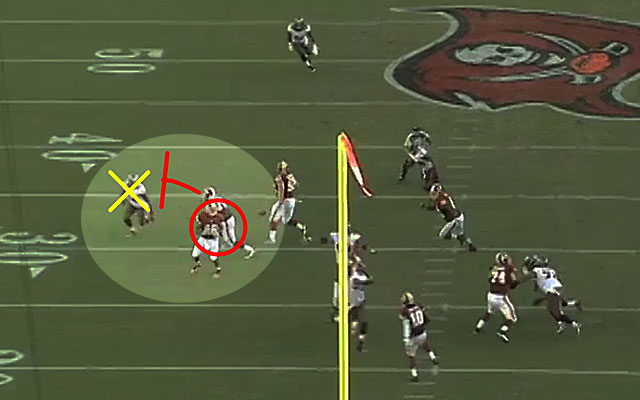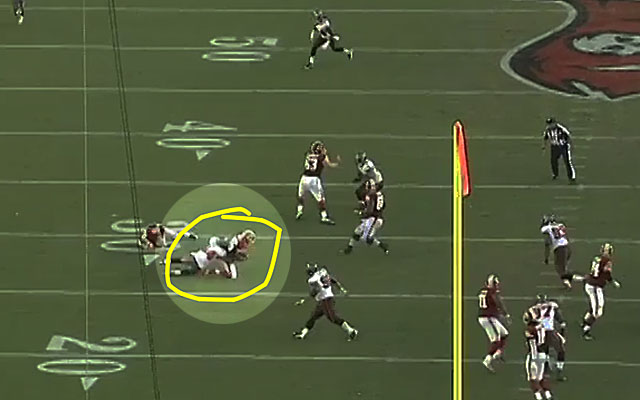 One of the best things David does is run in coverage. He can play zone or man, and here's a play against the Saints where he covered tight end David Thomas across the field and knocked the ball free for an incomplete pass. The impressive thing, as you can see below by the pictures, is that he had to fight through traffic to stay with Thomas. David (red X) was lined up across from Thomas (yellow circle). Thomas ran a short cross and David ran with him. As you can see by the second and third pictures, David had to fight through traffic to stay with Thomas and the fourth picture shows him breaking up the pass. That's a display of great speed.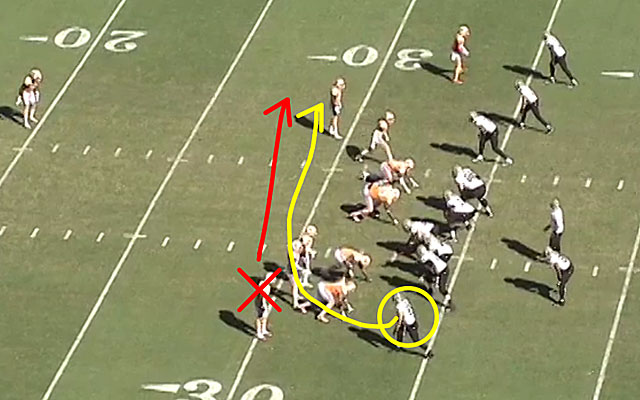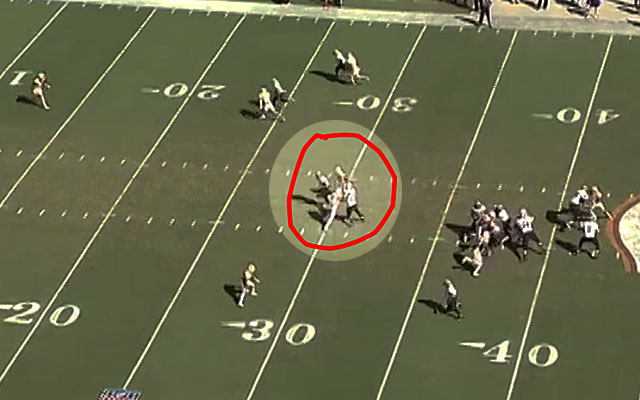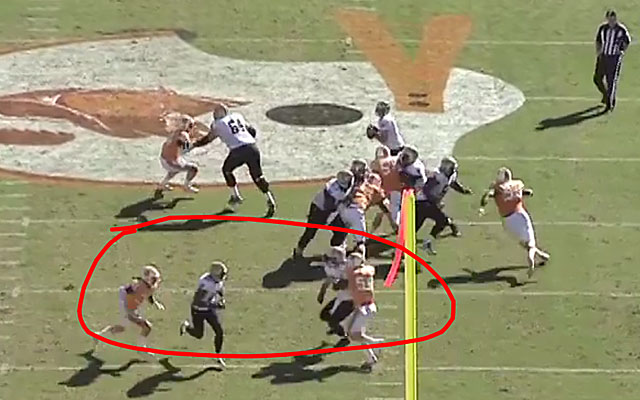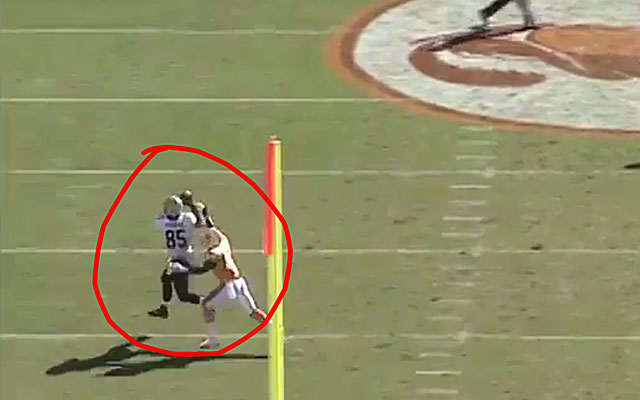 Here's another impressive run play against the Redskins that shows off his speed and his ability to shed blocks. David was lined up on the weak side, away from the where the play was run to the strong side. At the snap, he saw the action going that way and made a move to his right. Guard Chris Chester tried to cut him off, but David was too quick and shed him to continue down the line. When he saw Morris about to break clear, he turned on his jets and exploded into him for a 1-yard loss.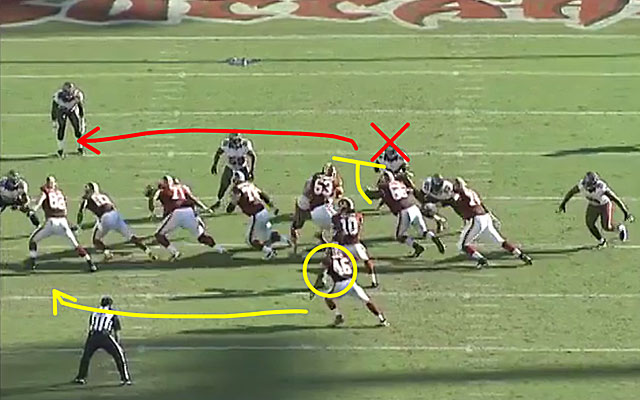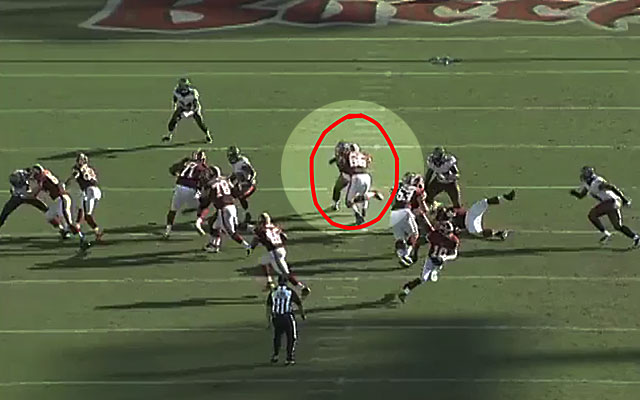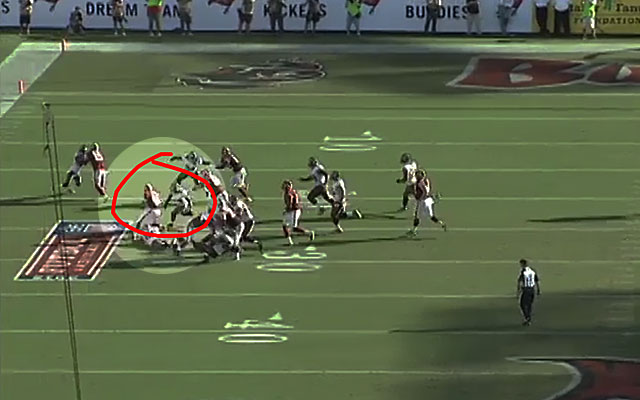 I am not going to sit here and say David will be the second coming of Brooks. But I can tell you this: Watching him run around in that No. 54 jersey, especially when they wear the throwback orange, makes me immediately think about the days when No. 55 (Brooks) was doing the same things.
SLB -- NaVorro Bowman (25), San Francisco 49ers -- He plays one of the two inside spots for the 49ers, but in this scheme I will move him to the strong side spot. He is good run player, but he's also plenty capable in pass coverage. If he played on another team, he'd get a lot more fanfare. But playing next to Patrick Willis, he sometimes gets overshadowed. Not here.
MLB -- Luke Kuechly (22), Carolina Panthers -- It's hard to believe he is just 22. Wow. He has such great instincts to get to the football. He led the NFL in tackles as a rookie in 2012, and just might be on his way to being the next great middle linebacker. He is capable in pass coverage as well. The Panthers have a star to build their defense around for years to come.